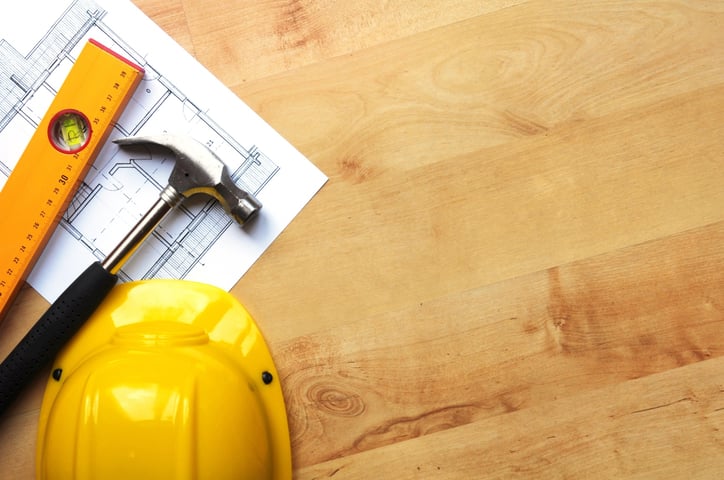 Digital image. Https://cdn2.hubspot.net/hub/205050/file-693801030-jpg/images/contractor.jpg. N.p., n.d. Web.
Planning to build a new home from scratch, or just need a professional to help you with a weekend project, hiring a contractor is serious business. You are trusting your space and your money with someone you've never met before. They may look great on paper, but there are certain things you should ask before you seal the deal and give a stranger access to your property, and your funds.
Where to find a new contractor.
The smartest place to start when hiring a contractor is with friends and family. If you don't have a professional contractor in your social circle, chances are your friends and family has worked with one before. Get their advice, reviews, experiences and recommendations about people they've worked with in the past. Why trust a stranger's website or resume when you have friends and family who can give you honest feedback and who have your best intentions in mind?
How long have you been doing this?
When you're on the hunt for a contractor, their experience in the field is very important. "How long have you been doing this?" is a great place to start. With years of experience under their belt, contractors who are established in the field will have answers to most of your questions, because chances are they've seen it and done it before. Established contracting companies who have been around for years have had time to work out the kinks and know how to complete a successful and professional job. Make sure they've done this type of work, on this particular type of property before. If they've only done routine maintenance on apartment buildings, asking them to complete an upgraded kitchen remodel in your luxury home (http://www.skyfiveproperties.com/homes/Miami-Beach/Star-Island) may be little risky.
Can I see your contracting license and certificate of insurance?
Professional contractors are required to meet a list of standards and are required to obtain certain licenses and certificates in order for them to work, and these requirements vary by state. "Can I see your contracting license and certificate of insurance" are not weird or awkward questions to ask someone you're trusting to work on your property. Making sure they are covered for the job they are going to perform is important, and double check about where he/she stands with worker's comp and liability insurance. Professional contractors will be happy to show you their up to date documents to give you peace of mind.
Are you taking care of the permits for this job?
Even small changes to the structure of your home may require certain permits and inspections. "Are you taking care of the permits for this job?" is an important question to ask, and the answer should be "yes." They should not only know what permits are required but should be willing to get them and set up necessary inspections as well.
What is the timeline?
Communication is key when it comes to hiring a contractor. Asking questions like "What is the timeline?" and "How does payment work?" up front ensure everyone is on the same page when it comes to expectations. Come up with a clear deadline for the project's completion, and ask if there are any behind the scenes issues that could conflict with this deadline. Remember that things happen and sometimes deadlines aren't met because of unforeseen circumstances and talk about how this issue will be addressed before it becomes an issue. In regards to payment, make sure everyone is on the same page for not only the total price, but for when things are due and if you will be paying on specific dates or after each stage of the job is completed.
Who will you be working with?
It's your space, and your project, so it makes sense to be curious about who exactly is going to be working on your home. "Who will you be working with?" is a great question to ask in order to get a clear understanding of who you can expect to see on a regular basis. Ask if the same people will be on site every day, if there are sub contractors, and who the project manager is. A highly dedicated team is key to a successful contracting job, and as the client, you have every right to know who is doing what.
What can I expect each day?
Whether you're planning a complete kitchen remodel or just updating a bathroom, knowing what to expect day to day can help make the temporary "chaos" a little more bearable. Asking questions like "What can I expect each day?" allow the contractors to give you insight on things like start and end times, noise level expectations, if they need you home at any point, or if you need to move items that are in work areas. The more you know about what to expect, the smoother the project will go for everyone involved.

Whether you're hiring an individual contractor that you know or a well-known company in the area, being informed and asking the right questions is the best way to avoid costly and time-consuming mistakes during your next home remodel project. A professional contractor will not only welcome these questions but encourage an open line of communication and have the answers (or know how to get them) to make you feel at ease.

The Secret to Selling Houses: Stage for Sale