The real estate development scene in Philadelphia remains active despite the coronavirus pandemic in 2020. No matter the neighborhood, construction can be seen on nearly every block. Our team has analyzed available data regarding properties, zoning, and permits to get a clearer picture of the state of development.


---
The city's intention for development
A spike in development in 2019 is apparent by merely counting the amount of permits issued by the City of Philadelphia. The Department of Licenses and Inspections issued 1,745 new construction building permits in 2019. Given that construction cannot start until a permit is issued, and it takes time to erect a building, most job sites must have been active into and throughout 2020. Then there was a halt in March and April, when Licenses and Inspections stopped permit issuance and construction sites were put on hold until public health guidelines were defined and implemented.
As of December 2020, Licenses and Inspections issued about 760 new construction building permits. This is not as much as in 2019, but 760 unique new construction is not a small number, either. By combining the amount of proposed work from late 2019 and early 2020, it makes sense to see many new buildings in Philadelphia.
The vacant land supply is high
Active development in Philadelphia suggests that there is a surplus of vacant land. According to the public record from the Office of Property Assessment (OPA), there are 13.11 square miles in vacant properties, which is equal to 12.43% of all properties.

However, not all vacant land is suitable for residential and commercial development. Over 33% of vacant land is in the industrial district. The most common development for industrial use are offices, warehouses, transit stations, and parking lots. As for residential districts, RSA-5, RSD-1, RM-1, and CMX-3 are in abundance. RSA-5 properties, the zoning district that shaped Philadelphia's single-family row homes, sums up 1.44 square miles in vacant area. Although not as much as RSA-5, RM-1 and CMX-3 should not be overlooked. These multi-family and mixed-use districts are distributed in and around Center City for moderate density development.
Other than availability, residential vacant properties are inexpensive. According to OPA, the median assessed value (not listing or sold price) of vacant RSA-5 properties is merely $9,300. Such low acquisition cost allows developers to focus on construction funding, which is not a hurdle for the financially savvy. With interest rates hitting historical lows in 2020, funding a project would require little capital.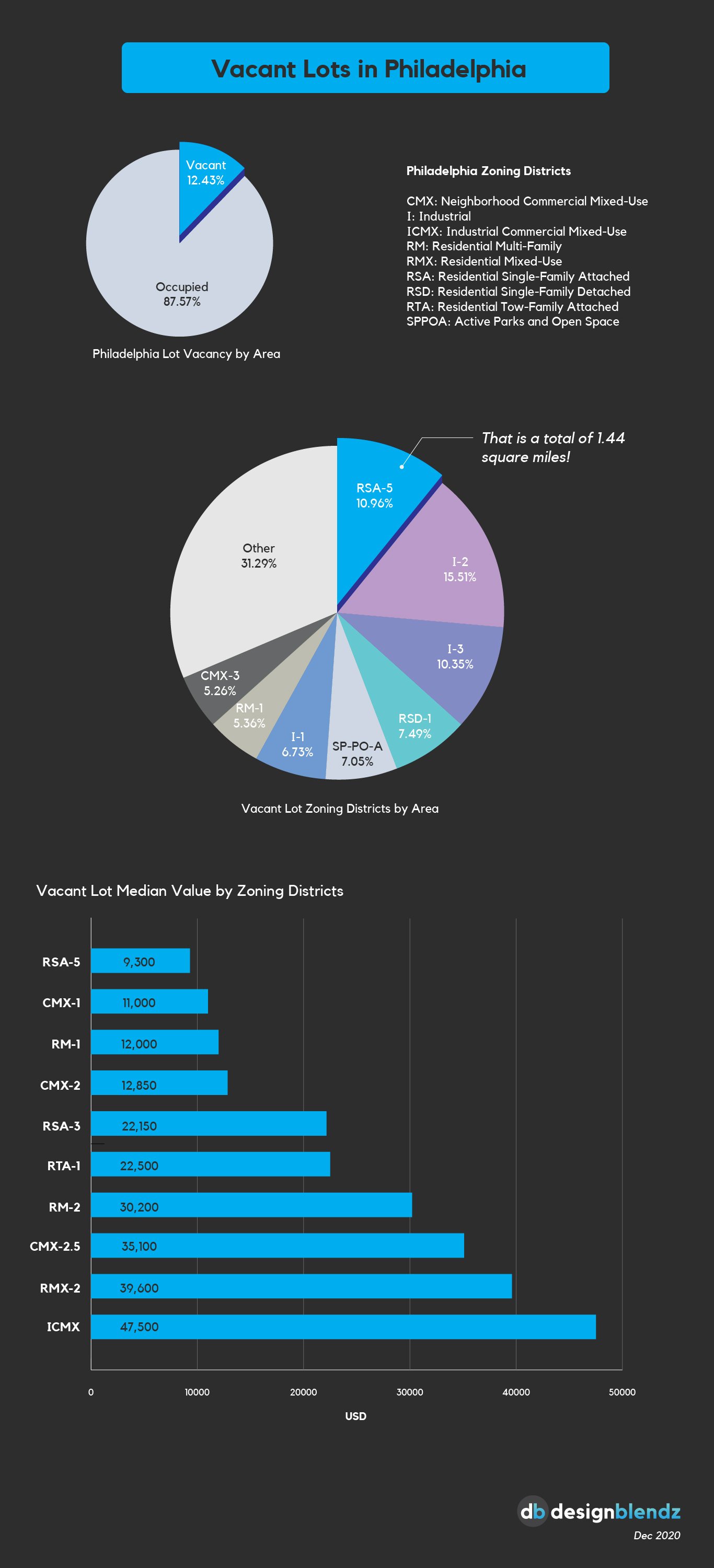 Philadelphia real estate development is still thriving in 2020
With 12.43% vacant land in Philadelphia, it is not difficult to understand the city's intention for proper real estate development. This is evident with Licenses and Inspections issuing 1,745 new construction building permits in 2019 and then 760 permits the year after, despite the coronavirus pandemic. The pandemic has also influenced interest rates to reach historical lows as of December 2020, leading developers around the country to go shopping. All of this data confirms that real estate development scene is still healthy in Philadelphia, and indicates the prolongation of these activities in the near future.

For more information on vacant land available in Philadelphia, check out this interactive map.