Here's how we designed and built two single family homes in Philadelphia, staying on budget despite the challenges of a city-wide lockdown and pricing increases around the nation during Covid-19.
Kicking off the new construction project before the first lockdown
At the start of this project, the development team approached our team to design and build two single family homes on a parcel of land that had been subdivided into two lots.

From day one, we worked within their budget to meet their development pro forma—an analysis that informs them about how much to budget and how much they can sell it for. We put together a design that fell within a percent margin of that budget and chose materials that were at or above market comparables.
The start of the project went smoothly: we designed the project, put it through the zoning process, and acquired a ten-year tax abatement. Once the permits were approved, our construction team began to build. We were on pace to complete the envelope of the building—and then COVID-19 stopped us in our tracks.




Overcoming the challenges of an unexpected jobsite shutdown
In March 2020, we got word that all construction sites needed to shut down in Philadelphia. "There is no textbook that teaches you how to handle the government shutting down construction projects across the state," said Brian Corcodilos, CEO at Designblendz.

Fortunately, the city allowed us to "secure the site," which meant we could continue to get windows and roofing completed so the buildings wouldn't get damaged.
Then, we faced another issue: building materials skyrocketed around the nation. This was due to a supply-and-demand issue of factories around the world shutting down and decreasing the availability of lumber and finishes. When we moved forward through the typical buyout phase of this project, pricing for the faucets, finishes, and so forth, we realized that all materials had went up—in some cases, as high as 30%. Thankfully, designing and budgeting the project through the design-build process allowed us to keep that budget in mind and not exceed it.
⊕ Utilizing our in-house interior design department reduced the lead time of materials while keeping cost in mind.
"I honestly think that the design-build process helped us get through that first Covid challenge better than if we weren't vertically integrated," Brian explained. "In real time, we could analyze budgets and see virtually what those finishes would look like before construction was complete. It was the best way to keep all of the stakeholders involved, as well as be transparent about any fluctuations to timelines and cost."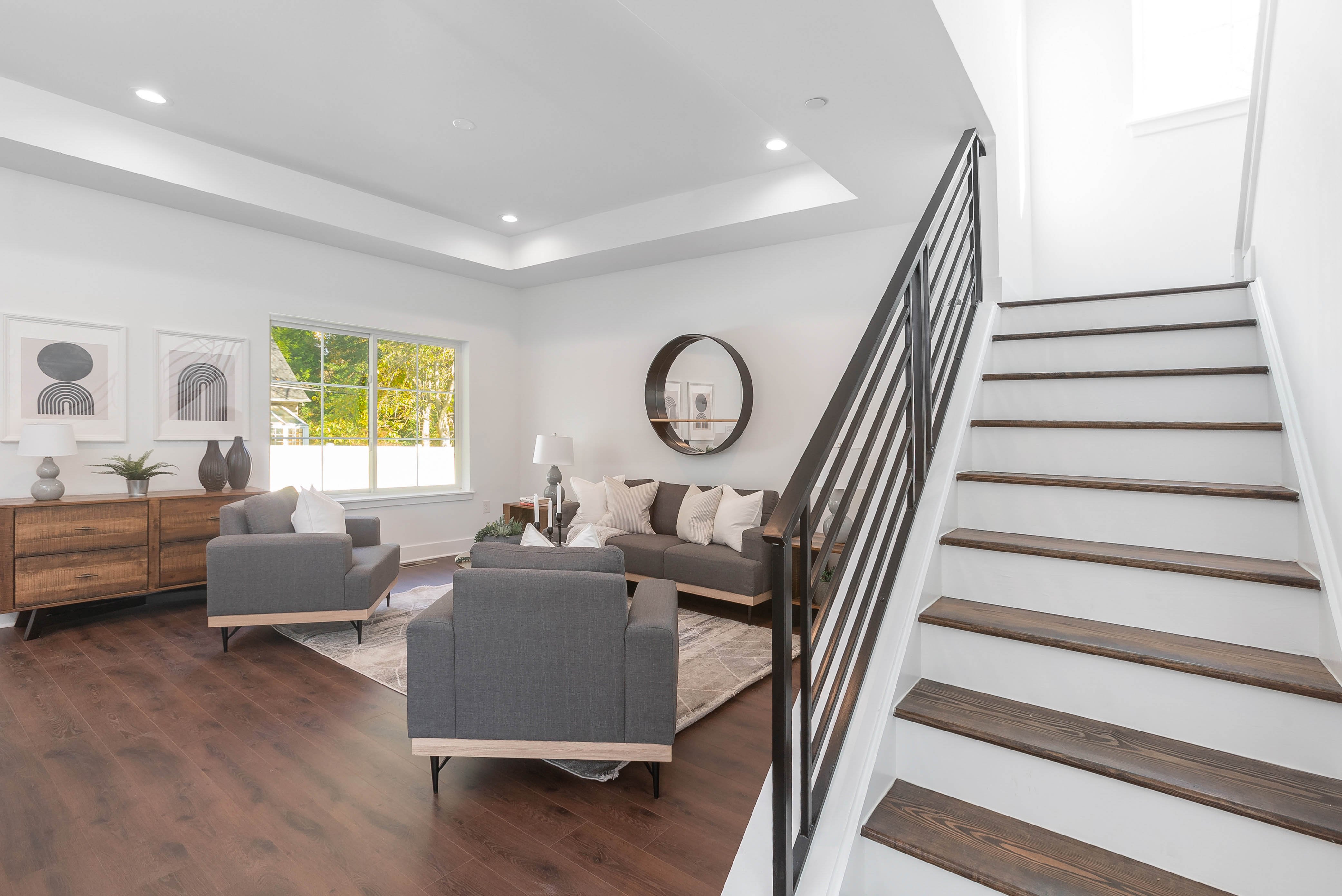 The finalized project results
Given the shutdown, the design-build process kept the project on track.
We kept costs within 4%.

The timeline was extended by no more than 2 months from anticipated completion.




How the design-build process works at Designblendz
Here are the steps we take to streamline real estate development:
We develop the schematic renderings and get approval from the developers.

The other processes start simultaneously: The continuation of the production of permits and documents to get the project built, and our visualization and interiors team coming together to work on the finishes and create pre-construction marketing renderings.
⊕ Our 3D renderings showcase what a project is going to look like before construction even begins, so the developer can start listing it and generating interest to other brokerages.
Once schematics are complete, we dial in the budget while we continuing the construction documents. Therefore, while we're selecting finishes and creating photorealistic renderings, we're also spot-checking and bidding out construction numbers.
For example, when we're designing a house and we have a foundation perimeter locked in, we know what that foundation is roughly going to be, so we can start acquiring pricing and ensuring that doesn't have to be modified before we get it through permits. "I think that's the fun part of the design-build process, where now all parties are together from the beginning, as opposed to 'here's one party, here's the next party, and the next'—it gets lost and projects aren't done as well," Brian concluded.


---

Looking for architecture, 3D visualization, and construction management all in one place? Contact our team!