Looking for new, exciting ways to promote your real estate business? Want to sell more properties and keep customers engaged? Consider offering virtual house tours. This cutting-edge concept leads to increased brand awareness and improved customer service. As a result, you'll make more money and grow your business.


---
What Are Virtual House Tours?
Virtual house tours use virtual reality to showcase a home so potential buyers can learn more about a property and imagine what it would be like to live there without seeing it in person.
Over the past decade, virtual reality (VR) has taken the world by storm. This new technology allows businesses to give customers a glimpse into their products and services. In fact, most industries use virtual reality to a certain extent. For example, hospitals train medical students in surgery with the help of this technology. Large retailers, such as Walmart, use it to train employees. Psychologists even employ VR in the treatment of anxiety and post-traumatic stress syndrome.
Real estate agents can use VR to showcase their properties more creatively. Virtual house tours allow potential buyers to check out every room and corner with a few mouse clicks. Compared to photos and videos, this technology offers a more accurate and immersive experience. Let's explore the different types of virtual tours: 3D walk-throughs and 3D tours.
What Is a 3D Home Walk-Through?
Like a virtual house tour, 3D walk-throughs let prospective buyers get a feel for a home without actually visiting the location. A 3D walk-through is a virtual rendering of the home that allows potential buyers to see what it would look like with various options, such as different furniture than it currently has or without any furniture. It provides a more flexible option than a virtual tour, which only presents what already exists in the home.
A virtual tour of a house is a video. A 3D walk-through is not. A 3D walk-through creates a vision of the property to scale and brings it to life through digital rendering. While you can get a feel for a home's features from a walk-through, a 3D digital rending gives you a sense of the space. It's a separate experience from a virtual house tour, designed for a different purpose.
Here are a few benefits a 3D walk-through delivers:
A chance for people to decide where they want to navigate: A virtual house tour offers a single experience, but with a 3D walk-through, you can decide where you want to go.
A more professional quality: Whereas you might be able to knock out a virtual tour quickly, you will benefit from the assistance of a professional firm (such as Designblendz) to achieve your vision for the 3D walk-through.
An in-depth view of the interior: A virtual tour may show a lot of footage of the outside of the home, but 3D walk-throughs concentrate more on the interior.
A virtual tour and a 3D walk-through are great complementary methods for seeing the interior possibilities of a home. Adding them both to your real estate listing can enhance your chances of selling. The benefits of a 3D real estate walk-through include a more compelling look at a property that can answer questions for prospective buyers.
What Is a 3D Tour?
A 3D tour is similar to a 3D walk-through. The real estate industry uses them to present movement in the property. A 3D tour provides more animation than a walk-through. Some things in the space can move around, and you can get a 360-degree view of the object. Like a rendering, this is not an actual picture of the property but a presentation of what it could look like. A 3D tour and a 3D walk-through have much in common and are often referred to interchangeably.
Some differences between a virtual house tour and a 3D tour include:
Navigation may be different for a 3D tour. You can choose the area of the house you want to look at from a map vs. taking the entire virtual tour and being shown around the home on video.
You can display separate angles of the home that you can't share on a virtual tour. This flexibility allows people to get a more dynamic feel for the space.
Whether you choose a 3D tour, virtual tour or 3D walk-through, they each present a valuable tool for prospective buyers. In fact, you may want to consider all three.
The Top 10 Benefits of Virtual House Tours
Let's explore the key benefits of a virtual tour for real estate agents.
1. Save Time
When you're listing a new property for sale, you might end up receiving hundreds of phone calls from potential clients. Meeting each of them can be time-consuming. On top of that, some are just curious and have no intention to buy.
With a virtual tour, customers can see the property on their laptops or smartphones. Those who are really interested will call and ask for more information. Offering virtual tours will free up your time, so you'll be able to focus on other aspects of your business. It will also ensure you only showcase a property to the most interested potential buyers.
2. Cut Costs
Driving back and forth to meet potential clients and show them properties can cost you a fortune. Just think about how much money you'll save on gas!
The worst part is that you have no guarantee that they will buy. Perhaps they don't like the hallway. Or they discover that the neighborhood doesn't suit their lifestyle. Virtual house tours help eliminate these issues. Your only job is to upload the tour on your site so that customers can check the property in advance. Once they determine that a property meets their needs, they can contact you for an in-person tour.
3. Get More Website Traffic
This cutting-edge technology can drive massive traffic to your website. As a result, you'll attract more clients.
Property listings with virtual tours receive over 40 percent more clicks compared to those using images. More clicks translate into higher traffic stats and increased sales. Additionally, your real estate website will rank better in search results. Having a few virtual tours might entice more potential buyers to visit your website and browse for homes that catch their attention.
4. Reduce Your Website's Bounce Rate
A bounce rate represents the number of visitors who leave a website after seeing just one page. Besides posting quality content, you can use virtual tours to keep visitors engaged for longer periods of time.
In general, virtual tours take at least one minute. Offering a tour means that people will spend more time on your site. As a result, your bounce rate will drop, and low bounce rates result in more traffic and improved search engine rankings. They also help increase customer retention and boost your online exposure.
5. Get Social Media Love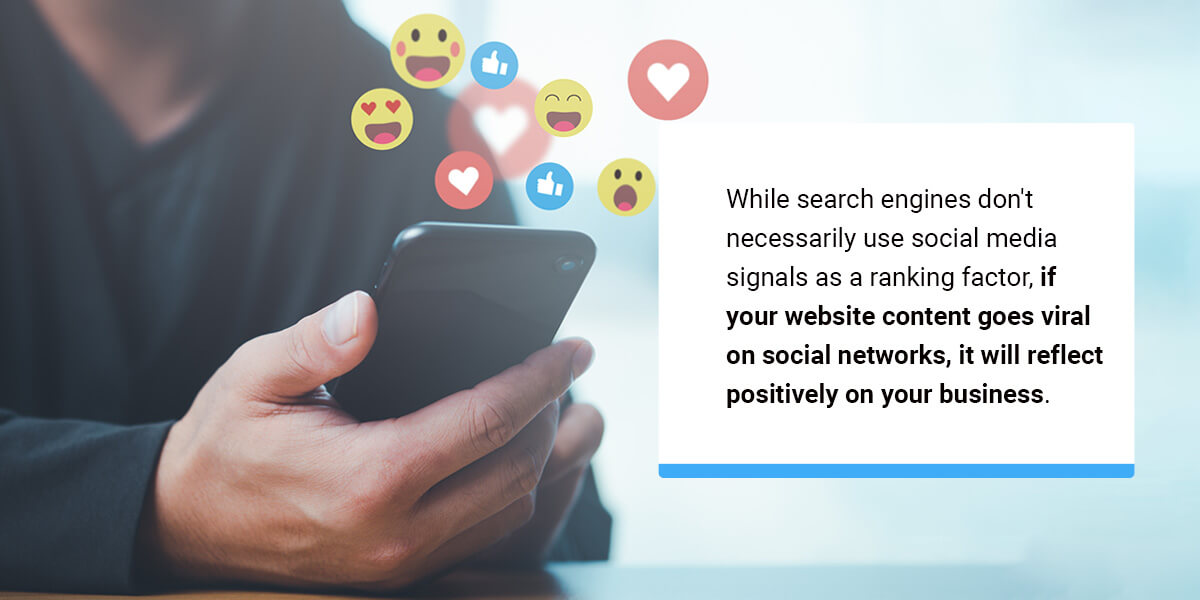 An eye-catching virtual tour is more likely to go viral. People will share it on social networks and tell their friends about it.
While search engines don't necessarily use social media signals as a ranking factor, if your website content goes viral on social networks, it will reflect positively on your business. Basically, you'll get more traffic because customers can find you in multiple ways. Some might find you through searching online, while others will visit your site due to a friend's post on social media.
6. Get Quality Backlinks
Whenever someone shares your virtual house tours online, your site receives a backlink, which is a direct path for potential customers to visit your website. This link increases traffic while also helping establish your authority online.
Quality backlinks are a crucial ranking signal. When other websites that are authorities on real estate link to your business's website, search engines see this as a mark of your expertise. Backlinks can increase brand awareness, strengthen your reputation and drive traffic for years to come.
7. Stand out From the Crowd
The more traffic and links you get, the more people will find out about your site. Virtual house tours can give you a competitive edge and make your business stand out. They will add that "wow" factor to your listings.
On top of that, customers will trust you more than they trust the competition. Some might even congratulate you for coming up with such a great idea! Buyers will appreciate the added versatility and increased safety of touring a home virtually.
8. Increased Convenience
When you're showcasing a property, you first need to make sure the house is in pristine condition. But, it can be a hassle to call a cleaning agency or ask the homeowners to clean every time the phone rings.
With virtual tours, you can show off the property in its very best condition. Moreover, you can highlight its key features to entice people into buying. After viewing the property virtually, customers may desire to see it in person, but you will still have additional time to make it look its best.
9. Provide a Realistic Experience
Virtual tours are like a permanent open house. Potential clients can access the tour 24/7 from their office or while on the road.
This technology helps create an instant sense of ownership. Those who take the tour can easily imagine themselves living in that house. When a potential buyer can see a room in 3D and not just a picture, they can much more easily picture themselves walking down hallways or snuggling up on the couch in the living room.
10. No Technical Skills Are Needed
There are companies today that create virtual tours in every industry — your only job is to send photos, videos and floor plans for the property. A professional design company will put everything together and design a stunning tour.
A virtual tour professional will also add background music and narration to improve the customer experience. Once the job is done, they will upload the tour on your site. Later, they can also make adjustments or add extras based on your feedback. With this technology and the right team behind you, you can present an ideal tour experience without the hassle of making constant trips to a property.
Create a Stellar Virtual Tour for Your Properties
Now that you know how this technology works, try it yourself! It's a fantastic way to reach more clients and take your real estate business to the next level. Our team at Designblendz provides high-quality virtual renderings and staging services to promote your property. We also combine experts from many disciplines, including architects, rendering experts and real estate marketing gurus, to create 3D drawings more efficiently and professionally.
Contact us for quality virtual house tours, real estate marketing and other consulting services! Our team has the skills and experience needed to grow your business. We even provide free quotes on our virtual house tour services so you can decide if this option suits your real estate marketing needs.