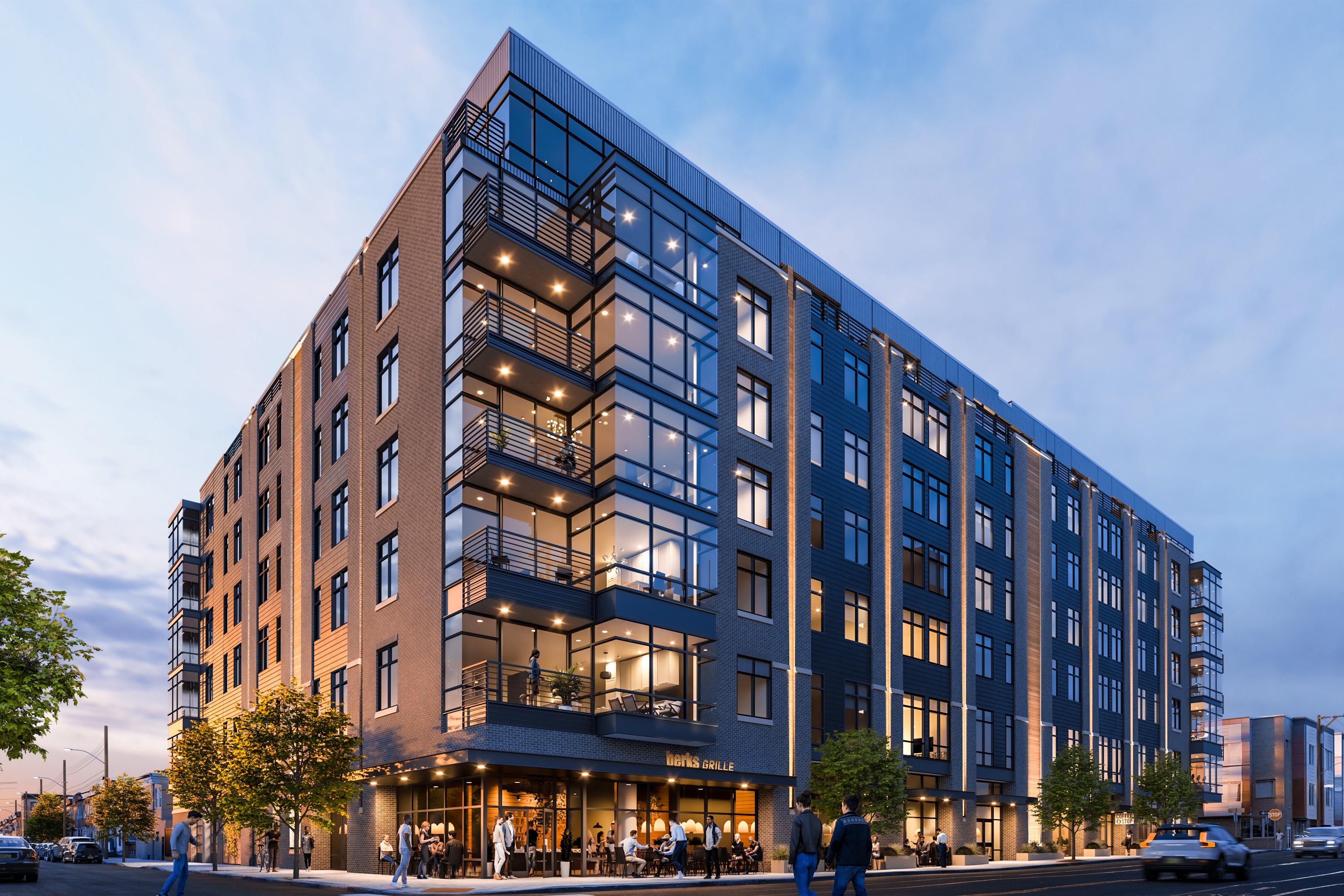 We partnered with Urban Conversions, a large developer here in Philadelphia, to produce pre-construction renderings of their proposed design at 180 West Berks Street. For this 7-story, multifamily building we recommended a collection of 7-8 renderings from street and aerial perspectives in order to capture the full impact of this design in its surrounding neighborhood.
Typical of developments of this scale, zoning variances need to be approved by the city. These zoning rules exist for a reason and clearly visualizing a design is critical to making a case that a building has been designed with the intention to fit into the fabric of its street and community. Designblendz played a vital role in helping our client to receive these approvals.
Kicking Off the Visualization Process
Here is an overview of the extensive process that our designers undergo when taking on a significant scale development project like 180 West Berks Street.
After receiving the Revit model from the project architect, our visualization team imports the model into 3D software and proceeds to clean up the file by removing unnecessary geometry and optimizing the file for a smoother performance.
Once the model is ready, a visualization artist can begin adding materials, textures, and surrounding details that will work to bring the scene to life.
Design Development
Despite having a mostly finished design, our client still relied on Designblendz to provide input on several key aesthetic factors during the visualization process.
One element that we were able to provide input on was the orientation and color of the aluminum siding. Our artists produced visualizations of the original design as well as several additional options of our own. In the end, we were asked to move forward with one of our own design suggestions.
Options presented - Designblendz option 3
Designblendz was also asked to provide input on exterior lighting. We tested several options before suggesting the installation of up-down sconce lighting that would accent the thin vertical strips of wooden siding that broke up the front façade. Our client loved the suggestion and decided to implement it.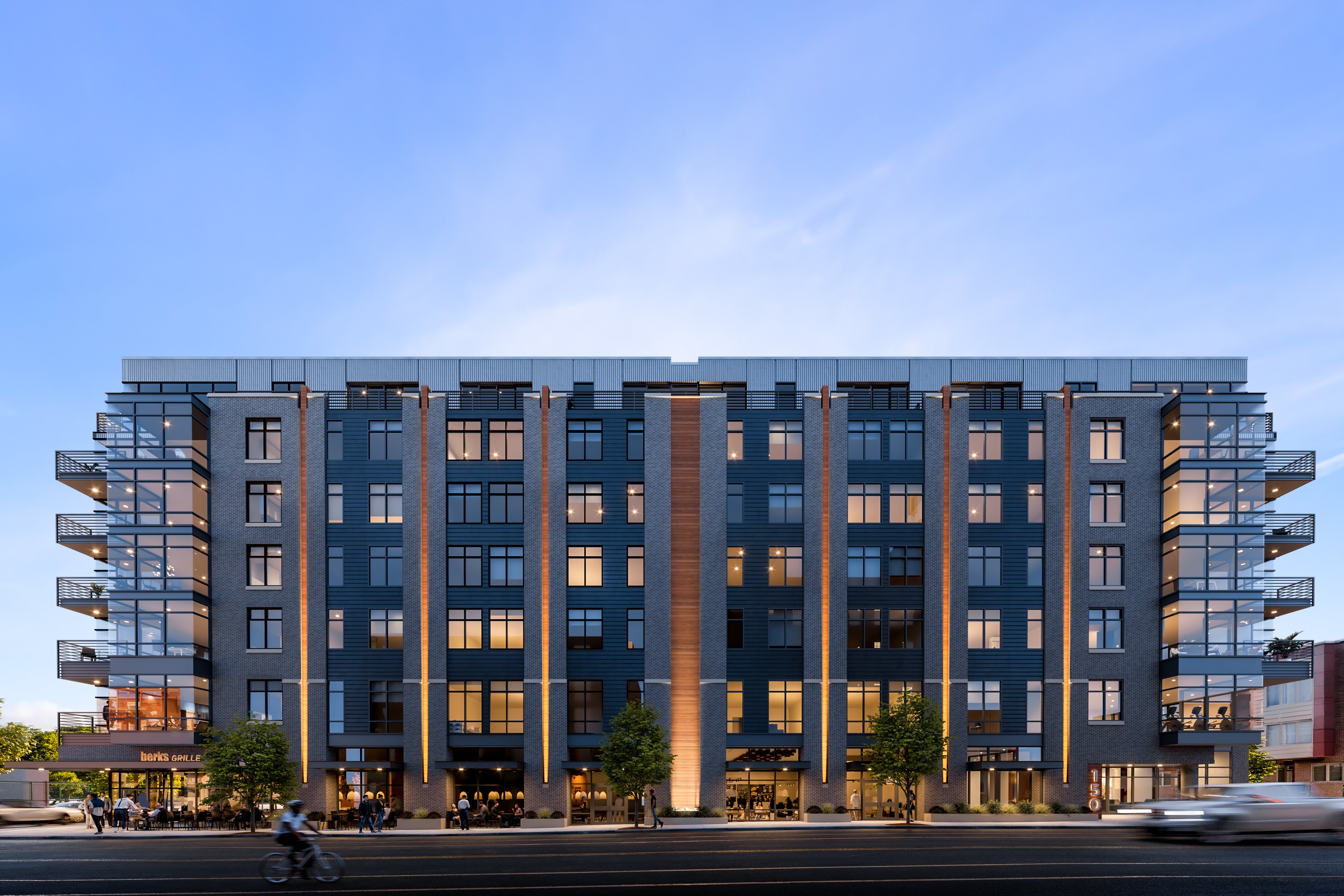 Camera Setting
One of the earliest stages of a project like this is setting up the cameras. In doing this, it is important that all of the angles that the client wants to see are included in an aesthetically pleasing way. This part of a project can be time-consuming due to required back and forth with the client, and fine-tuning the camera settings. Attention to detail is a key aspect of camera setup and one thing a visualization artist should always make sure to pay attention to is that the building's verticals are always straight.
Environmental Lighting
The lighting of a rendering is a key component of setting the scene. It can be used as a tool to evoke a certain mood or draw the eye to focus on specific areas. As seen in the images above, it can take some experimentation in order to get right. Certain projects may look better in a nighttime setting, while others may be better suited for a slightly overcast afternoon. Our artists typically lean towards more dramatic lighting; leaving a part of a building in a shadow can create a more interesting image, as opposed to using the sun to front-light the entire building.
Utilizing Drone Photography
In this case, the client requested 2 elevated angles of the building and a view from the western rooftop amenity deck. To get an accurate representation of an elevated shot, our visualization team will typically team up with a drone photographer. Utilizing drone photography allows the artists to get photos from the exact location they need their cameras to be in. Not only does this provide an accurate setting for the building, but it allows for the artists to have complete control over the vantage points and angles that they would like to show.
Below is an example of the workflow our visualization team uses to create an aerial image. They start with the aerial photo and will make necessary adjustments that might include color correction, changing the surrounding sky, and various other fixes. They will then use the image and the model to place the camera in the scene correctly, lining up the edges and perspective as closely as possible. The next step is to match the lighting using an HDRI, and finally render the building before combining it with the background image in Photoshop, before final tweaks to the perspective and color correcting.
As you can see from the aerial perspective, the architects were extremely thoughtful in designing this building to fit its environment. The building fits right into the neighborhood, matching up with the color pallet, shapes, and sizes of the buildings that surround it.
Repeating Textures and Objects
Often, repeating textures and objects can distract the viewer from the scene, so our team will try to avoid this wherever possible. When thinking about repeating objects and textures, a great point of reference is sidewalks and curbs.
In order to have the most accurate rendering possible, our visualization artists make sure to study the details of the surrounding area; this can include anything from buildings and road conditions to power lines, trees, and foliage. The team had to focus even more on this for this particular project, as the client wanted to include a nearby subway station in one of the views, located beyond a converted factory and community center.
This is part of a larger effort of bringing the scene to life through detail. Adding in aspects such as cars and pedestrians can play an important role in the final composition, as well as help the viewer envision an active streetscape on a typical day around the building. Our artists also wanted the building itself to appear "alive", so to speak, and lived-in. To accomplish this, they added interior furniture to a lively restaurant and coffee shop on the ground floor.
Accurate Site Context
One of the most important but often overlooked elements of visualization for zoning approval is accurate site context. Generic neighboring buildings are often used to cut expenses when visualizing a design, but this often leads to backlash from a community who is concerned that a developer is not sensitive to the specific character of the street they are developing on. Our team always takes the time to use a combination of on-site photography and custom 3D modeling to ensure that all neighboring buildings are represented accurately in renderings.
↑ Context reference Context in scene ↓
Importance of Working With Professional Visualization Artists
When planning to market a large-scale building like 180 West Berks Street, it is crucial to have renderings that will best represent the final product. At Designblendz, our work stands out for the level of detail that goes into every rendering. There are many benefits to working with a professional visualization team on your architectural projects, including the ability to explore different options, see the project as it would be if lived in, get an idea of how the surrounding environment would be affected, and get the most flattering and accurate representation of the finished project.