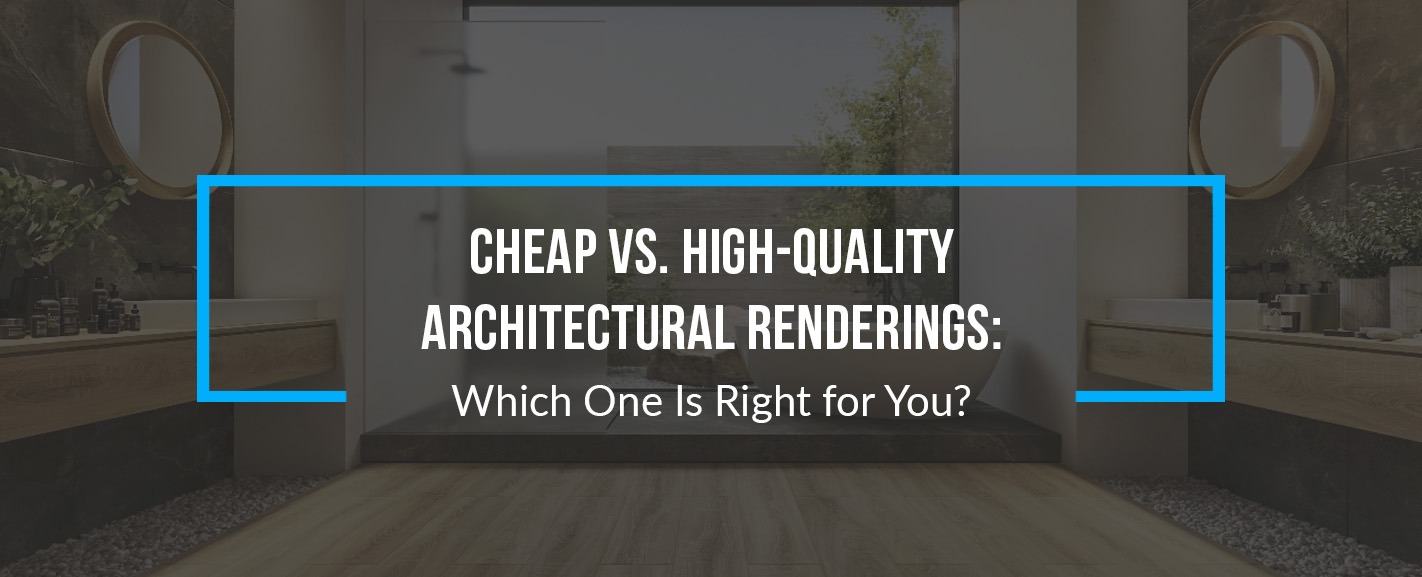 In the world of architectural rendering, it can be challenging to determine which pricing options are best for your project. While costs range from under $100 to more than $10,000, you'll find quite the varying quality of architectural renderings available.
Discover why super-cheap rendering firms aren't the great deal they advertise themselves to be — and how they can ultimately cost you more in the long run. We'll help you determine which level of architectural rendering is right for you — low, mid-level or high-quality — based on your budget, audience and intended use.
When to Use Cheap Architectural Renderings (Under $500)
When choosing a rendering service, that timeless saying is correct — "You get what you pay for." That said, it's also true that in the world of architecture and real estate, projects differ greatly, from a few thousand dollars to budgets exceeding millions.
Depending on your target audience, scale, budget, quality and imagery needs, using a cheap rendering service can be an OK choice in select situations, like:
Personal project:

If you're a homeowner planning a DIY renovation, a simple visualization may be all you need to illustrate the finished product.
Approval purposes:

Use cheap architectural renderings if the main reason for the project is to gain initial approval from regulatory bodies, HOAs and other authorities for simple style planning or real estate presale.
Basic conceptualization:

If you're a home builder, painter, designer or real estate agent looking to discuss basic colors and style options with your client, a no-frills exterior house render may offer enough visually.
Tiny budget:

When you have a small budget and the cost is your only concern, cheap may be the way to go.
The Dangers of Low-End Renderings
You'll find that most extremely low-cost options are overseas 3D rendering firms taking advantage of cheap labor and more relaxed regulations. Of course, good 3D artists operate worldwide — but keep in mind that any firm offering bottom-of-the-barrel pricing, even stateside, is probably more focused on work quantity over quality.
Low-cost rendering providers often make their starting costs as enticing as possible to attract many potential clients in a short turnaround time. They then attempt to recoup that discounted profit soon after signing on the dotted line. Before you agree to what appears to be an incredible deal, look closer at the hidden costs and issues most super-cheap firms won't tell you upfront:
Hidden costs: That low, low price you were quoted? It may only be for the first "stage." Additional charges will be applied for the next steps, revisions and receipt of the finished product.
Image quality:

Some companies sneak resolution limitations into the contract and charge more for higher resolution images. Always clarify the size, resolution and price of the final renders.
Timeline shifts:

Quantity-focused firms often overpromise, miss deadlines and require extra payment to complete renderings in your timeframe. Delays mean you and your colleagues end up compensating to finish the project on your end.
Shortcuts:

Cheap content means it's overoptimized — artists repeatedly recycle customer projects into new ones, resulting in cookie-cutter textures and objects. Depending on your audience, using noticeably repetitive renders may adversely affect your brand.
Lack of details:

Fine details like soffits, window details, landscaping, trim, detailed furnishings, appliances and more may not be included — or if they can be, you'll need to pay extra.
Paying twice:

If you cannot use the renders due to poor resolution and quality, you might have to hire a different firm to produce what should have been done right the first time.
Our advice is if it seems too good to be true, it probably is. Buyer beware — that low-cost option may end up not-so-low due to extra charges, time lost and poor image quality. Before you agree to services, review every detail about their process, image resolution, project timeline and any extra charges.
When to Use Mid-Level Architectural Renderings ($500-$3,000)
For real estate agents, developers, designers and architects collaborating on medium to large-scale projects, mid-level services from a trustworthy firm offer a great selection of quality images without blowing your entire budget. The average price of architectural renderings ranges from around $500 to $3,000. This mid-level range is ideal for professionals working on townhomes, apartments and housing community projects.
Mid-level pricing is probably the best fit when:
You need your project to stand out from competitors
You're aiming to convince a regulatory board to move ahead with your project
You plan to use the render as a marketing tool to increase sales or sell more quickly
For customers shopping around for 3D rendering companies, it can be challenging to know what to look for. Evaluate the following qualities to differentiate between mid-level render companies that are just OK versus those who offer an excellent product at this price point:
Professionalism:

Research the company's credentials, awards, testimonials and reviews.
Communication:

Can you speak to a professional on the phone to discuss their services?
Expertise:

Confirm how long the company has been in business and review staff qualifications.
Turnaround time:

Too-fast turnaround times are a red flag. Quality mid-level renders require a reasonable, but not exorbitant, amount of time to produce price-worthy details. Ask about expected timelines and the company's track record of hitting agreed-upon client deadlines.
Render quality:

Compare the company's render examples to competitors. Examine the realism — or lack thereof — of textures, colors, lighting, windows, furniture, greenery and more in their render samples. Ensure the firm will provide final images comparable to the quality level advertised.
Designblendz can create a high volume of architectural images for larger companies or provide a selection of beautiful renders for a small real estate agent who wants a few top-notch photos. Our blended team of licensed architects, construction managers, real estate gurus and 3D rendering experts produce higher quality results at the mid-level range more efficiently than the competition.
When to Use High-Quality Architectural Renderings ($3,000+)
High-quality 3D architectural renderings are essential for luxury apartments, high-rise developments, commercial properties and other large-scale professional projects. For projects in the hundreds of thousands and millions of dollars, spending upwards of $3,000 on polished, attention-getting rendering is an expected — and essential — investment. The imagery can make or break hundreds of presales, critical project approvals and high-end profit margins.
Choosing top-quality rendering services is the right call when you want to:
Emphasize your professionalism:

You are — or are working toward becoming — a recognized and respected professional in your field.
Elevate your network:

You're willing to pay to work with the best professionals and companies in construction, design and real estate development.
Impress your VIPs:

If your project needs to turn the heads of high-paying clients and influential decision-makers, anything less than superior-quality renders won't do.
Produce high-caliber work:

Investing thousands of dollars into top-notch architectural rendering services won't break your budget and is an expected investment in your sales, marketing and growth goals.
Even among high-quality rendering providers, not all firms are created equal. Especially at this price point, make certain the company proves its value:
Has the company worked on rendering landmark builds that meet or exceed the scale of your project?
Is the company recognized as one of the leading architectural rendering companies in your city, state or country?
Does their portfolio showcase photorealistic quality, prove their level of professionalism and justify this pricing level?
Who are the rendering firm's most elite clients, and do they have glowing testimonials and reviews?
Has the company worked with highly respected brands in your industry?
Our high-quality rendering for prominent Philadelphia development projects speaks for itself. It's no surprise we are one of the fastest-growing development companies in the Philadelphia region! If you're looking for a trusted design service sure to impress your most discerning clients, you can trust Designblendz to deliver every time.
Contact Designblendz for Top-Quality Architectural Renderings
We utilize the most advanced 3D visualization technology to help you design, pre-sell, lease and market real estate virtually. Our high-quality rendering services help you focus less on micromanaging your jobs and more on what you do best — expert negotiating and scoring more high-end projects.
Our successful real estate developer clients land key investors and pre-sell their properties quickly as a direct result of commissioning our photorealistic renderings. Because our visualization designers have a real estate background, we have the expertise to produce imagery that connects with your audience to lock in those permit approvals and high-end sales.
If you're ready to elevate your business and impress VIP clients, contact Designblendz today to get started.