There are around 175 million smart homes worldwide. As the capabilities of technology continue to expand, more homeowners want the convenience of these devices. As such, the value of smart homes can't be overestimated.
Whether you're building a home from the ground up or selling an existing property, smart technology can increase its value.
Does smart tech add value to a home, and why are homeowners willing to pay more for it? Keep reading to find out.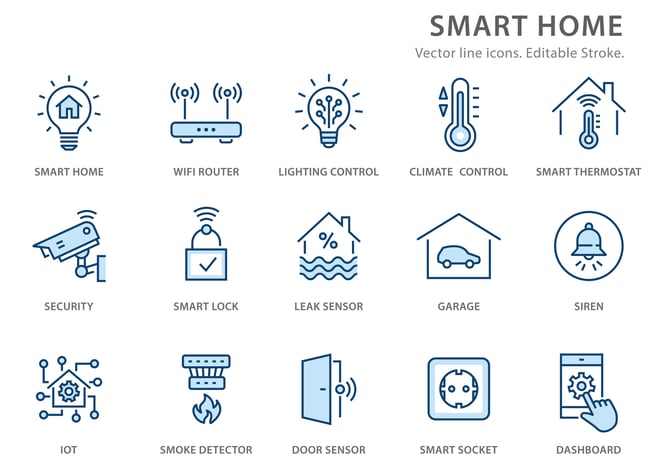 What Is a Smart Home?
You often hear the term smart home thrown around, but how many devices does it take to turn a building into a smart property?
In short, there's no rule about how many devices define a smart home. Smart homes simply have a setup where homeowners can remotely control technology and appliances from their networked devices or phones. A smart home can have either hard-wired or wireless systems.
Connected devices rely on the internet to work and use a smart home hub or device to control different actions such as dimming the lights or setting the thermostat.
The more smart devices you have, the more apps you might need. For instance, you might have an app for your smart lightbulbs, your home security system, and your doorbell. It can get overwhelming managing multiple apps on your phone.
A hub is an all-in-one network that allows you to control all smart appliances and devices. Certain automation hubs may have a monthly fee to use them. Wi-Fi mesh hubs perform multiple functions, such as providing a network and eliminating dead spots.
Hubs aren't necessary, but they are useful when there are multiple smart devices in the home.
Are Smart Homes More Valuable?
Millennial homebuyers often look for smart features in a house when deciding where to live. Utilizing smart home technology can appeal more to millennial homebuyers, as well as younger generations who grew up using tech in their everyday life.
Many people consider smart home features an upgrade and a definite selling point and are likely to spend more on these upgrades.
In 2018, 29.5 million homes used smart home technology. By 2025, it's predicted that this will increase to 64.1 million homes. As you can see, the interest in smart home systems and tech isn't slowing down.
Sustainability and green living are also important issues among homeowners, especially the younger generations. Millennials, who are currently at the prime home-buying age, are looking for homes that produce a smaller carbon footprint. Smart technology can help them to control their energy usage and save on their monthly bills.
Smart Home Features
There are many upgrades you can add to a home to make it more appealing to homebuyers. Here are some of the most common options people want and are often willing to pay more to get.
Lighting
Smart lighting has become quite sophisticated over the years. It's also very cost-effective to make the switch from incandescent light bulbs to LED and smart lighting.
LED bulbs use 75% less energy and last up to 25 times longer than an incandescent bulb. The ability to control smart LED lighting can save homeowners even more. It also gives them the freedom to adjust the brightness, set the light temperature, and turn the lights on and off as needed to conserve energy.
Thermostat
Smart thermostats are so popular that 33 million homes in North America already have them.
New home construction these days often involves installing smart technology, such as special thermostats. The benefit of a smart thermostat is that homeowners can use a Wi-Fi network and a device to control the temperature.
Homeowners can set the thermostat to follow a set schedule. For instance, raising the temperature when no one is around to save energy and lowering it to cool the house when people are due home.
Smart thermostats also track energy usage and can offer insights and advice for reducing costs. People learn more about their energy habits and can make adjustments to lower their heating and cooling bills.
Security Systems
Home security is a major concern for homebuyers of all ages. Often, locking the windows and doors isn't enough to make people feel truly safe.
Thankfully, technology has advanced to the point where homes can be fully protected with a few taps.
Smart doorbells, security cameras, motion detectors, and entry sensors watch the home and prevent intruders from breaking in. Homeowners can remotely monitor the house from anywhere, allowing for regular check-ins.
Installing a home security system appeals to a wide range of buyers, offering them added peace of mind.
Appliances
An upgraded kitchen is a major selling point, and you can appeal to buyers even more with internet-enabled appliances.
Smart refrigerators can track the items stored inside, as well as expiry information to reduce food spoilage and running out of ingredients. Homeowners can also create lists and access other features.
Another popular option is the smart oven. Smart ovens can be operated remotely through the use of a phone and app. People can pre-heat, adjust the temperature, and turn the appliance on and off from anywhere.
Above is a 3D virtual animation that our visualization team created for an apartment complex that embodies all of the features of a smart home.
The Benefits of Building a House With Smart Technology
There are many advantages to building homes with smart tech already installed and included. You're appealing to buyers that want more convenience in their homes and those that are willing to pay more for it.
Combining high-end features such as a smart home system with photorealistic software allows homebuyers to see spaces that don't exist yet, allowing them to clearly visualize the final product. Not only do buyers see the features on paper, but they can also imagine themselves in the space.
Discover the Smart Home Advantage
Smart homes are more appealing to homebuyers for many reasons, such as convenience and improved efficiency. Smart features are a big selling point, and many buyers will spend more for these upgrades.
Designing and showcasing properties is easier than ever, thanks to 3D visualizations and renderings. To find out more about our services and how we can help you appeal to your clients, reach out to us, and our visualization designs can bring that idea to life.