When you're trying to sell a home, which is better: virtual staging or physical staging? Here are the pros and cons of each so you can decide for yourself.
In today's world, 90 percent of potential home buyers start their house search online.
Whether you are a realtor or a homeowner, there are a lot of factors that you will need to consider before you put a house on the market. For example, when, how, and at what price to list the house.
Arguably the most crucial decision you can make during this process is determining the best features to highlight.
This is what allows you to create buzz and interest around the home. To do this, homeowners and real estate agents have traditionally relied on professional home staging companies.
The home staging company prepares the home to make it as appealing as possible. But how about virtual staging? Which one between the two should you use?
Read on to find out.
Physical vs. Virtual Staging
As virtual staging continues to gain traction, both realtors and homeowners might find themselves grappling with the question of which staging technique to use.
To answer this question, you have to look at the current state of affairs. Today, people will first look on the internet when searching for a house. This means that it is important to have a virtual version of the house.
Virtual staging gives you a platform to showcase your home online. Physical staging, on the other hand, ensures that the house looks just as good as it did online.
Let us look at both in more detail.
Traditional Home Staging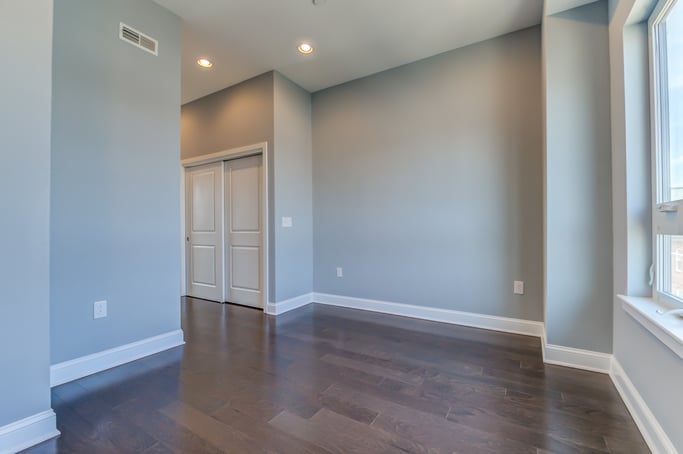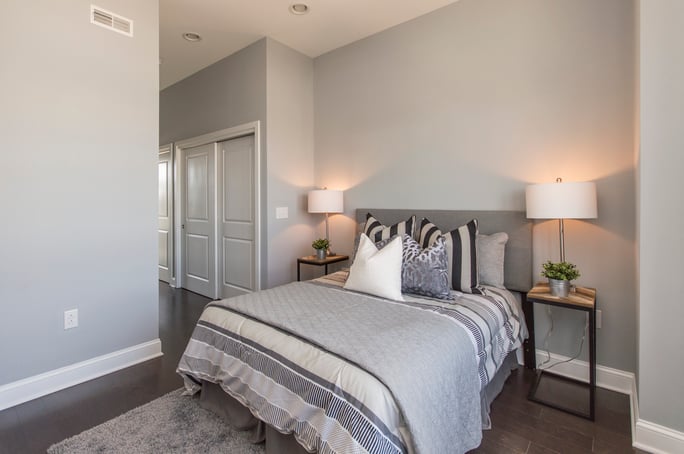 Also known as physical staging, it involves inviting a home staging professional to prepare your home before you list it.
A home staging company will typically come with the relevant furniture and other décor items necessary to highlight the house's best features.
As such, the main focus of home stagers is to work on layout and design elements to make the home appealing and inviting to potential buyers who have come to check out the house.
Physical staging, therefore, helps those buyers imagine how it would be like to live in that house. Using the right techniques, physical staging can help minimize flaws that would have otherwise put off a potential buyer.
Nonetheless, the extent of physical staging usually varies depending on the condition and needs of a home. Houses in good condition might only require a few decorative updates and minor rearrangements.
Older houses, however, might require more in-depth efforts such as repairs and repainting, thus costing a lot more.
Additionally, if you have outdated furniture or décor, the professional stager can allow you to rent theirs for the entire period your home will be on the market.
Virtual Home Staging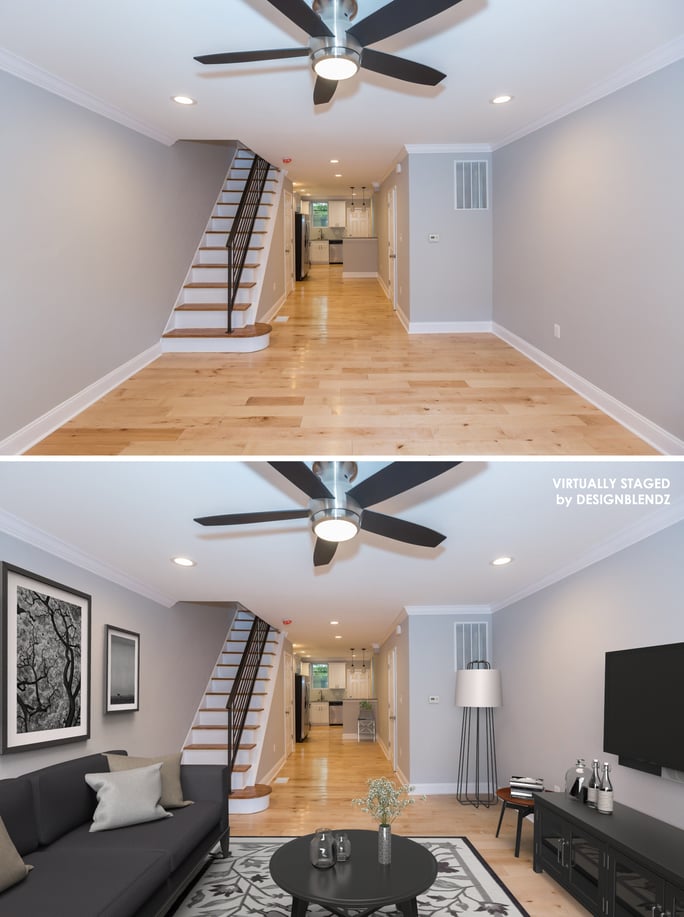 Virtual staging encompasses a variety of digital techniques that allow you to showcase your home without the buyer being there physically.
You can either use augmented reality or give a virtual tour over the internet. The latter is the most popular type and that is what we shall focus on.
Here, images of your empty rooms are staged digitally adding design elements and furniture to each room.
This allows the buyer browsing online to imagine what the home would feel like through a virtual tour.
Since virtual staging is all about manipulating the interior design elements, it allows you to cover up elements that would have been otherwise hard to overlook during a physical staging.
Sometimes, even simple things such as wrong paint color or even furniture layout can be enough to put off a potential buyer.
Virtual staging, therefore, allows you to highlight your home to people searching online in the best light possible.
As such, it helps get them interested in the property as you work on it physically. The best part about virtual staging is that you do all that for every room in the house without budget constraints.
Nonetheless, it is important that you keep your staging efforts as close to reality as possible. This means not incorporating elements in the virtual house that the buyer will not find if they decide to come over.
Additionally, keeping it simple allows the buyers a chance to imagine their own furniture in your house. Therefore, fewer details and a simpler design may actually be beneficial in the long run.
The Verdict
There are two main factors you will need to consider before you make your choice. These are time commitment and cost. Let us look at them in detail.
Time Commitment
The amount of time and effort you dedicate to staging a house is often dependent on the home being sold.
Physical staging will obviously take a lot of time since the house will need to be vacated, updated, and fitted with the right furniture.
This means that the period between when you decide to sell the house and when you actually list it will depend on how fast the house can be prepared.
Virtual staging, on the other hand, is almost instantaneous. All you have to do is take professional pictures of your house and submit them to a virtual staging solutions provider.
Cost
Again, your needs will determine how much you are going to pay, especially in physical staging. Nonetheless, physical staging is a lot more expensive than virtual staging since actual work is involved in preparing the home for sale.
Virtual staging costs will depend on your solutions provider as well as the area being covered. The number of rooms being staged will have a significant effect on the overall costs.
Both types of staging are necessary. Virtual staging allows you to attract more people in a shorter period of time, while physical staging ensures that the house looks just as good as it did over the internet.
Selling Your Home
If you are looking to close your house deal as fast as you can and at the best price possible, then you should consider utilizing both physical and virtual staging.
Both strategies have the same goal but need to be used together if you are looking for the best outcome possible.
Interested in knowing more about virtual staging?
Design Blendz is a team of architects, 3D artists, and builders who combine their knowledge to help homeowners and realtors create virtual designs of their homes that easily capture the interest of potential buyers.
Contact us today to learn more.