Are you new to the city or seeking out a new neighborhood to move to? This article is your guide to the top neighborhoods throughout Philadelphia. Explore things to do, places to eat at, and sights to see in each of these beloved Philly spots.
Old City
The oldest district in Philadelphia is not only home to some of the nation's most significant historic relics, but also some of the trendiest spots in the city. Whether it be checking out the Liberty Bell, wandering the Constitution Center, or hanging out at Penn's landing, there is no shortage of attractions in Old City. This neighborhood manages to be a calm, clean, and safe neighborhood in the heart of a thriving city, all while maintaining its historic charm. Old City is home to some of Philly's finest restaurants like Han Dynasty, Amada, Fork, Sassafras, and La Famiglia Ristorante.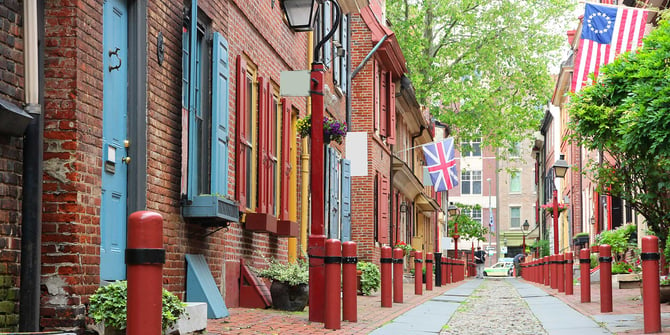 Image source
Fitler Square
Fitler Square is a family-friendly neighborhood with a big city feel. It is conveniently located near the University of Pennsylvania, HUP, Children's Hospital of Pennsylvania, Pennsylvania Hospital, Drexel University, 30th Street Station, and South Street. There are plenty of good places to grab a cup of coffee, such as Good Karma Cafe, Cafe Lutecia, Ants Pants Cafe, Rowhome Coffee, and Rival Bros Coffee Bar. In the warm weather, locals have the choice of hanging out at either Fitler Square Parker or nearby Schuylkill River Park. And there are plenty of spots to get a good bite to eat like Cotoletta Fitler Square, Trattoria Carina, Friday Saturday Sunday, and Callahan's Grille.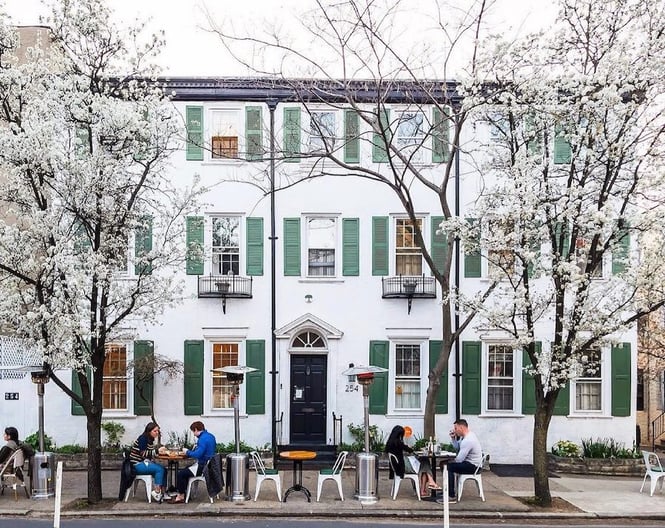 Image source
Roxborough
With its close proximity to Wissahickon Park, Roxborough gives residents the feel of the suburbs without leaving the city. It is a family-oriented neighborhood with a great selection of public, private, and Catholic schools. Shop the deals at TJ Maxx or get together with friends at Painting with a Twist in the Andorra Shopping Center, sign your kids up for classes at the Roxborough YMCA, or play a round at the public Walnut Lane Golf Club that is open to players of all skill levels. Roxborough Spring Fest & Car Show 2022 is coming up-it will take place on May 7th, don't miss it!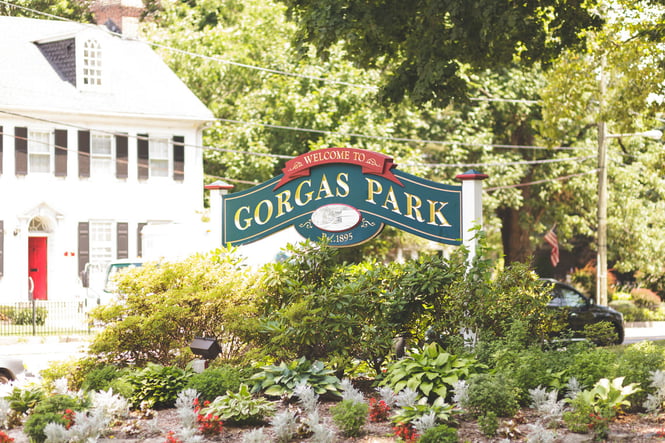 Image source
Queen Village
Queen Village is a safe and diverse community that is home to people from all walks of life. Locals often start their day with a coffee at Red Hook Coffee and Tea or a bagel from The Bagel Place, and then a walk around Mario Lanza Park. To find some enriching activities there's no need to go far; the Mummers Museum is just a short walk away. For lunch, they may swing by Lucky's Last Chance for a gourmet burger, classic Chinese takeout from Mustard Greens, or a quick slice from Little Italy Pizza & Trattoria. To walk off the good eats, people flock to the historic Fabric Row for its fabulous lineup of shops. Some of the shops loved by the locals are Moon + Arrow and Urban Princess Boutique. To end the day, residents of Queen Village have an array of spectacular restaurants to choose from; NIRVANA Indian Kitchen, Keshet Kitchen, and Cry Baby Pasta, just to name a few.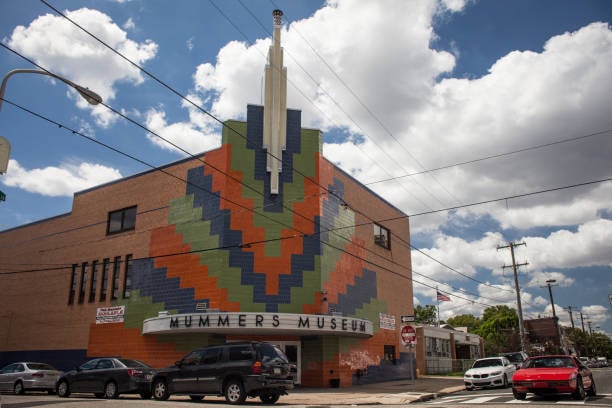 Fairmount
The streets of the Fairmount neighborhood are flooded with trees, old row homes, and museums. The Franklin Institute, Mutter Museum, Philadelphia Museum of Art, and the Eastern State Penitentiary are the main attractions, welcoming visitors from all over the world. Despite all of the excitement in the neighborhood, locals describe it as quiet and relaxed- which allows them to jog or walk their dogs around in peace. It is also home to some of the best restaurants in the city, including Osteria, Bad Brother, Figs, and A Mano.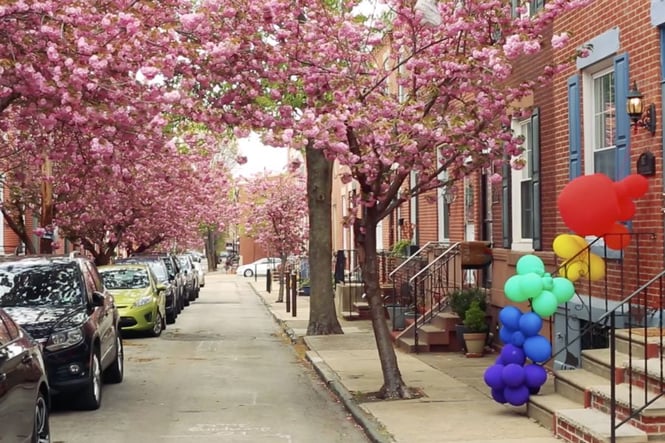 Image source
Chestnut Hill
Located in Northwest Philly, Chestnut Hill is a garden district neighborhood known for its cobblestone streets, modern restaurants, and great bars. Tourists are drawn here to see Morris Arboretum, the Woodmere Art Museum, and the Skyspace in the Chestnut Hill Friends Quaker meetinghouse. Residents get active in the 50+ miles of biking and hiking trails in Wissahickon Valley Park and wander the many shops, bakeries, and pubs on Germantown Avenue. Whether you are indulging in some sweets at Cake bakery or sipping a brew at McNally's Tavern, Chestnut Hill is sure to show you a good time.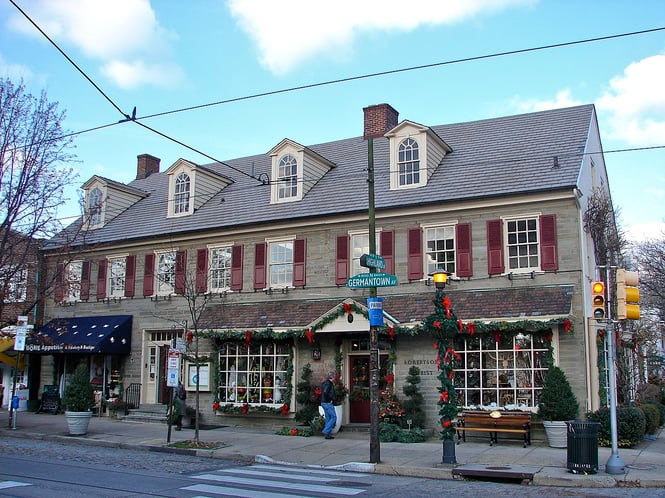 Image source
East Falls
If you like a slower-paced neighborhood that gives off a small-town vibe, East Falls is for you. Although most of the residents opt to bike their way around the nature-filled area, easy access to Route 1 and I-76 make it a breeze to commute around the city. If biking isn't your thing: you can get fit at Philadelphia Rock Gyms, swim at Salvation Army Kroc Center, or give your legs a burn by simply walking up Midvale Avenue. Even better, skip the workout and go straight to one of East Falls' many widely-adored restaurants like LeBus East Falls, Fiorino, The Couch Tomato Bistro, or DJ Kitchen.
Image source
Manayunk
Among the safest places to live in Philadelphia, Manayunk's suburban feel and a short distance to Center City attract young professionals, families, and students alike. With its abundance of affordably-priced, spacious housing: this neighborhood is a perfect spot for renters and first-time homebuyers. No need to wander around- Main Street is the heart and soul of the neighborhood; packed with unique stores, bars, and galleries all within a half-mile radius. Dog owners can entertain their furry friends at Pretzel Park, or take in the views on a walk down the Manayunk Bridge Trail. The neighborhood has lively events all year long like the Manayunk Arts Festival in June, the STREAT Food Festival in September, and the Out & About event in October. Luckily you don't have to wait until September to enjoy some of the local's favorite eateries, some of which include Winnie's Manayunk, The Goat's Beard, Hilltown Tavern, and Smiley's Cafe, and Taqueria Amor.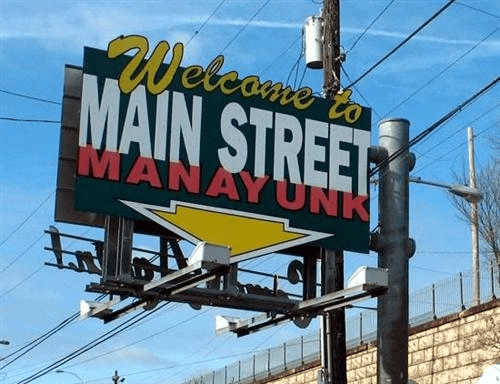 Fishtown
Once home to the district's fisheries, Fishtown has since become one of the hottest areas to live in Philadelphia. Home to some of the city's most popular music venues including The Fillmore, Foundry, Johnny Brenda's, and Kung Fu Necktie, this neighborhood is a music-lovers dream. Fishtown is also bustling with thriving small businesses that are worth a visit. Locals love Jinxed, TOILE, Vestige, and Harriet's Bookshop to fulfill their shopping needs. No matter what type of cuisine you are in the mood for, Fishtown is sure to deliver. You can enjoy Lebanese from Suraya Restaurant, Mexican from Loco Pez or Sancho Pistola's, Asian fusion at Cheu Fishtown & nunu, Greek from Kostas Bar Restaurant, and Italian from Wm. Mulherin's Sons, or a classic Philly Cheesesteak from Joe's Steaks + Soda Shop.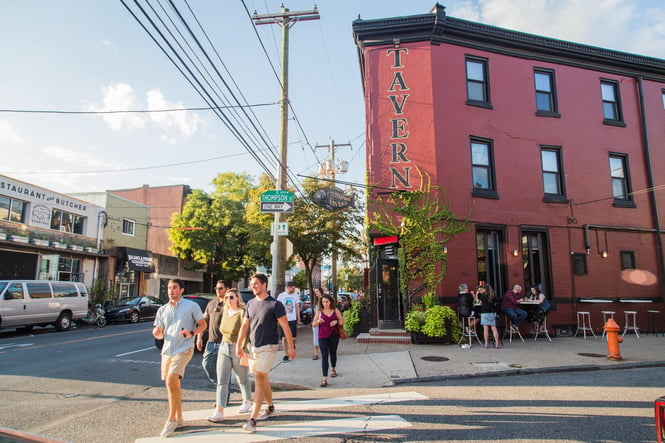 Image source
Washington Square West
Washington Square West's abundance of bars, restaurants, coffee shops, and parks attract many of Philly's young professionals. This neighborhood is safe, always lively, and full of friendly people. Locals say that you can always find a police officer nearby willing to help you with any situation. One of the most well-known parts of the neighborhood is the "Gayborhood," this area is extremely LGBTQ+ friendly. Exciting nightlife and close proximity to all of the happenings in Center City make this the perfect place for singles and young professionals. Some of the spots that are widely adored throughout the neighborhood include Talula's Garden, Strangelove's, Walnut Street Theater, and Mercato.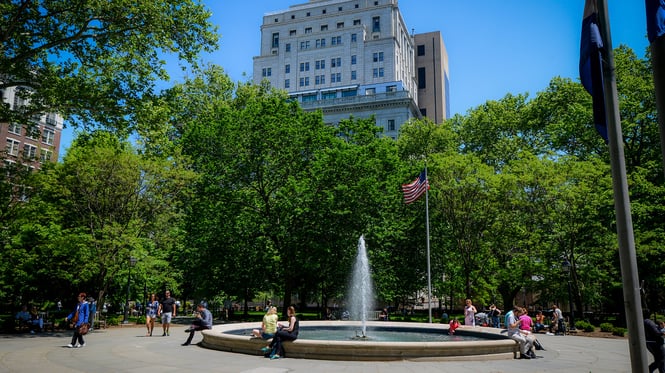 Image source
Point Breeze
Point Breeze, named after the former neighborhood tavern, is full of residential buildings, trails, and open space. The tight-knit community is full of friendly people and families. Great restaurants, bars, parks, and outdoor activities keep the locals busy and satisfied. Grab a coffee or bite to eat at The Pharmacy, American Sardine Bar, Harden, or Community Bar. You can spend the day hanging out at Bury the Hatchet or checking out some of the city's most well-known murals that are scattered throughout the neighborhood.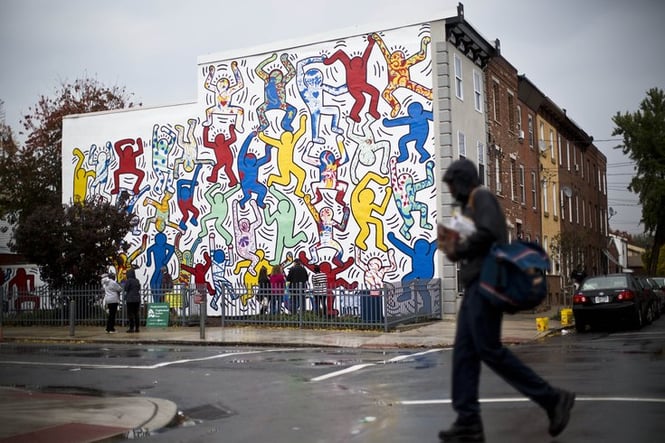 Image source
Center City
Center City is Philly's hub of nightlife, historic landscapes, upscale restaurants, and glamorous shopping. There is no shortage of things to do here; from tasting different foods at Reading Terminal Market to brushing up on your science knowledge at the Franklin Institute. Conveniently in the center of everything, Center City is the perfect neighborhood for young people looking to be in the heart of the action. Annual events like the Philadelphia Flower Show and Philadelphia Auto Show attract people from all over the country to this neighborhood.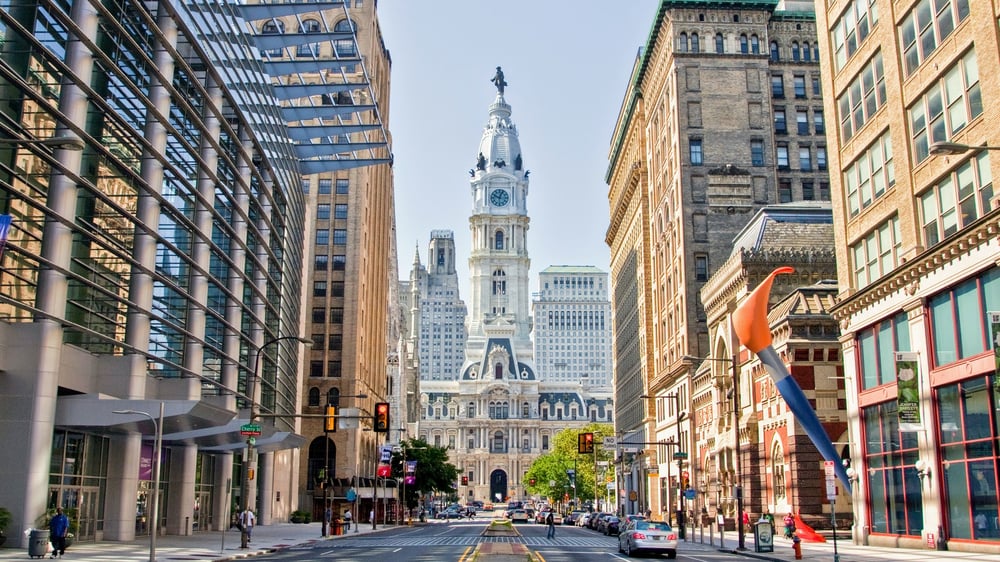 Northern Liberties
This neighborhood is a foodie's dream- with hundreds of restaurants all within walking distance, you never have to eat the same thing twice. Full of craft beer halls, unique shops, and all of the ethnic cuisine you can imagine, Northern Liberties is a hotspot for young people moving to Philadelphia. Conveniently located near Fishtown and Kensington, you never have to go far to find something to do. Northern Liberties is easily accessible through Spring Garden Street and Columbus Boulevard, which provide access from highways. Some of the most popular spots around here are Jerry's Bar, Yards Brewing Company, Standard Tap, North Bowl, Art Star, and Silk City.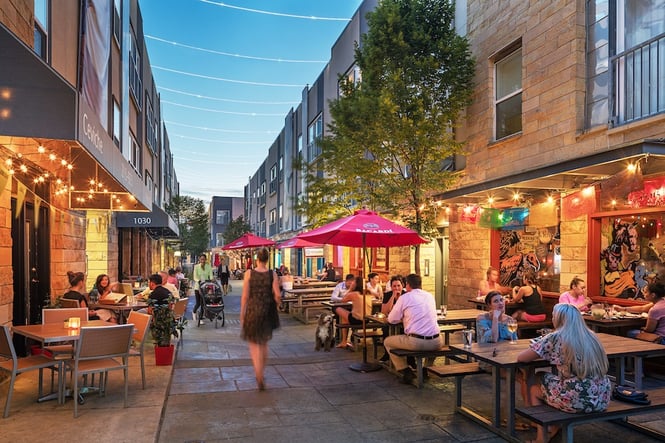 Image source
Callowhill
Also known as the "Loft District", Callowhill is the perfect place for young professionals who love live music, breweries, trendy bars, and restaurants. This former industrial neighborhood is gaining more and more residents as factory buildings turned into apartment complexes. Young people often flock to this area to indulge in brunch at Sabrina's Café, explore the Eastern State Penitentiary, or bar hop on 13th street. Having a fun night out is never an issue with Noto, Love City Brewing, and Voltage Lounge nearby.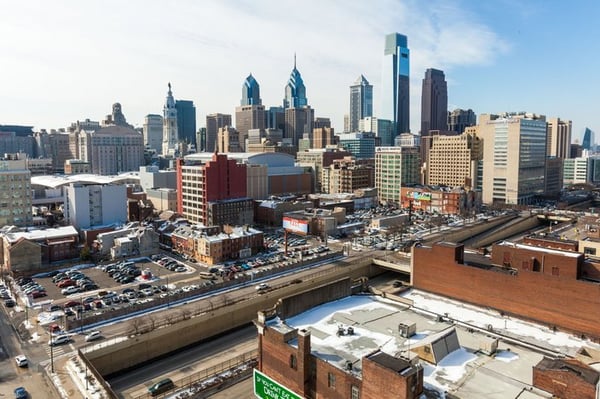 Image source
Bella Vista
Home to the iconic Geno's Steaks and Pat's King of Steaks; Bella Vista is a fantastic neighborhood in Philadelphia. The walkability, safety, and convenience of the neighborhood attract young people and families alike. No need to have a car, Center City is within walking distance and there is no shortage of public transportation. Full of delicious restaurants, upscale markets, gyms, pools, and recreation centers- Bella Vista has everything you need. Some of the eateries in the neighborhood that people love are John's Water Ice, Di Bruno Bro's, and Claudio's Specialty Foods. Join the crowds in late May for the South 9th Street Italian Market Festival where you can enjoy games, greased-pole climbing, music, arts and crafts, and lots of food- not just Italian.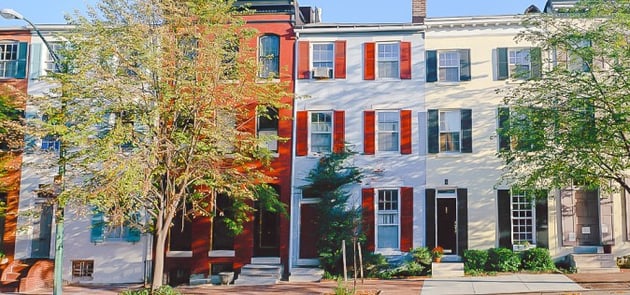 Image source
Olde Kensington
Olde Kensington is a little neighborhood located west of Fishtown and north of Northern Liberties. Its diverse range of architecture is made up of classic row homes, and lots of new modern condo and townhouse developments. The neighborhood was once home to many of the city's industrial buildings, which have been updated and repurposed into the new modern living developments and workspaces. To get to Olde Kensington you can take a 20-minute ride via public transportation from City Hall, on SEPTA's 57 bus line, the EL. Once in the neighborhood, many of the locals choose to ride around on their bicycles instead of in cars. In fact, bikes are so popular that Indego Philly offers bike share locations at 3rd & Gerard and multiple nearby stations. Some of the most popular local eateries include Good Spoon Soupery, Taco Riendo, Cadence, Punch Buggy Brewing Company, and Larry's Steaks.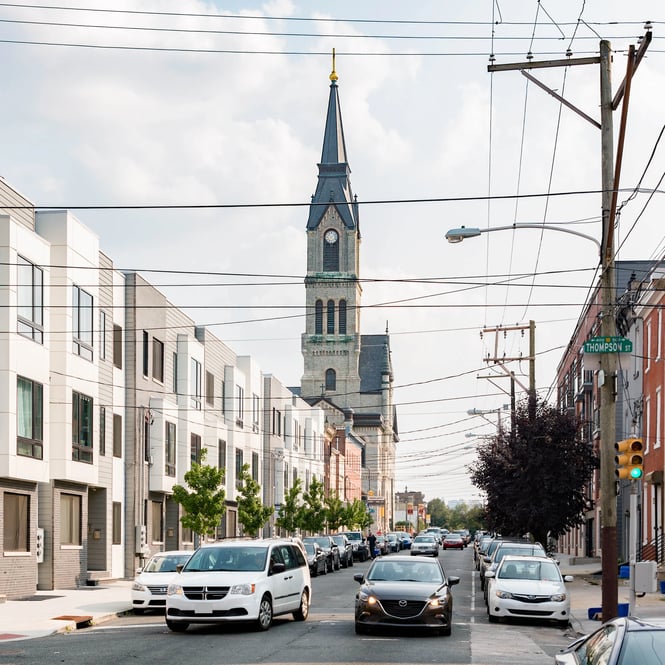 Brewerytown
Friendly people, fun nightlife, and great restaurants are attracting more and more residents to Brewerytown each year. It is located in a quiet part of Philly that is just close enough to get in and out of Center City with no hassle. Locals say that new construction continues to arise frequently, attracting more and more residents each year. There are tons of options to choose from when doing your weekly grocery shopping- Aldi, Primal Supply Meats Butchery & Market, Karen Mini Mart, Rodriguez Supermarket, and Three Sisters Grocery Store. And of course, it wouldn't be Brewerytown without the help of some local breweries, including Crime & Punishment Brewing Co, 2637brew, and Rybrew.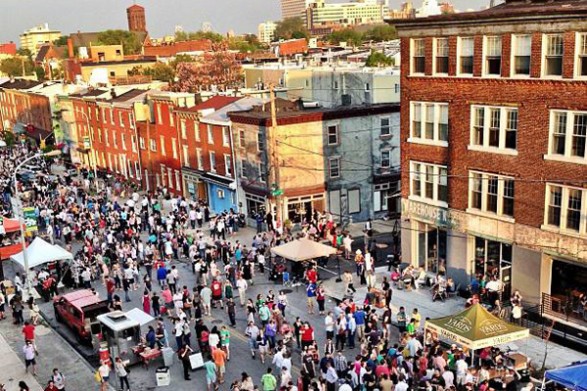 Image source: NigelKnowsRealEstate.com
University City
With Drexel University, the University of the Sciences, and the Restaurant School at Walnut Hill College, University City is one of the hottest spots for young people to live in Philadelphia. Locals enjoy spending time checking out the exhibits at the Institute of Contemporary Art, the Philadelphia Zoo, and Please Touch Museum, trying out international eateries, grabbing a drink at a dive bar, and a quick bite to eat at the food stalls. It is not just loved by the college students, University City is full of young families and is welcoming to people from all walks of life. One of the most unique spots in the area is Cira Green, Philly's 1.25-acre park in the sky, and grab a bite to eat at its seasonal restaurant, Sunset Social. Cira Green often has movie screenings, pop-up fitness activities, and other events. You can also spend the day relaxing at West Fairmount Park, home to Shofuso; an authentic 19th-century Japanese house. Nearby is also one of Philly's most iconic attractions- the Love Park.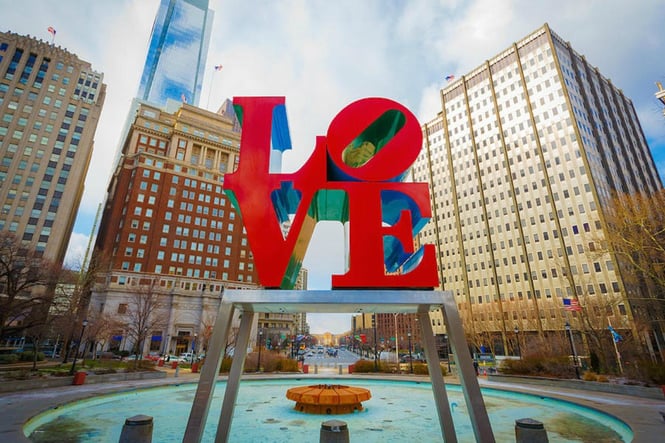 Make sure to keep up with us on social media for future updates and additions to this list. If there is something you want to say about your Philly neighborhood, tweet or message it to us!
Resources:
https://www.discoverphl.com/blog/things-to-do-in-manayunk-and-roxborough/
https://www.phillyvoice.com/why-east-falls-phillys-best-neighborhood/
https://theculturetrip.com/north-america/usa/pennsylvania/articles/10-cool-things-to-see-do-in-fairmount-philadelphia/
https://onthegrid.city/philadelphia/rittenhouse-square/fitler-square-park
https://www.phillymag.com/property/2018/07/13/living-in-bella-vista-a-neighborhood-guide/
https://www.visitphilly.com/areas/philadelphia-neighborhoods/old-city/
https://www.visitphilly.com/areas/philadelphia-neighborhoods/fishtown/
https://theoverlookphilly.com/eat-play-and-live-in-east-falls/
https://www.prevu.com/blog/washington-square-west-neighborhood-guide-philadelphia
https://www.phillymag.com/property/2019/10/24/brewerytown-neighborhood-guide/
https://www.prevu.com/blog/olde-kensington-neighborhood-guide-philadelphia