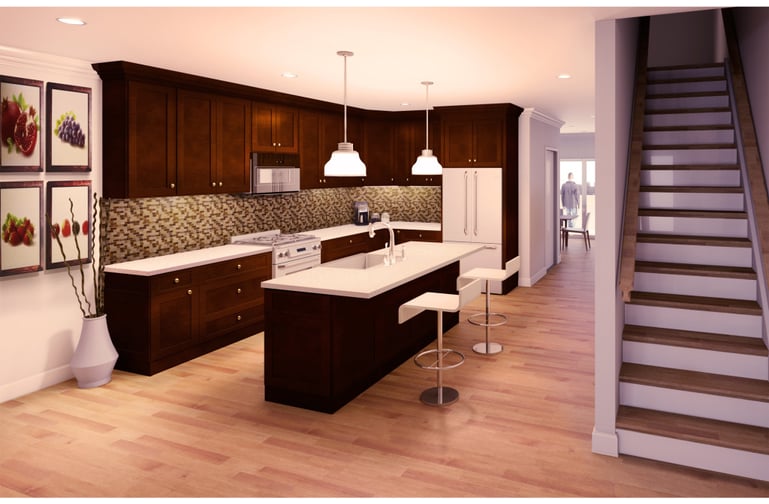 Who doesn't want to make more money and make their processes more efficient? In this post, I will explore 5 different ways that real estate developers can make more money.
1. Ask your architect whether they use CAD or BIM. The answer should be BIM.
Attention all people in the real estate industry! If as a developer, your design team is not using Revit or some sort of 3D BIM technology, you are losing money.
I typically tell students the same thing when applying to a firm. Turn around and walk back out when they tell you "We are a CAD-based company." You are wasting time and paying for an outdated service. The use of CAD in architecture is just about dead. CAD still works, just like that old CB radio your uncle has in the attic, but you'd rather use better tools to communicate.
As the developer, utilizing the latest technology will save you from unrealistic bids, contractor errors, and non-coordinated designs. We have helped clients understand where they designed duct runs, and showed conflicts in the computer that would have costed thousands on the job site.

Do you think Honda just throws together a car in their factory? The answer is no. Every part of the car is designed in a virtual computer model using the latest in 3D technology. and then is sent to the factory floor for assembly. Why should building a house or apartment building be any different?
2. Pay for an architectural feasibility study to maximize profit potential.
Many times a real estate developer may buy a piece of land without realizing the full potential of the project. Therefore, it is very important to have a feasibility study completed by a design professional. Our company has found developers millions of dollars of project potential by having us complete a $2000 feasibility study. There was one case where we found a developer an extra 650 square feet in a project with an ARV of $250 per square foot for a total of $162,000 found project potential. Our fee was $3500. Now that is ROI.
Some extra money can be found with unique green building codes. For example, one specific building code to the city of Philadelphia allows for more units if you put a green roof on 60% of your building. We were able to find a developer an extra $600,000 in project potential by just figuring out he could add another 5 units to his building. We designers can pay for ourselves with just a conversation. That client's cost was $0. He then engaged us to develop a complete study to determine the best egress and parking on the site.
Another way to save money is to allow your designers to think! Let them do a study ahead of time to work out what the max amount of potential is for your site. During the building feasibility study, you will be able to understand the egress on the site along with a rough schematic layout of units. Typically, these feasibility studies range from $1000 to $5000 depending on the size of your project.
3. Hire a design professional.
Spend money on the design! There is nothing worse than a poorly planned building with little or no thought behind it. It cracks me up when a developer or builder is willing to pay $350 an hour for a zoning attorney that couldn't draw out a flashing detail that will prevent their building from leaking and causing law suits., but they have no problem knocking down the architect's fee just so they can try to make another dollar.
This scenario isn't every builder or developer, but I personally have run into a few myself who I won't work with again because of their antics when it comes to valuing a design firm. Pay your designer to do their job. You will make more money in the end.
4. Pre-sell and lease your properties before putting a shovel in the ground
We have seen numerous times developers waiting until the project is complete to try and sell. This method has become extremely outdated. The developers who are killing it right now are those developers who are pre-selling 50% or more of their construction before a shovel hits the ground.
By utilizing 3D technology, you are now able to set up Virtual Design Center instead of a real one. Now a homebuyer or company can know exactly what their new space will look like before they go through construction. It's a game changer!
You are also able to switch out options for developers with customizable upgrades such as cabinet styles or appliance packages. You then take all of these pretty 3D renderings, and package them into a website. This is where you can track visits, contact info, create optimized content, and do targeted social media spends to attract buyers or potential tenants before you building is built.
5. Develop a "Punch Out" checklist for your new construction or renovation project
There is nothing more important than getting your final new construction or renovation building ready for someone to occupy. One of the biggest hurdles I have seen for developers is getting their buildings 100% complete, not 99.2% complete. Develop a checklist to do a final punch out with your subcontractors. If you are a one-person shop and flipping houses, then make it for yourself.

Create a checklist that goes over every area of the job. From door stops to paint touch-ups, you must create a list that can be used over and over again. And it has to be specific for the types of buildings you create. This will help you save plenty of time and money when it comes to coordinating with people to get your property looking perfect. Fill out the list and pay them their final payment once all punch list items have been addressed.

Need help with your next real estate project?
Contact my team and we will streamline the process, from feasibility studies to design and construction.