Selling homes can be challenging, especially when unfinished with nothing to show. Many home buyers are weary of making a deal prior to seeing the completed project; and even when finished, an empty space can be hard to visualize themselves living in. In cases like this, a resourceful and efficient real estate agent will work with a design firm, such as DesignBlendz, to aid them in pre-selling the new properties. The DesignBlendz visualization professionals act as story-tellers, generating a mood detail by detail. The story is told through realistic virtual tours, 3D exterior and interior renderings, video animations and rendered floor plans; giving them the full effect of a turn-key home far before the completion of construction. Using these visualization assets, real estate agents give their clients a clear and concise idea of what they are buying and make the sale more efficient.
CGI Virtual Tours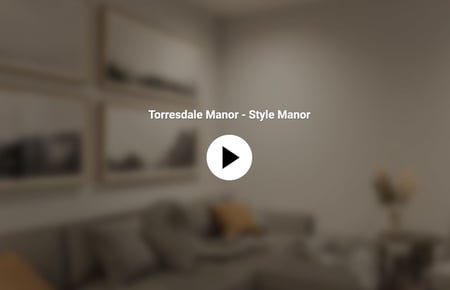 Many properties will have a virtual tour to give the prospective clients an idea of what the space looks and feels like, but this is unattainable when trying to sell incomplete construction. Planned future projects, such as large developments and apartment buildings, require a real estate agent to get creative. Clients can be intimidated by an unfinished project and be deterred by the length of construction time. This is where the DesignBlendz visualization team can fill in the gaps for them by creating CGI virtual tours. The difference between CGI and ordinary virtual tours is that CGI is created virtually by combining multiple 360˚ panoramic points of photorealistic renderings. With these, clients are able to look around the rooms as if they were standing in them. Exploring around the space virtually gives an exceptionally good idea of what it will look and feel like once complete. Getting a potential buyer to envision themselves in the space is a great step toward making the sale.
See some of our past CGI tours Here



3D Still Renderings
3D still renderings act like a photograph, depicting one scene per image. In all renderings, a virtual world is built that produces life-like depictions of nonexistent objects or scenes. Real estate agents may use renderings to advertise a project online or in print, effortlessly grabbing the attention of potential buyers. Renderings are produced in-house at DesignBlendz by a team of visualization designers. Working in-house boosts efficiency by minimizing any chance of mistakes or gaps in communication. Visualization artists at DesignBlendz have extensive real estate backgrounds, making them the perfect team for an agent. In their final stages, renderings are often challenging to decipher from a real photograph; including factors such as people, shadows cast by natural light, and the surrounding environment of each project. In many cases, our team will even work with a professional drone photographer to capture accurate views from the street, out the windows and from above. Exterior and interior renderings are equally essential to getting a realistic feel for the property, the images should be consistent and not a single detail can go unnoticed.
See our past renderings Here
Rendered Floor Plans

Floor plans give buyers a breakdown of a project, mapping out how the space will be set up. There are three types of marketing floor plans: traditional floor plans provided by an architect as part of a construction drawing set, stylized 2D floor plans, and photorealistic CGI 3D floor plans. It can be a challenge for clients to visualize a space while trying to figure out a traditional floor plan. Which is why DesignBlendz has developed stylized 2D and CGI 3D versions specifically for marketing purposes. 2D floor plans are an easily interpreted image that helps the buyers get a feel for the space, using minimal detailing and staging. In CGI 3D all finishes, fixtures, staging, and realistic lighting are added, making the most realistic version of the plan. These are the most attention-grabbing of the three and can be a significant advertising tool for real estate agents. Although all floor plans may be effective, a CGI 3D plan with all of the details will appeal to buyers and renters most, allowing them to easily visualize their furniture placement and get a scale of the space.
Video Animations
While floor plans and renderings provide tons of insight into what the completed space will look like, there is nothing more realistic than a video-animated tour. Using the most advanced 3D CGI technology, visualization designers at DesignBlendz create videos that showcase extraordinarily accurate depictions of the most appealing elements of a future project. Clients see a tour of the space through their own point of view, as if they were walking through the finished product. DesignBlendz uses a 6-step 3D video animation process: storyboard, modeling, materials, rough cut, rendering, and post-production. Each step is done meticulously to ensure the most realistic and accurate outcome. In the end, clients are able to capture the aesthetic and overall essence of the property- a mesmerizing experience sure to leave an impact.
Utilizing these visualization assets makes for a successful real estate agent and a satisfied client. There's nothing that can recreate the feeling of being in a finished home better than video animations, rendered floor plans, 3D renderings and CGI virtual tours. Aside from that, posting the visualizations online will practically make the project advertise itself. Real estate agents are only one of the various groups of people that DesignBlendz can assist, services are also available for real estate developers, product distributors, and homeowners.