Are you a student attending your first design expo? Here's how you can stand out, even if you don't have impressive credentials. This article mainly covers the architecture profession, but some of the advice applies to other design disciplines such as interior, graphic, animation, and industrial design.


---

The Design Expo, Explained
Design Expo is a job fair for design professionals. During these events, universities host local firms where current students interface with professionals in their relative fields. Firms participate to scout young talent, and students participate to kick-start their careers right after graduation, or even during school.

The Real Expectations
The job market is and always will be competitive. For many students, a design expo is their first glimpse of the real world. Fortunately, students are not expected to know much about design practices, work culture, salary, and other adult duties. This is precisely the purpose of higher education: years of focus on a professional subject without the burden of (or by prolonging) responsibilities. Therefore, it is wise for students to focus on the presentation of their academic studies at a design expo.
Career paths are unique to everyone. People grow through predicaments and triumphs, and career paths twist and turn in unexpected ways. One's intention is a telling sign of whether they are on the right track. Most students, intend to learn on their first job. With enough experience, young professionals develop proper values that guide their careers. The sustainable practice may motivate a young designer to work towards specific certifications, but social status certainly is the wrong reason to become a registered architect. Dedication does not require a license.
Preparation
There's a reason the spokesperson aims to persuade the public not to improvise. They are always prepared. They sound like broken records because any deviation may result in the failure to deliver a clear and linear message. An interviewee's goal is to assert to the potential employer the perspective that the candidate is qualified to join the workforce. Thus, interviewees should not rely on impromptu genius and instead prepare their talking points well ahead of time.

The Elevator Pitch
An elevator pitch is a short verbal presentation that can be delivered within the duration of an elevator ride. It addresses the past and the future so that the listener may acknowledge the presenter's background and aspirations. A well-crafted elevator pitch consists of the presenter's credentials and goals, never self-assigned adjectives. (Consider the oxymoron, "I am humble.") It keeps the listener engaged every second of the presentation and results in a productive conversation.
Make an Impression (without Impressive Credentials)
To start, remember that credentials are facts, such as academic degree and relevant work experience. These are objective competitive edges that many employers seek. All else being equal, a candidate with a bachelor's degree is more favorable than one with an associate's degree in architecture, because these degrees indicate the time dedicated to architecture study. Relevant credentials are often a distinguishing factor for employers to make hiring decisions.
But of course, most of us are average. And it does not help to ask students to secure a higher degree and work experience before their first job. Fortunately, students can compensate for the lack of credentials with an appealing presentation about what they are passionate about.
Without outstanding credentials, students can emphasize what they aspire to become. A short origin story can justify one's entrance into the design profession. One way is to recount the academic courses that intrigued them and started their obsession with a particular type of work. For example, it makes a compelling story when a student learns to love masonry construction from a course on technical drawings.

Focus on One Craft
In the design field, having multiple identities is as bad as not having aspirations. Just as employers are turned off by students without an appetite to grow, it is also unappealing when they appear to be a jack-of-all-trades. A snippet of Visual Basic code and an interior design mood board should not coexist in an architecture portfolio. Our society runs on expertise, and the best work results from impeccable teamwork where everyone focuses on perfecting their parts.
This advice is in no way contradictory to the aforementioned winding career paths of architects and designers. To have aspirations is to show one's serious thoughts about the current stage in life, knowing that the future is unpredictable. To have a clear identity at work is to contribute to a team with expertise, which is the basis of civilization. These traits are appreciated because they show maturity and a basic understanding of the real world.


The Portfolio
A special part of the design career is the portfolio. This book is a showcase, not a coursework journal. A designer's portfolio is the pianist's five-minute recital; it would be rather silly for the performer to hit the wrong notes on stage as they did in the studio. As such, the designer must be harsh at selecting their own work. If a project is not good enough for the designer, it is not good enough for anyone else, thus it should not appear in the portfolio.

Include What Truly Impresses Potential Employers
Popular culture is popular because it catches attention. From Andy Warhol to Nicki Minaj, bright colors never fail to collect gazes. However, there is an undying fad in student works that turns attractive colors to hollow gray. Worse, I have seen sleek architecture being smudged with filthy grunge in Photoshop. As a certain contemporary poet criticized the use of such image editors, "You know that sh-- ain't real. Come on now, make it stop."
To be clear, there is no definite formula that makes a showstopper. It may be a photo-realistic render or a section cut that shows intricate spatial features. Whatever it is, it does not lack the element of surprise.
The portfolio is a visual presentation by the designer without verbal aid. I have listened to job seekers explain detailed aspects of their projects sandwiched in an encyclopedic portfolio. Needless to say, interest was quickly lost.
Let The Work Speak for Itself

If a portfolio is well-composed, it is unnecessary to talk while someone is admiring the pages. Silence is truly underrated during a portfolio review. To avoid any voiceover, every image must provide a lot of unique information. A full-bled hero image of a project at dusk turns on both natural and artificial light, showing activity inside and outside of a building. That image is rich with information. There is no need to render the architecture from multiple angles and at different times of the day.
Give the same degree of thoughtfulness to every image in a portfolio. If there are too many pages in a portfolio, then there are too many pages in a portfolio: consolidate and reduce.
Descriptive text is secondary in a picture book. The only important text is metadata, as this is the most efficient way to deliver facts. This is the boring numeric or categorical information that must be consistent for all projects. For architecture projects, they are project name, location, gross area, unit count, use type, and construction type. If a project must be described, keep it under three sentences.


Final Thoughts
During their first Design Expo, students will act and speak in ways they have never done before. The day can be full of anxiety and disappointment. The most important thing to keep in mind is that honesty and preparation do good for both students and their potential employers. Genuine blunders are more admirable than made-up backstories or ego.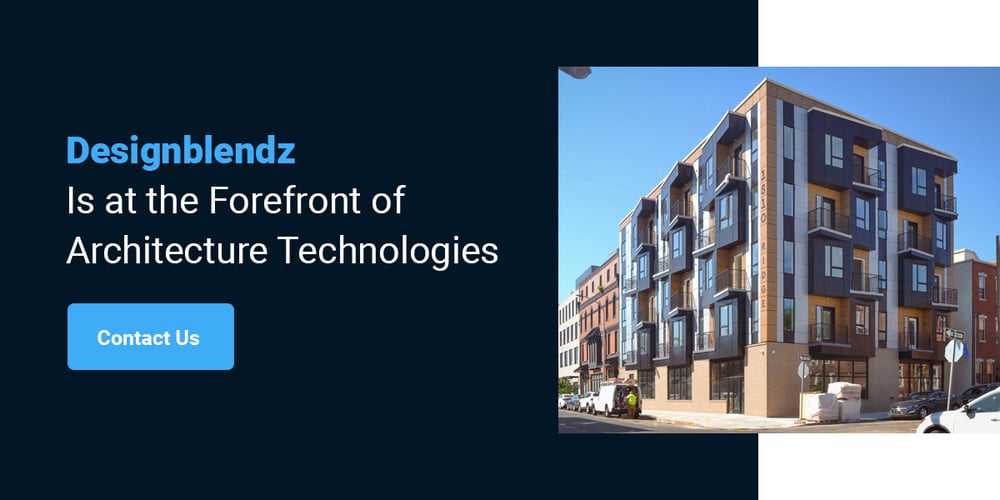 ---
We're hiring! To view current openings at Designblendz or submit your portfolio, go here.