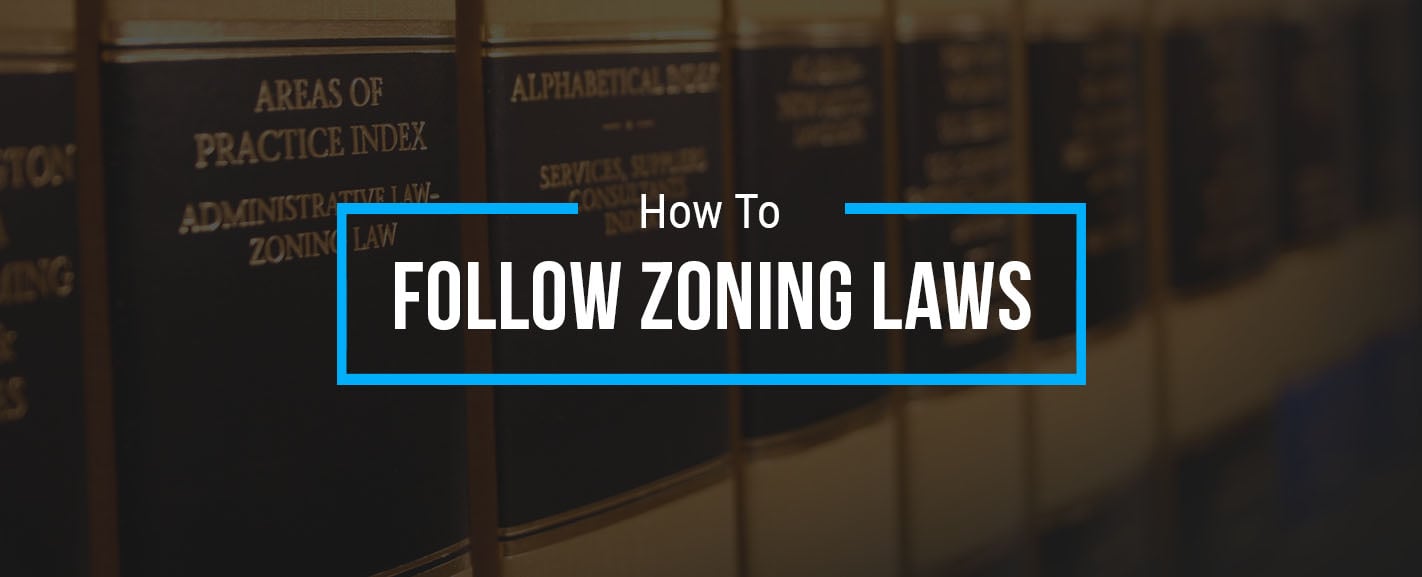 When was the last time you looked at the layout of the town where you live? Did you notice that the residential neighborhoods are in a quiet section with lots of trees? Are all the factories located on big lots, with easy access to freeways?
These layouts are no accident. Urban planners spend their entire careers designing and enforcing zoning laws that create comfortable neighborhoods and flourishing businesses.
Thinking of building a new home or business in your town? Read this article to find out how to follow local zoning laws that will promote your town's success.
What Are Zoning Laws?
Zoning laws are the rules and regulations that local governments use to identify which land uses are permitted or prohibited. These laws are combined into a single document called an ordinance. Zoning ordinances keep land uses compatible with one another and standardize specific property features, like:
Lot size: The minimum length and width of the property.
Building height: The maximum vertical distance from the ground to the roof.
Lot density: The greatest number of people who can live on the property.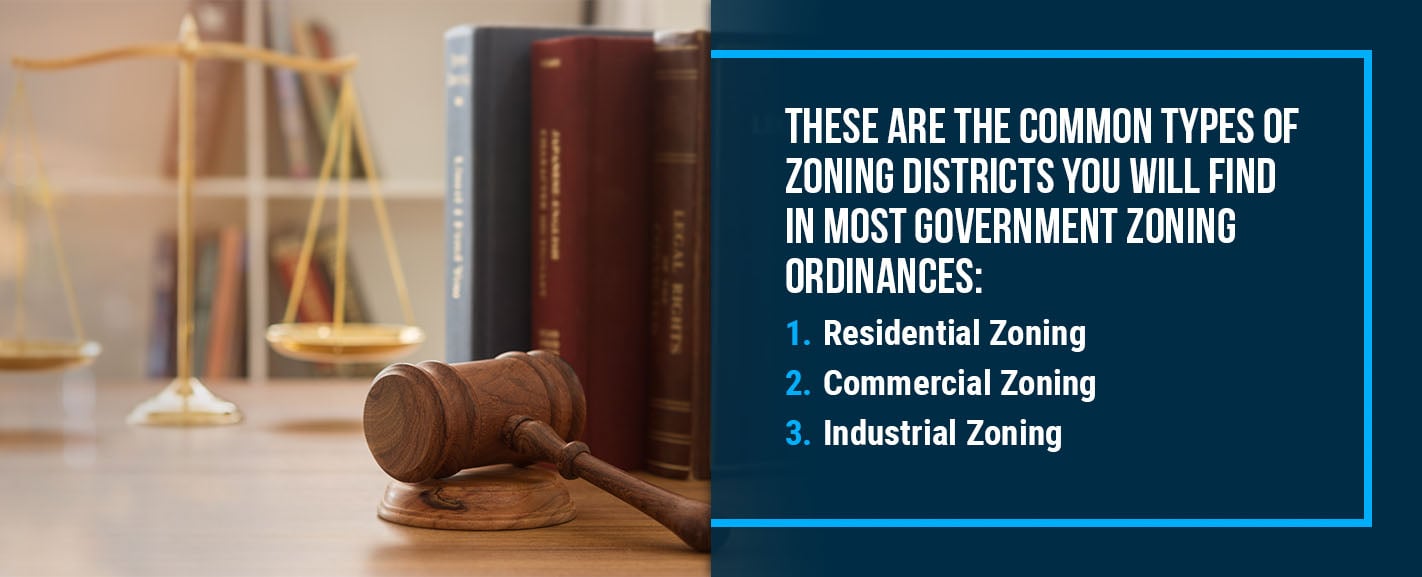 Types of Zoning
These are the common types of zoning districts you will find in most government zoning ordinances:
1. Residential Zoning
Residential zoning includes parcels where you can build Single Family Residences (SFR), condominiums or apartments.
Residential zoning also applies to home-based businesses. A home-based business is a small business within the business owner's house. Local ordinances and federal laws from the US Small Business Administration regulate the types of home-based businesses that can operate within the owner's residence.
2. Commercial Zoning
Commercial zoning outlines properties that are compatible with business use. Commercial zoning has different zone categories based on the business type and the expected number of customers. Some commercial zoning is ideal for coffee shops and dentist's offices while another zoning is ideal for shopping centers and hotels.
3. Industrial Zoning
Industrial zoning accommodates manufacturing plants and warehouses that have noise concerns or hazardous materials stored onsite. This zoning helps businesses thrive while protecting residents from their harmful environmental impacts
How to Check Zoning Laws
Follow these simple steps on how to check zoning laws before you build your dream home or plan your new commercial enterprise:
1. Locate Your Property
Take your target property's address or location to the county assessor's office and get an assessor's parcel number (APN.) APNs are unique to the property and will help you figure out if you are within city or county boundaries. Cities and counties have their own individual ordinances, so you need to know which laws will apply to you.
2. Check Zoning Maps
Once you know whether you are in city or county boundaries, you need to review a zoning map that will identify the zoning for your target property. Some jurisdictions post zoning maps online for easy access. For example, the city of Philadelphia has an interactive map on the official government website residents can use to explore the local zoning. You can search for similar information by entering "zoning map" along with the name of your city or county into a search engine.
3. Search City or County Ordinances
Check the applicable zoning ordinance that will show you the allowed uses for your property. The ordinance will also include any building design standards you must follow. Many jurisdictions post their local zoning laws online for easy access. Philadelphia has zoning codes and a reference guide explaining the local ordinances. if you live in another city, simply do an internet search of the name of your area followed by "zoning ordinance". Keep in mind that not all jurisdictions publish convenient reference guides online.
If you want help interpreting local laws, visit the applicable city or county Planning and Building Department. These professionals can advise you on the best ways to follow zoning laws, free of charge.
Start Planning Your Dream Property With Designblendz
Understanding your zoning laws is crucial to preparing the legal permits and paperwork you'll need before you can start building. Submitting zoning documents and drawings that comply with your local ordinances will help you avoid costly project delays.
At Designblendz, we'll help you prepare essential zoning paperwork to ensure your project is approved. Our team will track your submission and expedite the process so it goes as smoothly as possible. We provide guidance and assistance to help you navigate local ordinances and bring your architectural vision to life.
Reach out to our team to start planning the home or business of your dreams today!