The capital of Ukraine, Kiev, was left gray, crowded, and drab after former Soviet Communist Leader Nikita Khrushchev's solution to the housing crisis that struck the nation. In 1954, architects were instructed by Khrushchev to design tens of thousands of identical five-story, unadorned, standardized apartment buildings made of prefabricated, reinforced concrete. While the buildings did ease the housing crisis, the citizens of Kiev found themselves surrounded by colorless high-rise buildings. The dreariness and uniformity of this Soviet-era district became somewhat of a national joke, until Archimatika architects gave Ukrainians something else to joke about.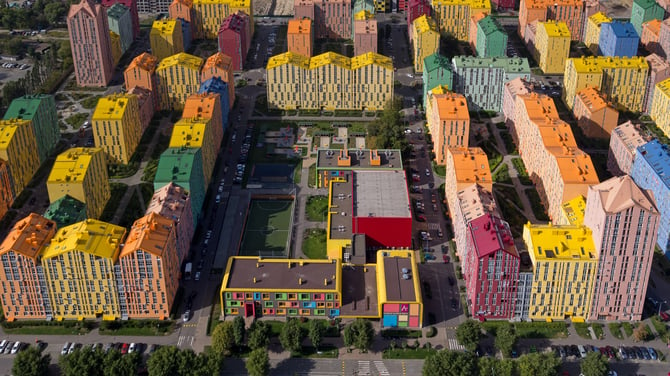 Quite literally the opposite of the dreadful and dull high-rises that surround the city, Archimatika architects had created a real-life LEGO town. Comfort Town was built with similar intentions to Nikita Khrushchev's soviet housing, however, the human experience was taken into account this time. Low-cost, comfortable housing in a cheery atmosphere was delivered through this architectural project. Comfort Town resembles a scene straight out of a Dr. Seuss book; oddly shaped buildings dripping with vibrant colors. It almost appears to be mocking the colorless city that surrounds it, and that definitely brings joy to the suburbs of Kyiv. The town is equipped with parks, shops, cafes, offices, pedestrian walkways, courtyards, 8,500 flats, and a large outdoor sports facility. Comfort Town is a refreshing reminder to Ukrainians that where you live does not need to be sad and dull. The mantra of the town is "happy inhabitants and controlled costs".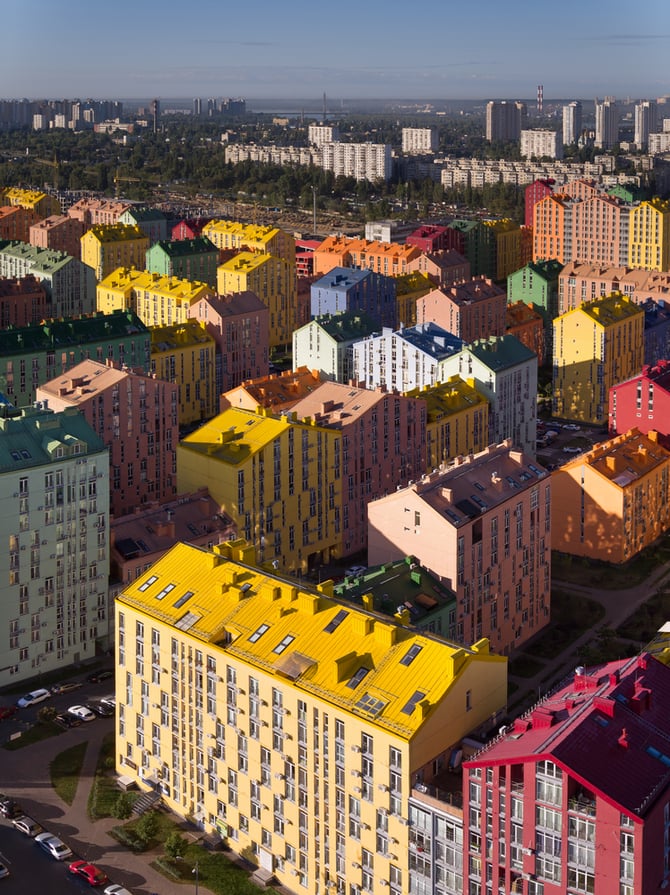 Archimatika created the eclectic town in the aftermath of the 2008 economic crisis, which left them with a tight budget. They wanted to build a place that would lift residents' spirits and feel inviting, but it had to be cheap. Co-designer Dmitro Vasyliev said that "The only instrument we had to work with was color, we used the simplest materials, the simplest techniques. We really just had the color and the lines of the skyline." This left them with simple geometric shapes, flat facades, and no ornate elements. Thankfully, it is hard to notice these simple materials and techniques underneath the rich reds, blues, oranges, yellows, and greens that beam from the buildings. Comfort Town was awarded first place in the Use of Color category at the World Architecture Festival in 2019, and rightfully so.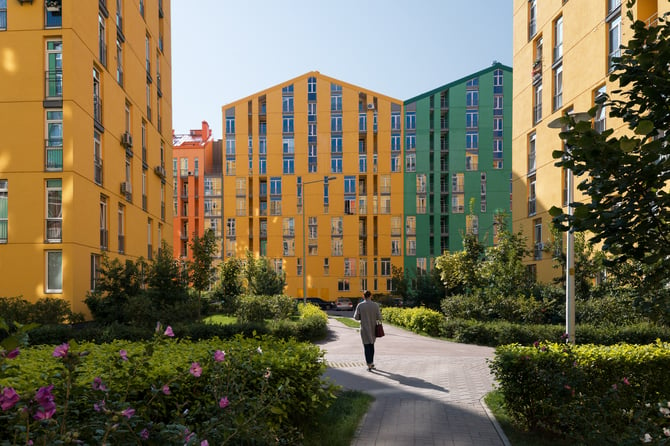 With all of the harsh imagery surrounding the nation of Ukraine and especially the city of Kiev in recent months, it is important to recognize the resilient spirits that inhabit it. Despite the nation's gray past, Ukrainians are filled with color. With Comfort Town being the most successful residential property in Ukraine, Archimatika architects have proved that housing can be attractive while also being affordable. However, they aren't the only designers thinking this way. The world's most sustainable paint company, AkzoNobel, has started its "Let's Colour" community transformation program. The goal of these programs is to bring color to people's lives and transform communities around the world. Their projects have hit more than 2,200 communities worldwide and are continuing to spread. Similar to Comfort Town, one of the communities transformed through the program was Kuşadası, a town in Western Turkey. AkzoNobel and paint brand Marshall used over 50,000 liters of paint to transform 400 homes on the hill, adding shades of blue, green, orange, yellow, and purple to the hills of the small resort town. Kuşadası and Comfort Town have made locals very happy and eager to stay in their formerly drab communities.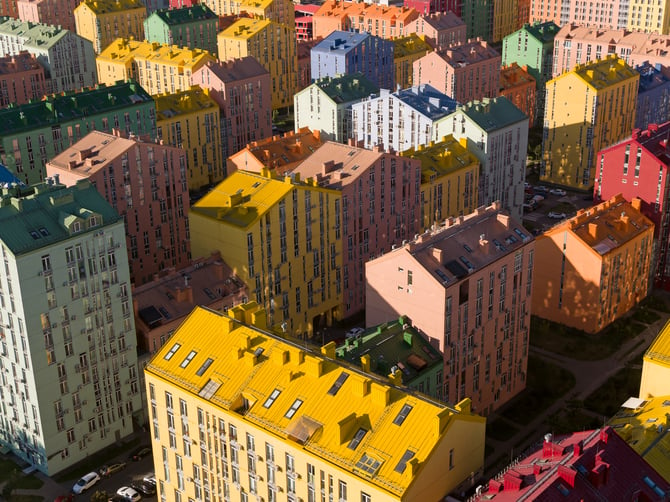 Sources:
https://nypost.com/2021/11/08/inside-the-multi-colored-town-where-houses-look-like-lego-buildings/
https://matadornetwork.com/read/colorful-places-kiev/
https://www.calvertjournal.com/articles/show/11507/kyiv-colourful-housing-blocks-comfort-town-win-world-architecture-festival
https://www.latimes.com/world/europe/la-fg-ukraine-kiev-color-comfort-town-20190512-story.html