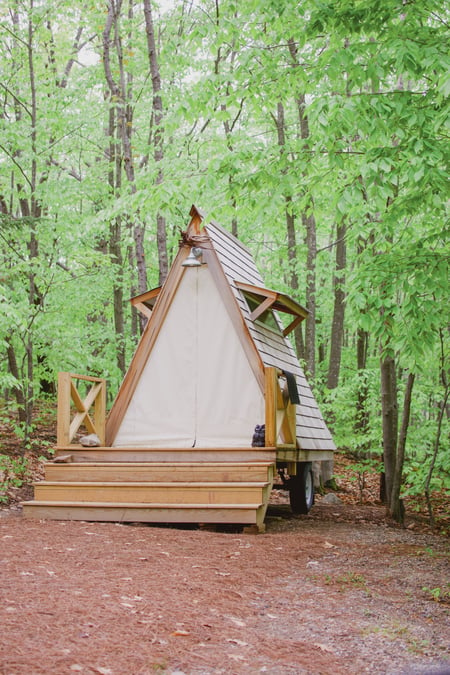 Tiny houses have been a growing trend for the past decade. Whether it be for Millennials not wanting to break the bank or go into debt, Boomers adjusting to living on a set income, or adventurers that are looking to move around, these homes are appealing to all different demographics. Charity organizations have even been formed around the idea of tiny houses to provide housing to people experiencing homelessness. The rise in popularity of these homes could be accredited to many things, but they have gained a particularly large following online. Through DIY influencers on YouTube and Instagram, ordinary people have learned to design and build these homes themselves on a budget. According to Business Insider, tiny houses can be built for as low as $8,000. But is it the smartest idea to do it on your own? Here are a few things that you should consider before designing and building a tiny home:
Working with an architect will make your project much easier
While many people opt to take on a Tiny Home project on their own, hiring an architect to assist you in the process is always the safer option. Architects are professionals with extensive knowledge in things like structural limitations, space constraints, physics, material stress tolerances, regulatory codes, state laws, and other governing body standards that must be met to pass inspections. Along with this, they also have experience working on construction projects and have relationships with reliable contractors, plumbers, electricians, and any other people necessary for your project. Anyone that has taken on a project like this will tell you that working with professionals will also save you lots of time and money. For those who are not familiar with design or construction, it is common to run into failed planning applications or have to re-start an area of the structure after it has already been built. Additionally, an architect-designed home will be much more appealing to potential buyers in the future and may increase resale value.
Some risks of not working with an architect:
Not taking advantage of maximum space
Inability to insure your Tiny Home
Doubling or tripling your construction time
Increasing costs by making avoidable mistakes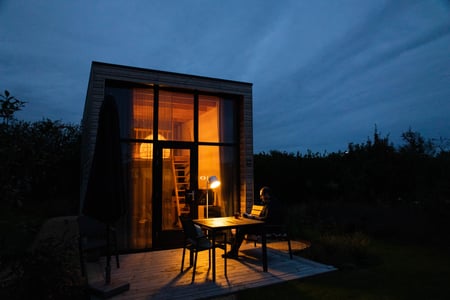 Start downsizing your lifestyle far before you are looking to move and start to adjust your lifestyle to be more suited to tiny living
Moving your life into a tiny home will change the way that you do everything. This is not a change that can be made the week before you move, it is something that you should begin to work on months in advance. Consider your daily routine: maybe you wake up, work out in your house, work from home, read in your living room, do some laundry and then cook dinner for 9-10 friends. Instead, work on finding ways to outsource parts of your routine. For instance, you can ditch your workout equipment and join a gym, work remotely at a local coffee shop, leisurely read and wind down at a local library, take your laundry to a laundromat and create outdoor space to host large groups outside of your house. Another facet of your lifestyle to rethink is your wardrobe. Decluttering and downsizing your wardrobe will save you tons of space and make it easier to avoid laundry piles or over-filled drawers. A great rule of thumb when it comes to mindful fashion is to stick to only practical pieces that can be worn in multiple different ways. Minimalism is the key here, keeping only a small palette of colors and patterns will make it easier to mix and match the few pieces that you have to work with. If you live in an area that experiences all four seasons, separate your clothes into each season and store the rest away when you do not need them. Making changes to your lifestyle can be challenging and you may not know where to start. You can kick off your downsizing process slowly by trying out the "Post-it-note Exercise". This exercise is done in your house before you start designing your tiny home. Taking some pens and Post-it notes, go around to every room of your house and shut the door. Place a pen on the top of each door frame and a Post-it note on each door. Now before you go into a room, take a second to write down what you are going into the room to do and how long you think it will take. For your entry door, write down all of the activities that you will be doing outside of your house and about how long they will take. After a few days, you should be left with a comprehensive list of your daily activities and how much time you typically spend on each. This will give you clarity as to which rooms of your house are necessary and which you may be able to live without.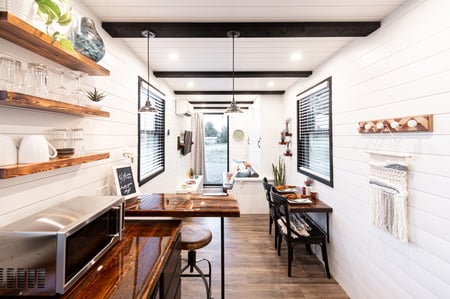 Design your tiny home around the way you do things
With all of the influences from tiny home content on social media and television, it is easy to fall into a lot of design decisions based on what is trending. Just like any custom home, you should be designing your tiny house to function the way that you need it to. In a tiny space, it is unnecessary to focus on aesthetics or resale potential. At the end of the day, you will be living in that confined space and will want everything to be set up in a way that is best for you specifically. If you spend a lot of time cooking, dedicate more space to the kitchen area. If you never cook, cut some of the bulky appliances out and make do with just a few. Don't just create something like a living room space just because you feel that you should, if you mostly hang out in your bed- dedicate more space that allows for a larger bed. All that matters is how you function daily and what is going to work best for you.
Optimize the little space you have by making rooms and furniture multi-functional
Implement subtractive design; go through each area and item on your layout and decide, if removed, would it make the design better, worse, or the same? If subtracting it would leave the area the same, consider removing it. If getting rid of it would make the design better, you should take it out. A great example of this is a bathroom sink. If you already have a kitchen sink less than 3 steps away from your bathroom, there is no need to put in an additional sink. Multi-functional furniture like a couch that folds out into a bed or a bed that doubles as storage or a bookshelf that turns into a desk will save you space and money. If you have a lofted area, substitute a ladder for stairs. You can also consider making spaces more adaptable through the architecture itself, such as adaptable walls that pull out to become seating. And of course, avoid swinging doors that will get in the way and instead go for sliding doors.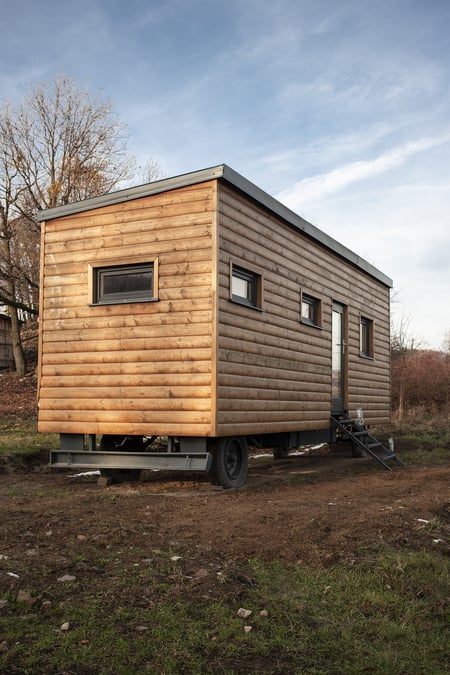 Choose the best materials, foundation, roofing, windows for your lifestyle/climate you live in

When it comes to which materials, roofing, foundation and windows for your tiny house, these all depend on where your house is going to be placed, and whether or not it will be transportable. If your house is going to stay in one location, you can decide which materials and windows will fare best against the type of climate it will be located in. About 40% of household energy is used for heating and cooling; with this in mind, you must investigate the thermal qualities of different glass products. The use of materials and passive design will lower your energy costs significantly. Choosing a roof will depend on the climate your home will be in as well. Areas in which there is lots of rain or snow will require a stronger roof that does allow water accumulation. If you choose to make your house transportable, take into consideration the entire range of environments it may encounter; it will have to be ready to withstand the most extreme conditions that it may end up in. Using lightweight materials is also important when making a transportable tiny home. Not only does the structure need to be lightweight, but distributing the weight properly is of the utmost importance. If built on a trailer, consider the tongue weight of the house- this means that if there is not enough weight near the tongue or front of the trailer, the structure will sway from side to side while being transported. Tiny houses are often built using salvaged materials to save money and be more environmentally friendly. Architects are becoming more and more innovative in their use of recycled materials and will be able to maximize the use of each material and make the most of your space.

General tips to know before designing or building your tiny house
Be sure to check your local laws before you begin the design process
Tiny homes are commonly built on trailers to get around the need for building permits
Utilizing natural light and views of the outdoors will make a tiny house feel like the outside is an extension of the home
In the United States and Australia, many tiny homes have wheels so they can legally be classified as a campervan and not an illegally small house
Your local laws will help determine the size of your tiny house as well as whether or not there are regulations regarding certain materials or where you can place it
Downsizing your bathrooms or bed to much will affect your quality of life in the space
When you think you want something a certain way, build a model to scale out of cardboard in order to see how it will look and function
Tiny houses require more time to think about the space as you are building it
Try real world testing before starting the project, like mapping out a life-size version of your design using painter's tape on your driveway, or anywhere you have room
Get plenty of feedback on your design, especially if you will be sharing the space with someone else
Avoid common mistakes made when DIY-ing a tiny home, such as not planning for sufficient storage space or making a dedicated spot for the trash and recycling bins to stow away
Before you go off to start your tiny home journey, consider speaking with an experienced architect. You may also benefit from utilizing other professional services, such as 3D renderings, to visualize your ideas and give you a realistic graphic of what your finished project will look like.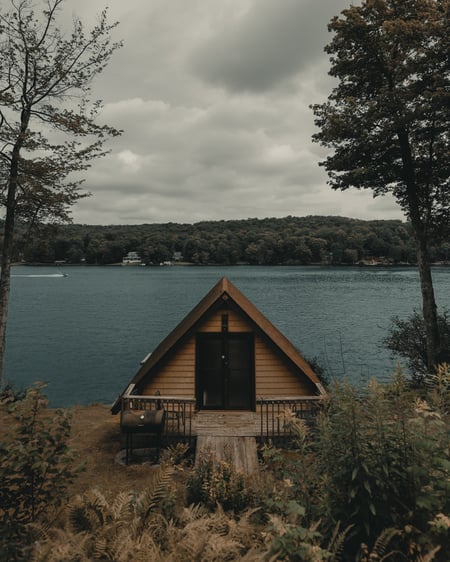 Sources:
https://www.archdaily.com/891257/6-tips-for-designing-and-building-a-tiny-house
https://thetinylife.com/tiny-house-design/
http://yr-architecture.com/3-effective-design-strategies-for-small-modern-homes/
https://www.supertinyhomes.com/do-you-need-an-architect-to-build-a-tiny-house/