From Montclair to Cape May, it's hard to walk down a street in New Jersey without experiencing some form of culture, history, or charm. This is especially apparent in the state's diverse architectural touches, which discerning residents and tourists alike can appreciate at every turn. There are towering museums, stately private homes, and centuries-old university buildings that tell a story from the roadside. Yet, apart from being beautiful, what do each of these forms represent? Let's take a closer look at the different types of architectural styles showcased throughout New Jersey.


Georgian architecture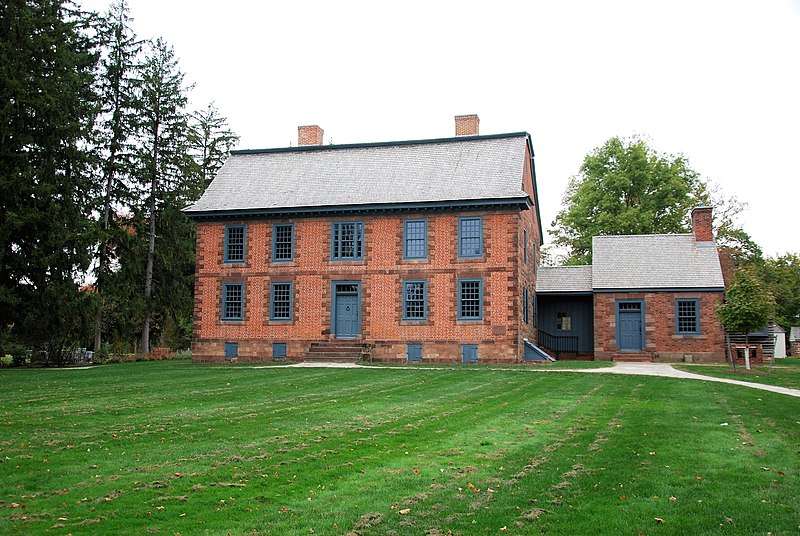 One popular example of Georgian architecture is Dey Mansion in Wayne, NJ
A popular and prominent type of residential architecture dating back to the early 18th century, Georgian style is easy to recognize.


Trademark design features
A home with this design will be one to two stories tall and two rooms deep. Constructed in a box shape, its strict and symmetrical arrangements lend it a classic look. Many will feature rectangle windows above a two-paneled front door, which entablatures and decorative pilasters cover and embellish.
Though the windows are multi-paned, they're never paired side-by-side. Rather, they're arranged in a straight pattern across the front of the house, most often five across. Larger windows on the main house will feature nine or 12 panes each. Only six windows fit into the smaller, upper-floor dormers.
Look for hipped, gambrel, or side-gabled roofs bookmarked by two distinct chimneys, one on either side.


History of this style
This style originates from the Italian Renaissance design ideals that esteemed English architect Sir Christopher Wren especially admired.
From 1700 to 1776, Georgian architecture dominated the construction scene across the United States. Its name is a nod to the many English kings named George that took the British throne beginning in 1715. Through the years, domestic architects modernized this design style and tweaked it to fit American tastes.
One element that traveled across the sea? The price point. These estates were expensive to build and reserved for the state's most wealthy and prominent citizens.


Where to find it now
Now, you'll find Georgian architecture throughout the state, in buildings designed for myriad purposes. Check out the Dey Mansion in Wayne for an example. You can also swing by the Buccleuch Mansion in New Brunswick and the Cornelius Low House in Piscataway.


Italianate architecture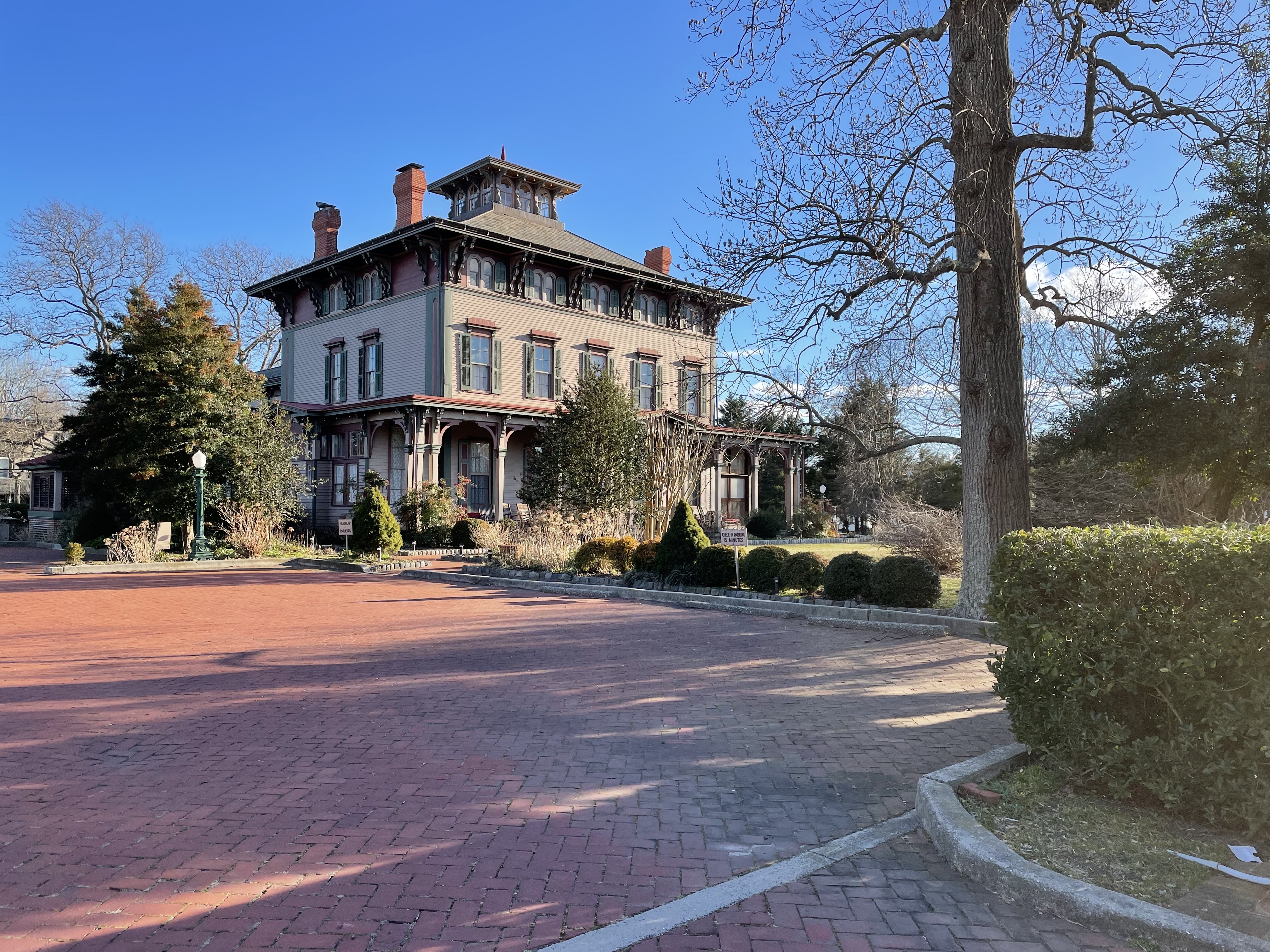 Discover Italianate architecture when you visit the George Allen House (the Southern Mansion) in Cape May, NJ
Those elaborate and ornate homes and buildings you see scattered across the state? In many cases, you're looking at Italianate architecture.
Defined by decorative flourishes, detailed balconies, and other prominent features, you can't help but notice these structures!


Trademark design features
A building created in an Italianate architectural style doesn't blend into the neighborhood. Most will have flat or low-pitched roofs, medieval-style corbels that support projecting eaves, and intricate cornice designs.
Most windows and doors are pedimented, embellished on top with a triangular gable. While others are arch-headed or palladian, all are far from plain. In fact, most feature architraves or archivolts that add a decorative touch.
Expect to find angled bay windows combined with tall first-floor windows. Taller buildings may include an attic with a row of awning windows. The most impressive and extravagant Italianate buildings will include machicolated signorial towers crowned with a belvedere.
Other distinctive additions include cupolas and special masonry techniques such as quoins. You may also notice balconies adorned with wrought-iron railings or balustrades.


History of this style
Before the Italianate style came into being in the late 18th century, the 200 years prior centered on classical ideals in the realms of both art and architecture. In response, the Picturesque Movement was born.
A reaction against the formality, order, and exactitude that defined Neoclassicism, this movement placed an emphasis on the variety and irregularity of nature. As such, buildings erected during this time appear to almost blend into their outdoor landscapes.
One major inspiration behind the Picturesque Movement? Ancient Italian villas, which defined the open-floor-plan style that today's modern homebuyers continue to crave. These villas featured square towers and asymmetrical layouts that threw tradition to the wind.
This style reached the United States in the late 1830s, made even more popular in the 1840s by Alexander Jackson Davis, who released pattern books on the approach. Though Queen Anne style would soon take center stage, for a brief period of time, Italianate was the "in look." It provided a reprieve from the Gothic and Greek Revival styles permeating the young nation.


Where to find it now
If you're in the area, you can find some of the most stunning examples of early Italianate architecture in New Jersey at Acorn Hall in Morristown, The George Allen House in Cape May, and Ellarslie Mansion in Trenton.


Greek revival architecture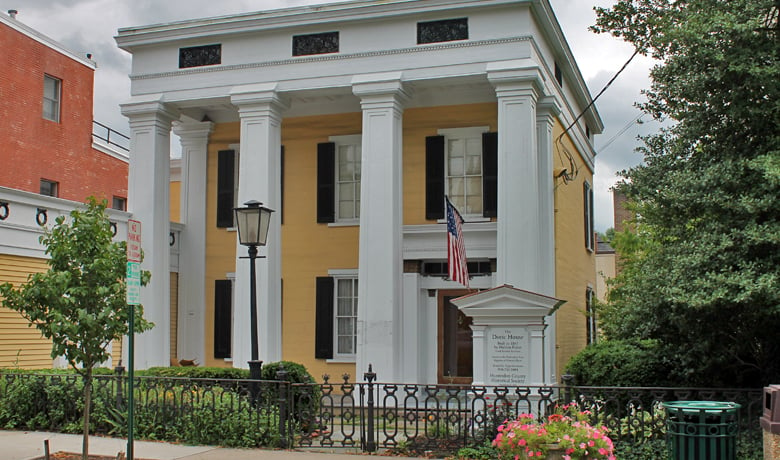 You'll find Greek Revival architecture with the Doric House in Flemington, NJ
On vacation in New Jersey and noticing all the buildings that look like mini-Parthenons? You aren't mistaken. These homes dictate Greek Revival style, characterized by tall columns, sharp edges, and simple embellishments.


Trademark design features
Greek Revival structures are symmetrical and simple compared to some of the others on this list. Most gables are pedimented, though this isn't the most eye-catching feature.
That designation belongs to the cornices, which are heavy and domineering. Near the top, you'll find a wide and plain supporting frieze devoid of any intricate details. In general, all of the moldings follow suit, standing out for their sheer size and scale rather than their elaborate touches.
Look for a front door surrounded by narrow windows, often located on an entry porch flanked by columns and pilasters.


History of this style
When the first generation of American-born architects, such as Robert Mills and Thomas U. Walter, took the helm of modern design in the United States, they started with the Greek Revival style.
In fact, this design mantra reigned supreme in the United States between 1830 and 1850, with the Bank of the United States in Philadelphia drawing inspiration from it as early as 1818. One of the reasons so many "Grecian Style" homes, churches, and other properties came to life during this timeframe? American architects Asher Benjamin and Minard Lafever created easy-to-follow carpenter guides.
New Jersey architect Mahlon Fisher got his hands on a copy of one of these guides, using his newfound knowledge to construct a slew of Greek Revival homes in the historic borough of Flemington.
Where to find it now
Flemington continues to be a go-to spot for finding Greek Revival architecture in New Jersey. Look for it in the local Doric House, though you can also find elements of this design style at Mead Hall in Drew University, as well as Lawrence Mansion in Hamburg.


Queen Anne architecture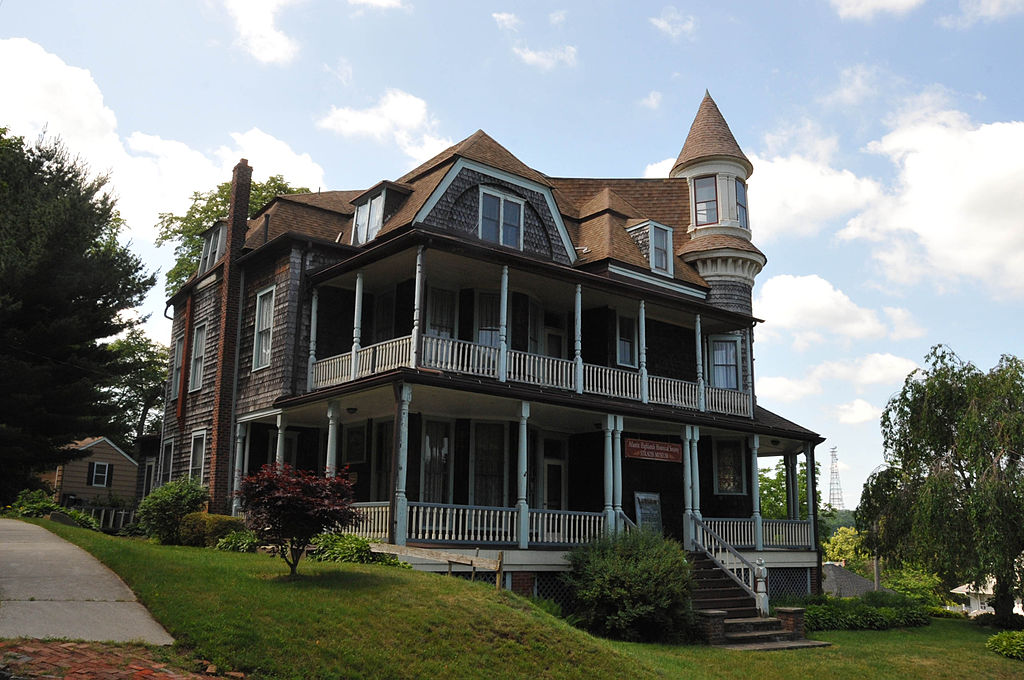 Many Queen Anne style homes, like the Strauss Mansion, are considered haunted
Come across an older New Jersey home that's stunning and unique, but you can't quite put your finger on what makes so special? It could represent the Queen Anne style. While no building includes every design element of this era, you can find plenty that incorporate it to a degree.


Trademark design features
One of the most dynamic features of a Queen Anne-style building is intricate brickwork, though most homes in this design will also include terracotta panels or tiled upper stories. You'll also find bright white woodwork and touches of blonde limestone.
This style often showcases oriel windows stacked two-high, as well as bay windows set apart from upper stories. Corner towers or turrets add a touch of whimsy, while other ornamental features include roof crests, brackets, and embellished chimneys.
A trademark feature is its asymmetrical design, reminiscent of the Italianate architecture style that came beforehand. That look continues to the interior, where floor plans are often irregular. Due to their broad porches and multiple balconies, the entrances to these homes are often full of shadows, adding to their intrigue.


History of this style
In New Jersey and the rest of the United States, Queen Anne architecture was a go-to choice for builders from 1880 to 1910. While the original inspiration came from England, it's safe to say that the final domestic product was all-American, attributed in large part to architect Henry Hobson Richardson, who erected the first Queen Anne-style house in Rhode Island in 1874.
After the 1876 Philadelphia Exposition showcased this design style, it grew in popularity, though it was still difficult to pinpoint which characteristics to attribute to this style in particular. The Arts and Crafts scene that followed would take architecture in a different direction.
Charting a new course from 1910 to 1925, the Arts and Crafts movement placed a greater emphasis on clean lines and symmetry, with major architectural elements that included double-hung windows, overhanging eaves, exposed rafters and a front porch that sat beneath the main roof extension.


Where to find it now
If you're near Cape May, you'll find an example of early Queen Anne architecture at the Joseph Leedom House. It's also evident at the Strauss Mansion in Atlantic Highlands and the Kuser Mansion in Hamilton.

Explore these architectural styles in NJ
Any trip to New Jersey isn't complete without taking a drive to absorb the gorgeous architecture that the state has to offer. No matter where you find yourself living or visiting, there's always something to learn from these age-old buildings that reveal the overarching design theme of their time.
From Georgian to Queen Anne, these types of architectural styles couldn't be more different. Yet, they all speak to the preferences of the unique people who inhabited this state from the beginning.