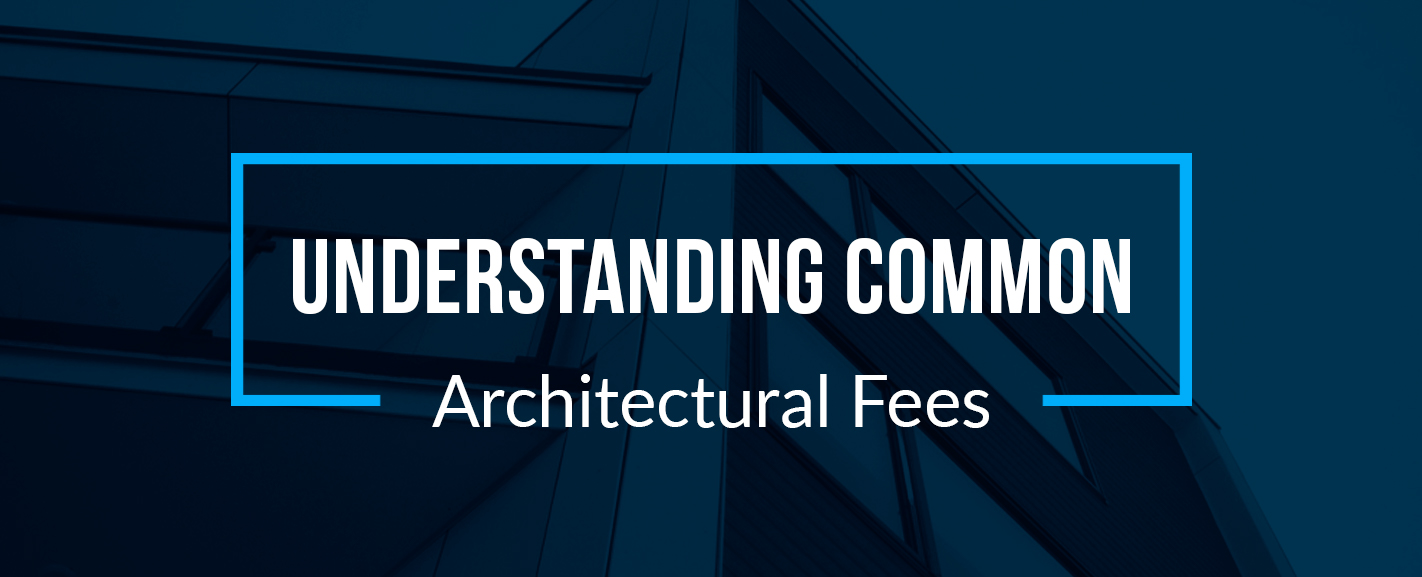 If you're planning a building project, it helps to know standard architectural fees upfront. This way, you'll be able to better budget and prepare as you move forward. Let's take a closer look at these fees and the logic behind them.
---
How architects set their fees
There's a reason that contractor teams often bid on specific projects. No two are going to price a new build the same. Instead, their fees will vary depending on their subcontractor relationships, professional experience, access to materials, and more.
Likewise, there is no standard fee schedule for architects.
There have been two antitrust proceedings — one in 1972 and one in 1990. These proceedings prohibit the American Institute of Architects (AIA) from offering fee recommendations to architectural firms. Instead, the law requires that each firm develop its own set of competitive fees without collusion.
Without set or advertised prices to compare, it can be challenging to gauge what each firm charges. Word-of-mouth estimates are also inaccurate. As a result, even clients can feel left in the dark about how much architects deserve for the time they put into each project and how that effort affects their bottom-line price.
While this ambiguity may be true, most professionals follow typical architectural fee structures. Current and future clients should familiarize themselves with these options and discuss any questions with their architect before moving ahead on a job.
Let's review the basic structures you can expect to encounter.
Hourly rates for each position
Most architects will charge clients per hour, depending on how much time they put into a given project. While some will quote the entire project this way, others will only charge hourly for a specific part of the design process before moving to a more permanent fee structure.
Of course, prices will vary depending on the scale of the project and your location. In general, expect to pay an hourly rate of around $45 if you're working with a junior architect. Are you working with a firm's principal? You could pay an average of $125 to $150 per hour.
Let's review a quick architectural fee breakdown based on the four different role levels within an average architectural firm:
Principal: The principal is the person who owns and operates the firm. You'll pay the highest for these services, coming in at around $125 to $150 per hour.
Project Manager: Second-in-command, the Project Manager (PM), will have 10 years or more of experience, and their job involves overseeing multiple projects and teams. In addition to design work, the PM also helps with client communication, budgeting, and scheduling. Expect to pay around $125 per hour.
Junior Architect II: Being a Junior Architect II requires between six and eight years of experience. These professionals are responsible for the daily oversight of a specific project. You'll pay around $90 for these services.
Junior Architect I: A Junior Architect I has between three and five years of experience in the field. They'll handle certain parts of a project, following directions given by others on the team. This position has an hourly rate of around $65.
Setting a cap on hourly rates
If you know the design you want and can keep the process straightforward with few changes, paying by the hour can be an ideal way to go.
However, although this payment structure is a straightforward way to set a budget, keep in mind that it's easy to underestimate the number of hours an architectural team will devote to your project. It's a good idea to set a cap on the number of hours allotted by adding a "not-to-exceed" clause in your contract to avoid sticker shock.
Doing so can help you direct and focus your efforts, as you know that once you reach that cap, you'll either have to renegotiate the project or tackle the task yourself. For this reason alone, many architects will require per-hour pricing if the scope of a project is undefined or lacks direction.
Rates per square foot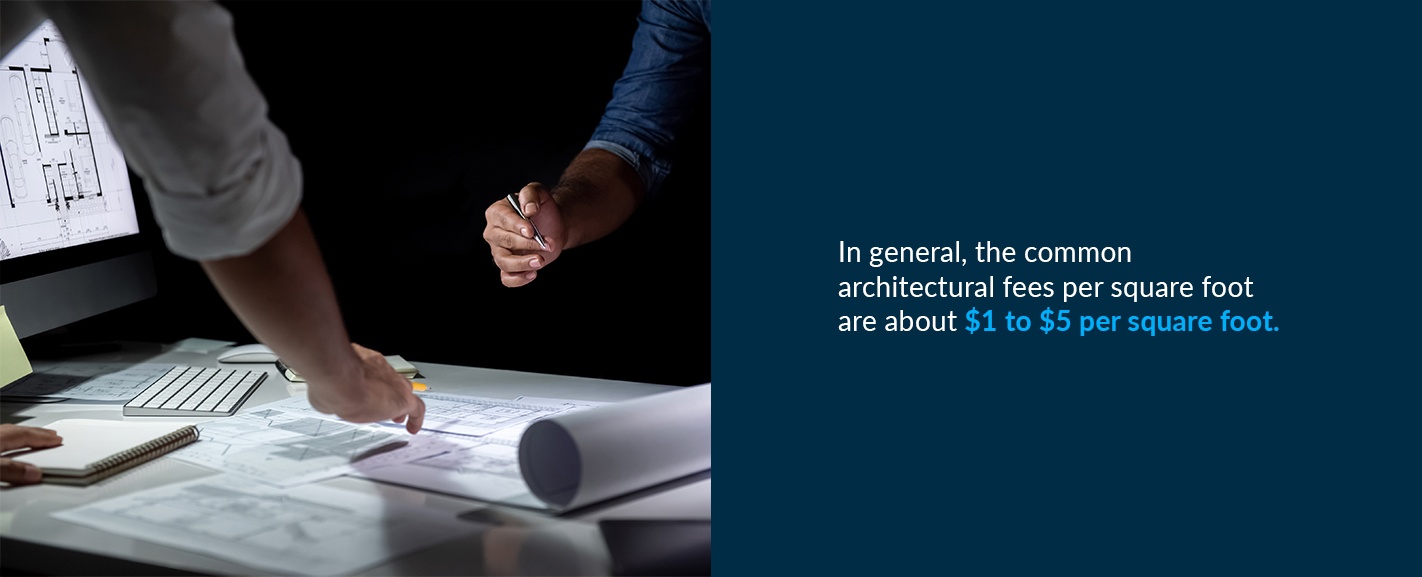 You could also encounter architects that charge on a per-square-foot basis. Most professionals use these rates on smaller projects that are simple to estimate in this regard. In general, the common architectural fees per square foot are about $1 to $5 per square foot. You may have to pay more, especially if you need the following work from them:
Concept development and drafts: Architects will charge between $1 and $5 per square foot for a consultation, site visit, and initial draft of the documents.
Construction documents: You can expect to pay an additional $1 to $5 per square foot for detailed drawings of all parts of your project, including electrical and plumbing.
Project management or administration: The $1 to $5 in miscellaneous fees that they may include in your quote depends on the firm you use and your location.
Thisfee structure is often more convenient for architects to quote on new build projects, as remodels can have too many moving parts and unknowns.
To help keep costs in check, architects may limit clients to a set number of revisions. Otherwise, if they agree to a per-square-foot price and the project extends or changes, they could be tasked with producing more drawings and documents than their time is worth. If that does happen, they may move to an hourly fee.
Fixed-fee rates
When calculating architectural fees for residential projects, smaller-scale jobs may only require minimal input from a firm. As such, many will quote such a project as a fixed-rate fee. The architect will tell the client one number that covers the work required to complete the job.
This kind of fee structure requires that an architect understands all the project details clearly and concisely. Otherwise, surprises could pop up and, suddenly, the fee doesn't cover the time involved.
To this end, many architects will charge an hourly fee in the initial stages of a project while they're still ironing out all of the fine-print details. Then, once they've cemented the design plans, they'll move to a fixed-fee structure.
Rates as a percentage of construction costs
While per-hour, per-square-foot and fixed-fee rates cover most architect fees related to residential design, large-scale projects may use a different structure. In this case, the architect may include their services in the overall construction costs, featuring contractor and subcontractor work.
A client will hire an architectural firm to come up with a design for a building. Once it's complete, the firm will send the project out for contractors to bid. The client will then select a contractor. From there, the client and contractor work out a separate price for the project, incorporating the architect's work as a percentage of the total cost. Depending on the firm's size and the scale of the project, the architect's fee could range from 8% to 15%.
The following rates are standard for these types of projects:
Remodeling projects typically cost an additional 10% to 20%.
New construction can cost as low as 5% to 8% of your overall quote.
Architects usually charge an extra 3% to 12% for commercial projects.
Understand what your architect usually charges before signing on the dotted line or beginning any work. Take note of any whose percentage is significantly lower than any other you've interviewed. If the price surprises you, it could be because the firm only provides standard services, such as the drawings necessary to obtain a building permit. At the same time, fees on the higher end likely cover an entire package, with services meant to last the duration of the construction process.
To make sure you're as in the know about the budget as possible, you can request that your architect work with a contractor they've worked with in the past, choosing someone they know and trust to take on the project. This way, you can eliminate the guesswork that accompanies the bidding process.
The value and vision behind architectural fees
From single-family homes to high-rises, architects are at the helm of some of the most significant structures in the world.
Yet, it's easy to misunderstand or misgauge the critical role played in the overall construction process. Without detailed plans to work from, even the most knowledgeable builders in the world could miss the mark. Architects take the time to ensure that buildings are more than beautiful, with functional, safe, and sustainable construction.
Knowing this information, architectural fees become less of a pain point and more of an investment in the integrity of your project.
Looking for a skilled architecture team?
Are you preparing to build and looking for a team of skilled and experienced architects to help turn your vision into a reality? Our team of licensed architects and designers is trained in every aspect of the process, from conducting feasibility studies to planning interior fit-outs, obtaining permits, and assisting with construction administration.