Philadelphia, PA
Georgian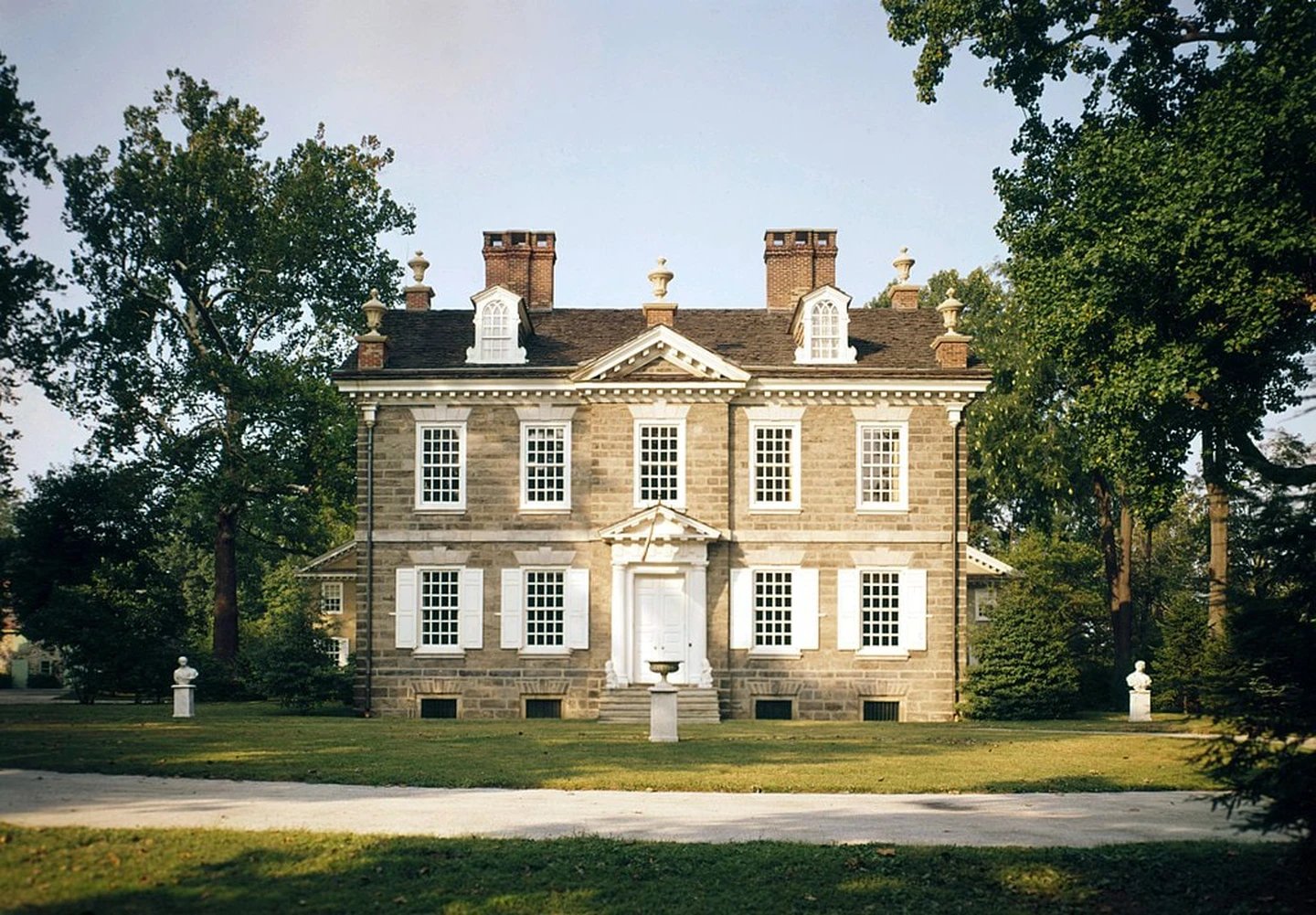 Image source
Georgian style was the first architect-inspired style in America. This style came to the colonies around 1700 via pattern books or architectural building manuals. These manuals were based on the classical forms of the Italian Renaissance period, which reflected a period of colonial growth and inspired a desire for more formally designed buildings as they spread through the colonies. A typical Georgian-style house might be made of stone or brick, is typically 2 stories, with a side-gabled roof and symmetrical arrangement of windows and doors on the front façade. You will often find multi-panel windows, a dentil cornice, and decorative quoins at the corners of the building.
Federal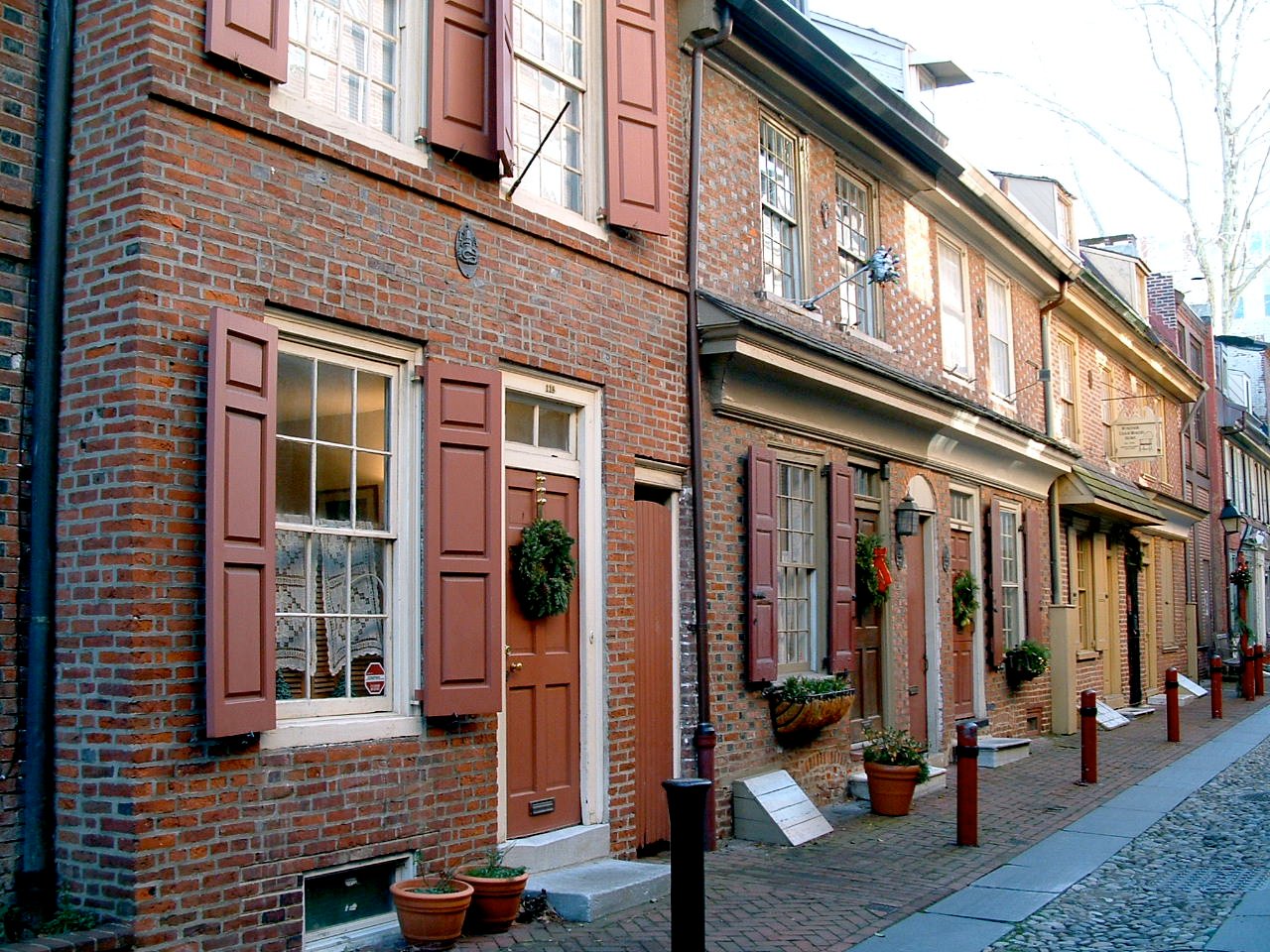 The Federal-style was developed by British architects, the Adam brothers, and became popular throughout the colonies after the American Revolution. It is considered to be a refinement of the Georgian style and features many of the same elements; some of which include a side-gabled roof, brick exterior, symmetry, and classic details. What sets the Federal style apart is its delicate details, swags, garlands, and urns. Some more formal elements that are often seen in Federal style buildings are a front door fanlight window, flanking sidelights, dramatic windows, Palladian windows with curved arches, more elaborate door surrounds, and porticos.
New York City, NY
Beaux-Arts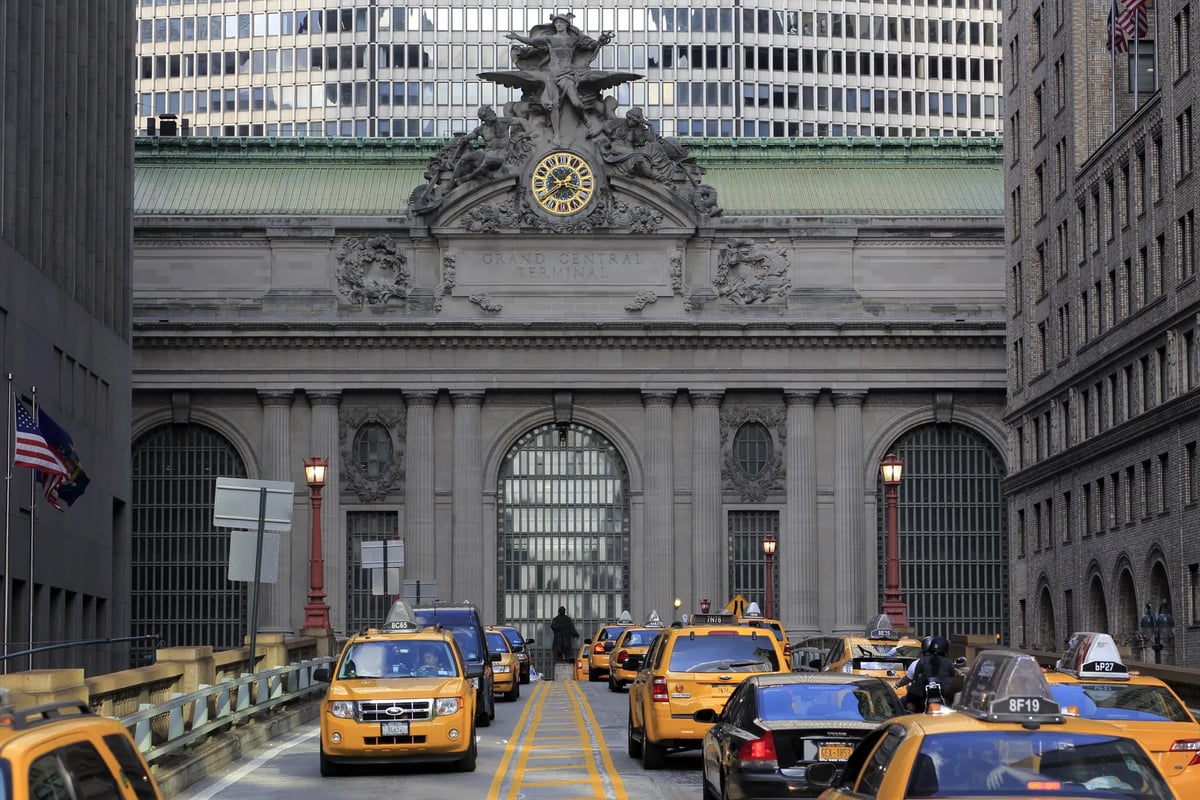 In the early days of New York City, Beaux-Arts style architecture was used as a way to show the city's place within academia and establish it as a superior city to its European counterparts. This style was incorporated into many of New York's most iconic buildings, such as the Washington Square Arch which was modeled after the Arc de Triomphe in Paris.
Italianate
Some of New York's most beloved architecture is made in the Italianate style, which flourished from 1840 until about 1870. More specifically, this is the style that influenced the brownstone houses in Brooklyn. The inspiration for this style comes from 15th-century Renaissance-era palaces called Italian palazzos. Similar to the Beaux-Arts style, the Italianate aesthetic consists of classical details, elegance, and symbolism for prosperity and social position.
Deconstructivism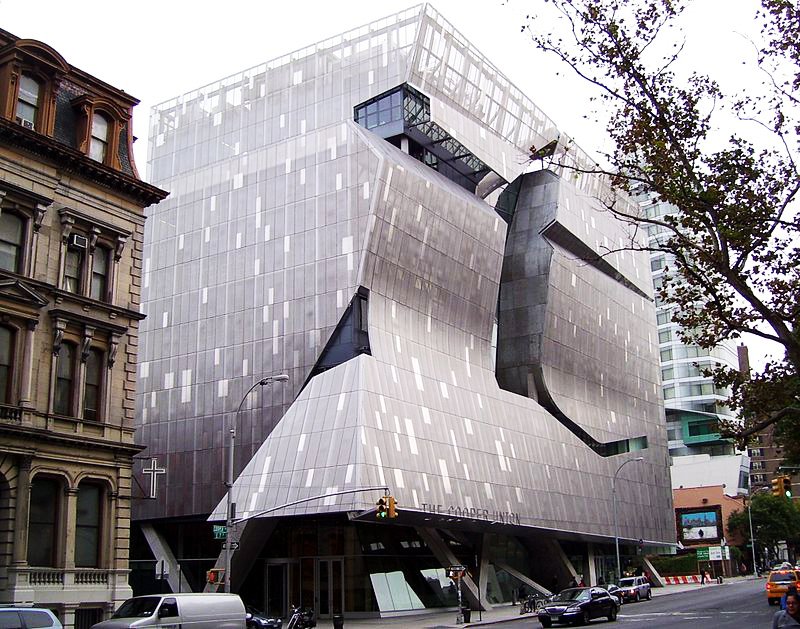 The term "Deconstruction" is used as art-world jargon meaning "destruction". This style is defined by its surface manipulation, fragmentation, and use of elements that appear to contradict each other. Architects used Deconstructivism to challenge traditional styles of building design and to inspire ideas of harmony, continuity, and stability. Unlike most architectural styles, it is more of a series of postmodernist "impulses" rather than a consistent design style. In 1988, the Museum of Modern Art staged its "Deconstructivist Architecture" exhibition in New York, featuring designs by some of the most influential architects of all time; Frank Gerry, Zaha Hadid, Peter Eisenman, and more. A famous example of the Deconstructivist style is the Cooper Union's 41 Cooper Square building.
Postmodern
Emerging in the US during the 1980s, Postmodern has since become one of the most prevalent architectural styles throughout New York City. This style was a result of architects thinking that structures lacked variety and looked too formal, and a way to break free from the influence of European architecture. The Postmodern aesthetic can be spotted all around the city at places such as Madison Avenue 550, 60 Wall Street, The Lipstick Building, and World Financial Centre.

Miami, FL
Mediterranean Revival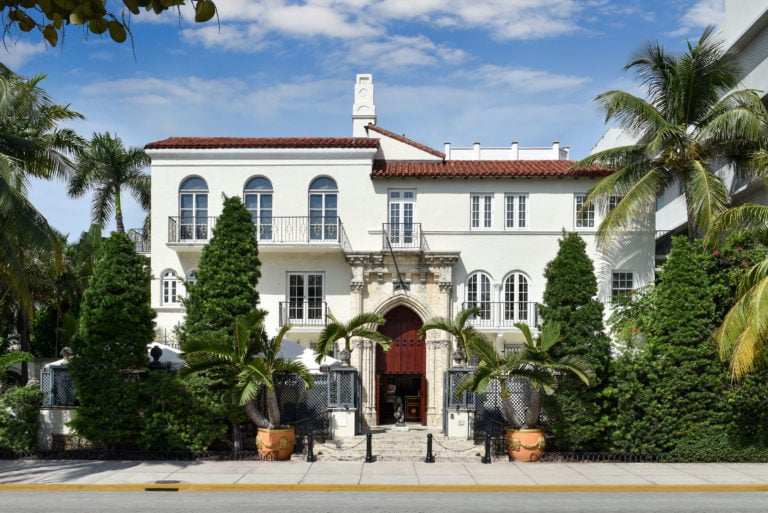 Adopted in the early 1920s by Miami Beach developers, the Mediterranean Revival style seen throughout Florida combines elements from different Mediterranean styles. This style can be described as a fantasy-like, whimsical interpretation of the old world. Characteristics that define the style include decorative columns, arched windows, clay barrel tile roofs, balconies, carved stonework, wrought iron and spindle gates guarding picturesque courtyards, and rough stucco walls. A great example of this architectural style in Miami is The Spanish Village along Espanola Way.
Art Deco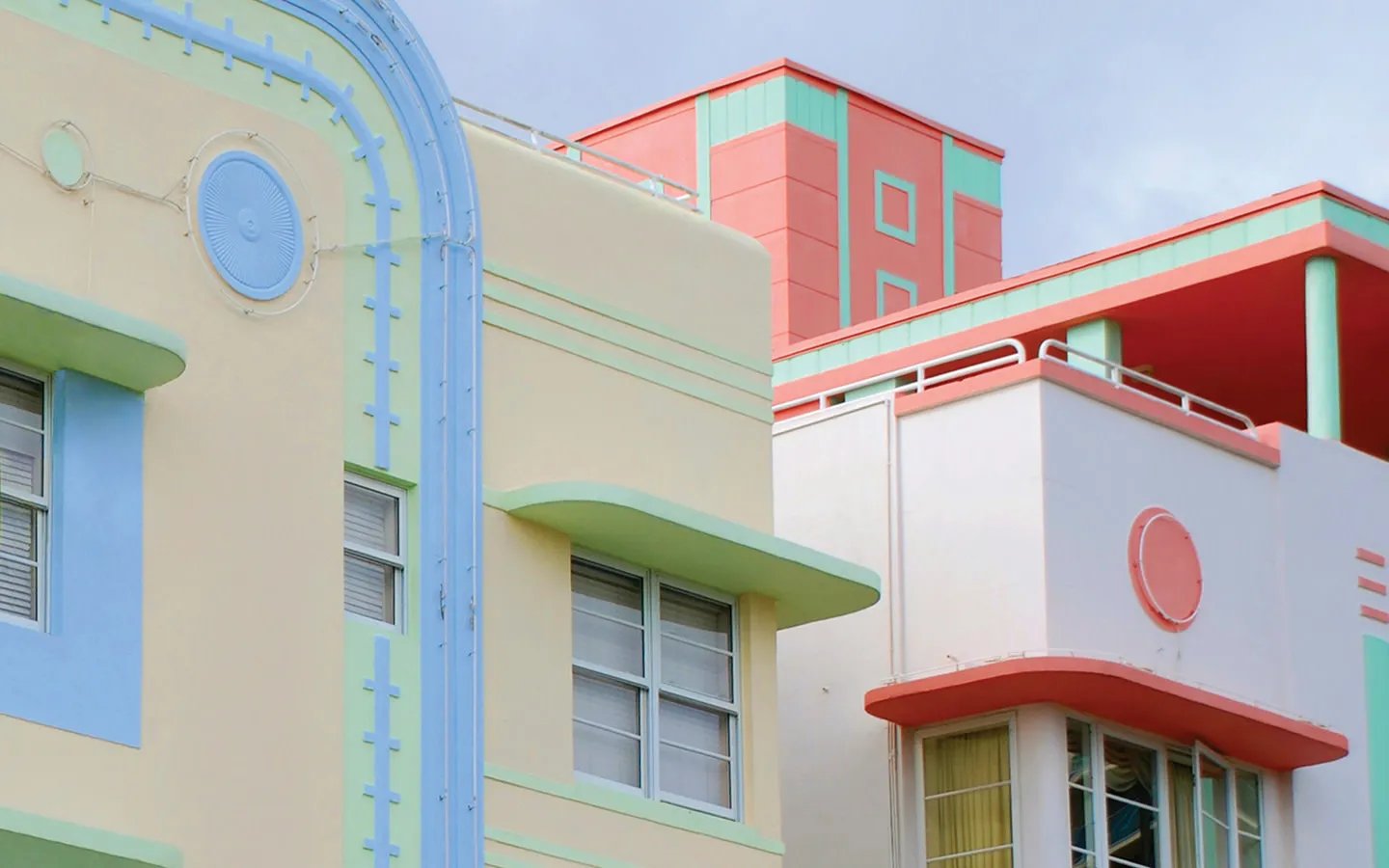 The term "Art Deco" became common in the 1980s, a result of renewed public interest in style. This style is often referred to as "Skyscraper Style" on account of the large Art Deco-style buildings that began to show up in all big cities throughout the 1920s. Many of the early 20th-century European design styles inspired the Art Deco style, such as Cubism, French Art Deco, German Bauhaus and Expressionism, and Vienna Secession among others.
Streamline Moderne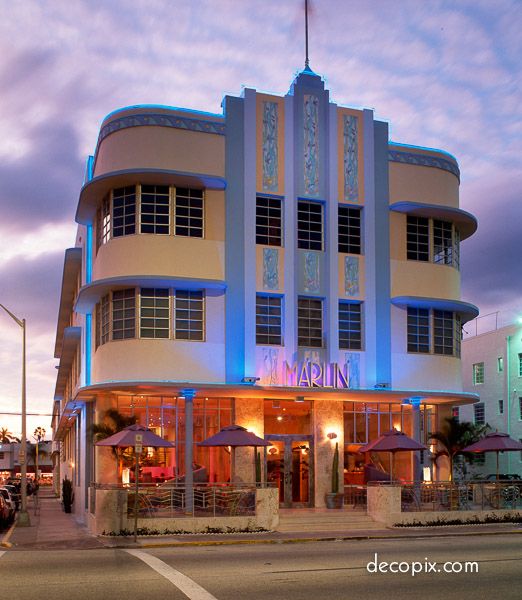 Streamline Moderne is a style that refers to the second phase of Art Deco, responsible for Miami Beach's building boom. This style was a less decorative, more somber style as a result of the stock market crash and the outbreak of WWII. Streamline Moderne relied on more machine-inspired forms and American ideas of industrial design. However, things took a turn when Miami Beach architects infused the style with optimistic futurism and the belief that times would soon get better. Using local imagery to create buildings that featured whimsical flora, fauna, and ocean-liner motifs, Miami Beach architects were able to reinforce the image of Miami Beach as a seaside resort town.
Palm Springs, CA
Desert Modernism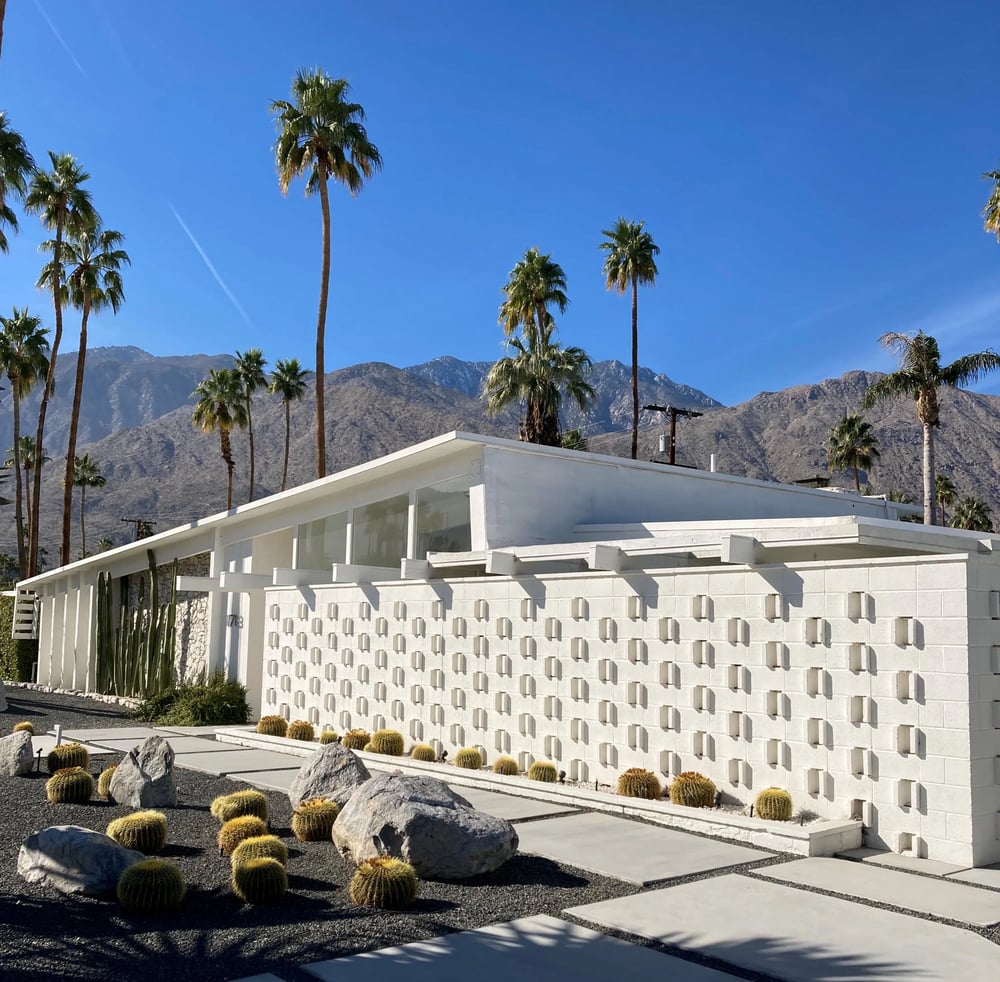 This style of architecture dates back to the 1920s when architects would incorporate the dramatic and mountainous geography that filled the city of Palm Springs. These were sleek, modern homes with an informal feel. In Desert Modernism, form follows function and the design was centered around showcasing the area's gorgeous surroundings. Some of the common features included shaded breezeways, flat roofs, muted exterior colors, large windows, open interiors, and low, sleek lines that cause buildings to blend in with the scenery.
Spanish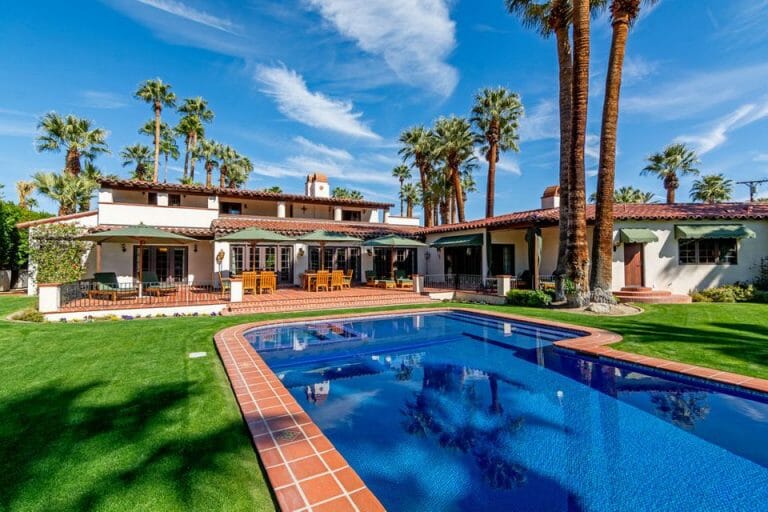 Seen throughout the state of California, Spanish-style architecture relies heavily on the use of earth tones and has an appealing summery feel. This style is still prominent today, although designers have learned how to give each property a unique twist as time has gone on. Characteristics that are key to the Spanish style include clay-based design elements such as red tile roofs, barrel roof tiles, or roofing made from slate or terracotta clay, as well as design elements that work well under intense heat, like high-grade stucco for exteriors.
New Orleans, LA
Creole
While it can often be referred to as a "French Colonial" style, Creole was developed in New Orleans. It was a simple style centered around enduring the hot, humid climate of the city. These buildings were very simple, made out of either brick, stucco, or weatherboard, and would feature elements such as large six over six windows, French doors, and shutters attached by strap hinges on all windows and doors. As time progressed, features such as unroofed second-floor galleries with wrought iron railings were added to these structures.
Arts and Crafts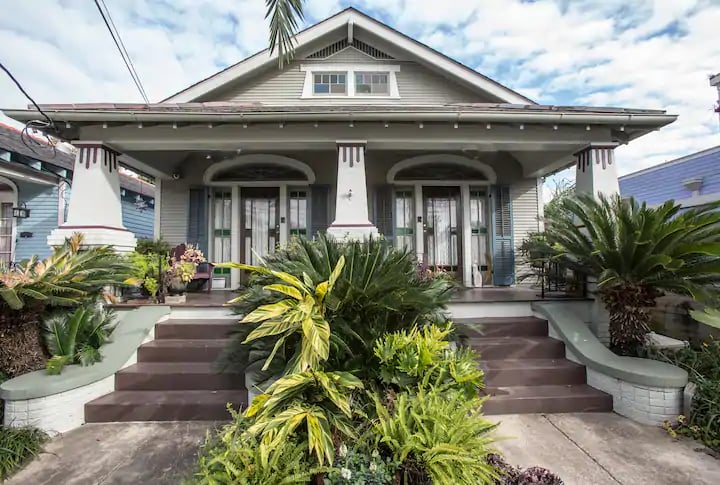 While it was unusual to see the Creole style mixed with other architectural styles, Arts and Crafts was quite the opposite. This style emerged from a combination of influences including the California Craftsman style, the English Arts and Crafts style, and the Prairie-style bungalows of the Midwest. Common design themes included: the use of unadorned structural building parts, such as rafter tails, and fascia boards; the use of "natural" or "rustic" materials, for instance: wood shingle siding and either rough-hewn masonry or rusticated concrete block, often in combination.
San Francisco, CA
Gothic Revival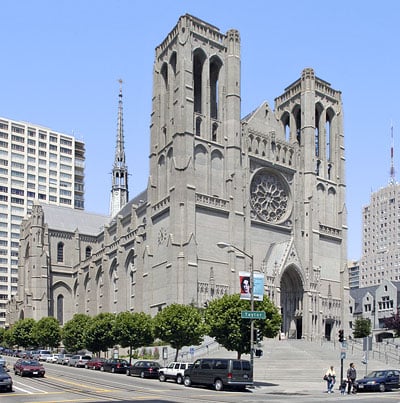 A style inspired by medieval cathedrals and their ornate windows and spires. A famous example of this style in San Francisco is the Grace Cathedral.
Edwardian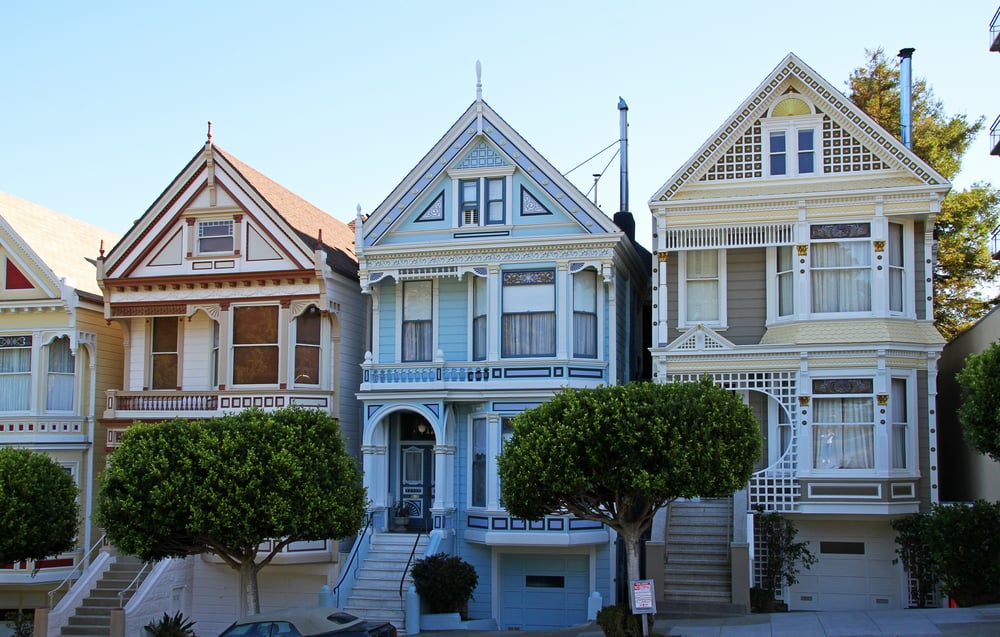 The terms "Edwardian" and "Victorian" refer to two periods of architecture. While San Francisco was once full of both-style homes, a great amount of Victorian architecture was destroyed in the devastating 1906 earthquake and fire. Edwardian homes reflect widespread cultural tastes of the early 20th century and do not feature the typical Victorian embellishments.
New Modernism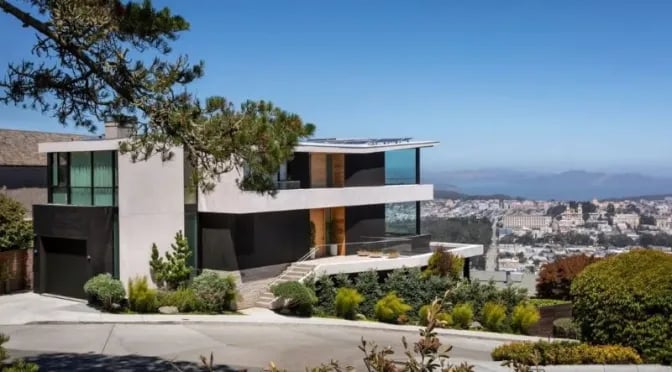 This style was popular from around 1980 and is still prominent today. The name "New Modernism" refers to how these buildings were made using modern materials, technology, and computer modeling, all while striving to be humane. This was a radical concept in modern architecture that up to this point had revered machines, not humanity, and had rejected nature instead of embracing it. This Humane Modernism has a contemporary yet warm, tactile, colorful, and durable aesthetic. What makes it humane is the use of the best traditional building methods to increase the quality of everyday life.
Chicago, IL
Grey Stones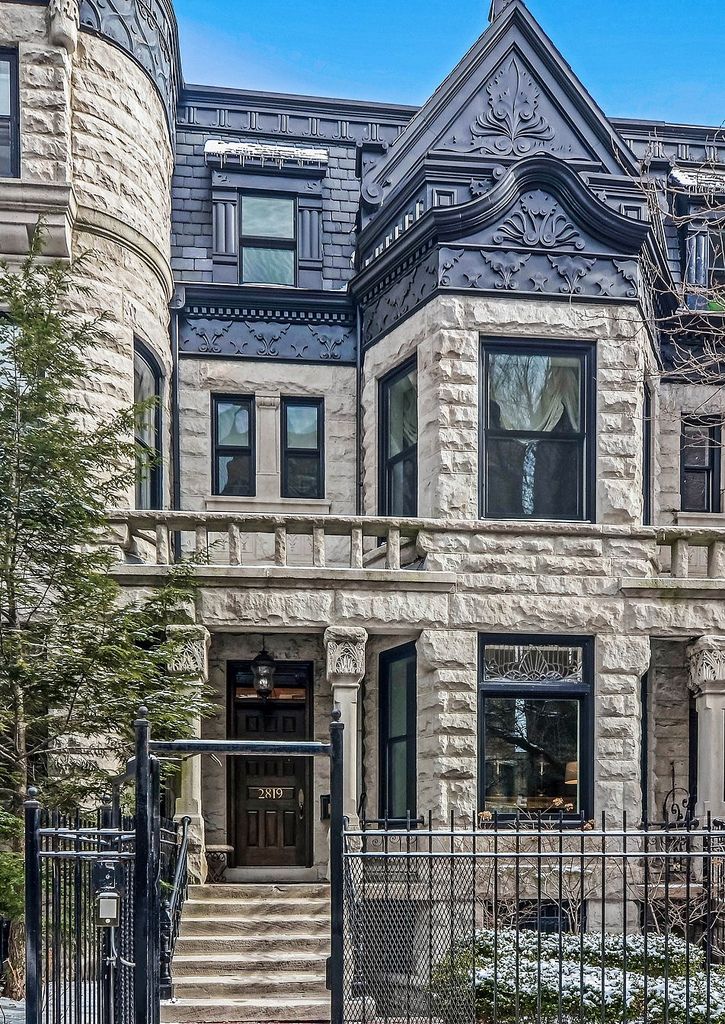 While the term "Grey Stones" doesn't necessarily refer to a certain style of architecture, it is a blend of styles that represented Chicago's transition out of the rapid utilitarian rebuilding after the Great Fire of 1971. These homes were built in various styles such as Queen Anne, Prairie style, and Romanesque Revival.
Late Modernist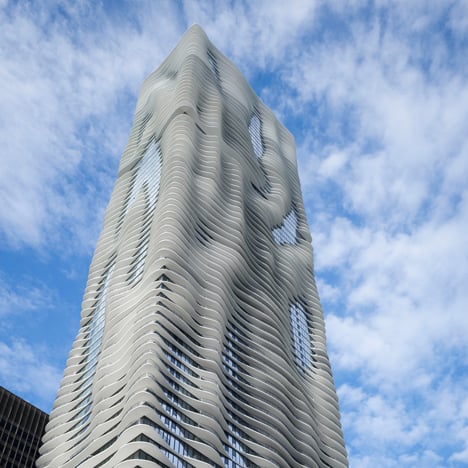 Late Modernism emphasizes shape and pattern rendered in iconic buildings. Like the international style, glass and steel are the primary materials, but instead of an emphasis on proportion within a grid, the emphasis is on the building as a singular designed object.
Savannah, GA
French Provincial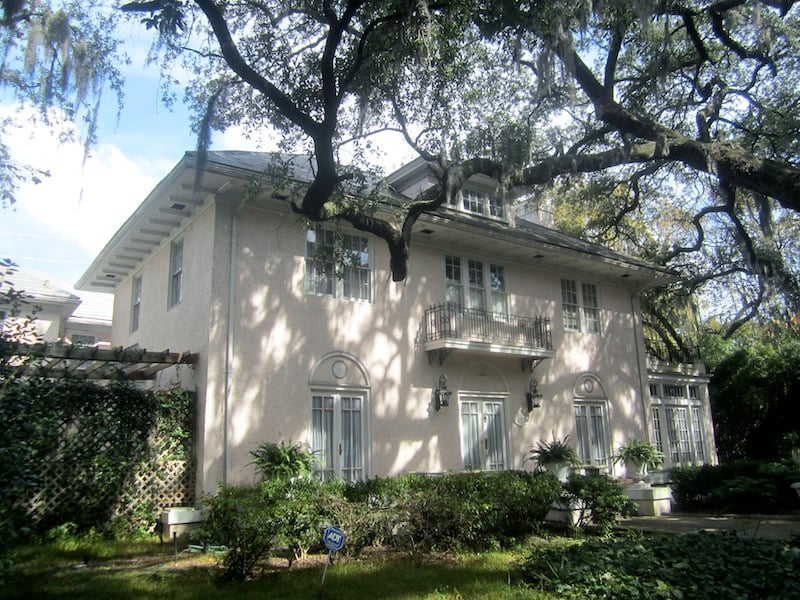 This style was inspired by the estates that filled the French countryside. It was brought to America after WWI, infusing European decorative appeal and romantic touches into the architecture of the southern United States. Key elements seen in this style are balanced, symmetrical proportions, steep roofs, brick exteriors, tall second-story windows, and porches with substantial balustrades.
Victorian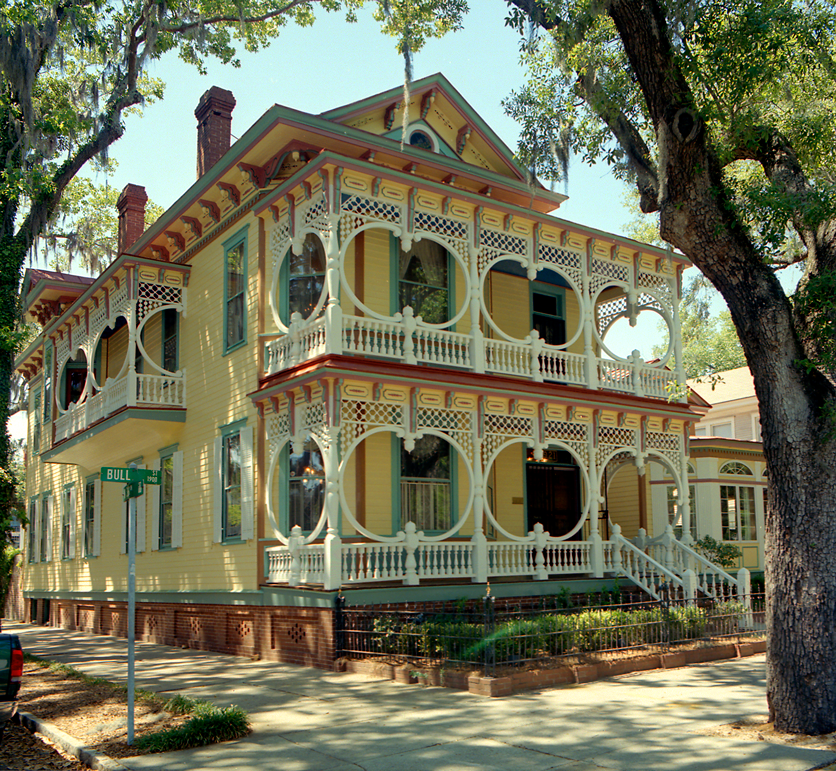 A style of architecture named after the reign of Queen Victoria that emerged between 1830 and 1910. Victorian-style buildings are constructed to favor aesthetics rather than functionality. A home of this style will often have a complex design with ornate trim, spacious porches, bright colors, multi-faceted rooflines, and an asymmetrical shape.
Santa Fe, NM
Territorial Revival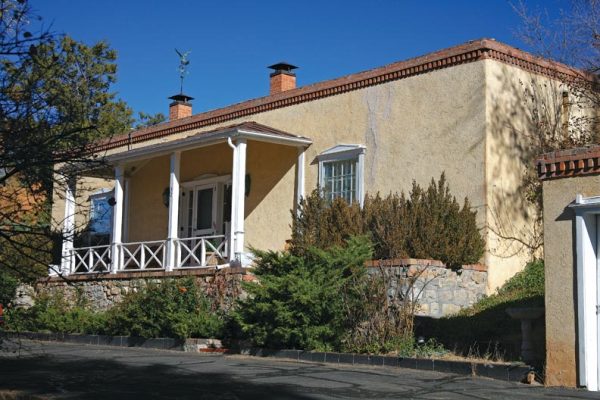 Dating back to the 19th century, this style of architecture was founded on older design traditions. Territorial Revival is often noted for its decorative trims that echoed Gothic and Greek architectural styles. Some of the elements typical to this style include: flat roofs and hard, angular edges, often capped with brick around the roofline. This style is influenced much more by European styles rather than Mexican. Structures built in this style resembled that of Gothic cathedrals, but with a southwestern-style exterior.
Pueblo/Pueblo Revival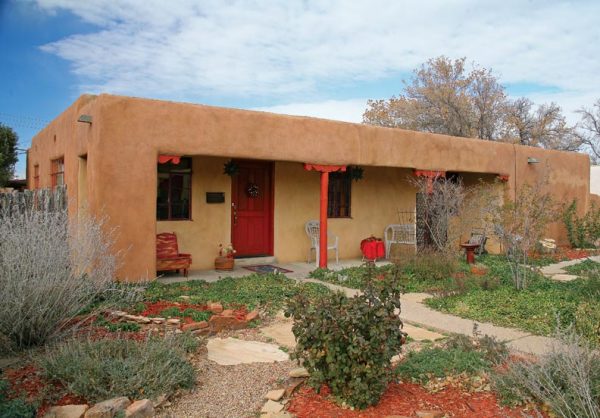 This is the style that one would usually think of when hearing the term "adobe". Although not all Pueblo-style homes are adobe, either way, they focus on soft, rounded corners and exposed wooden support beams that are reminiscent of the adobe style. The best quality of the Pueblo Revival style homes is that no matter how big or impressive the building may be, it still feels warm and homey.
Boston, MA
Queen Anne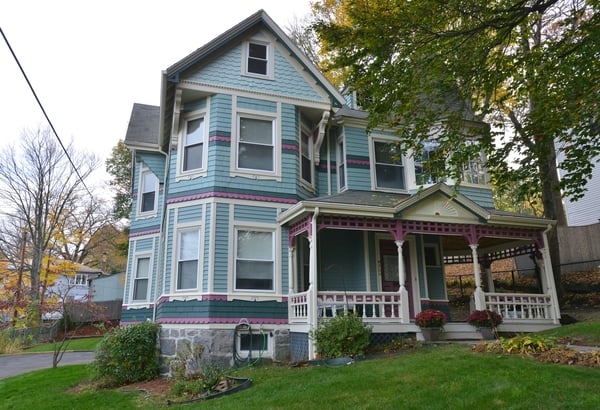 Image source
This style encompasses a wide range of architectural elements while borrowing and combining features from multiple stylistic traditions. The original inspiration for the Queen Anne style came from England but developed into something that was uniquely American. Architecture in this style was used to promote the ideal of simpler country living, but without religious connotations like those connected to the Gothic forms.
Federal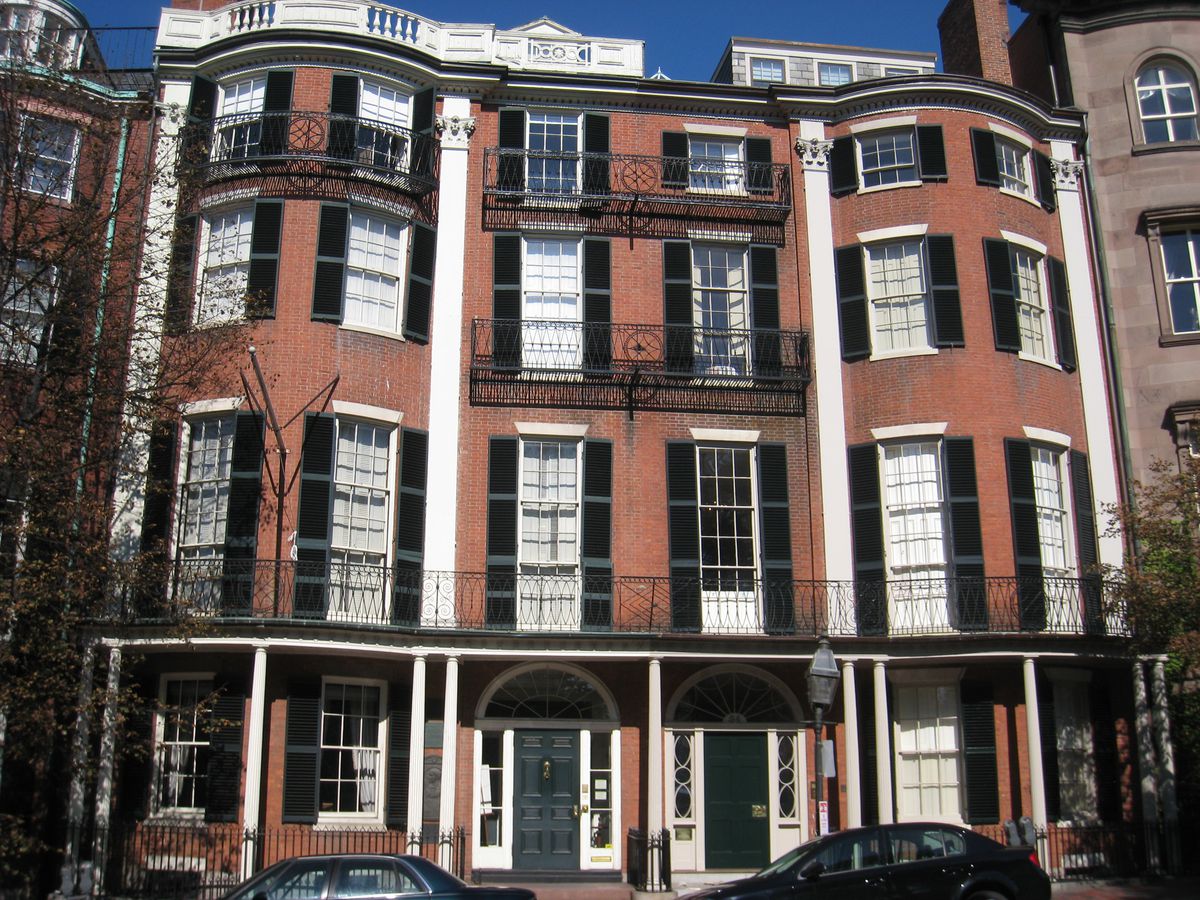 Boston is best known for its federal-style architecture, a style that reflects an early time in America's history when the US was getting its bearings as a democratic republic, around the end of the 1700s leading into the advent of the following century. Federal-style is considered to be the nation's first architectural style and was influenced by Roman Classicism and ancient Greece's balanced, symmetrical designs. Common features include bright red brick, various bay windows with shutters, and a raised portico or stoop.