In the world of real estate, different processes go through different businesses. In order to develop a plot of land into a residential or commercial structure, a developer needs to contact an architect for the plans, go to another architecture firm for quality assurance and translation into various drawing sets, then contact a dozen or so sets of contractors and services to get their plans built. In total, the average developer contacts more than five businesses before a shovel ever breaks ground, and then usually requires services from at least two more businesses before it can be sold: a realtor and a marketer.
Design-build is the all-in-one cure for the common development process.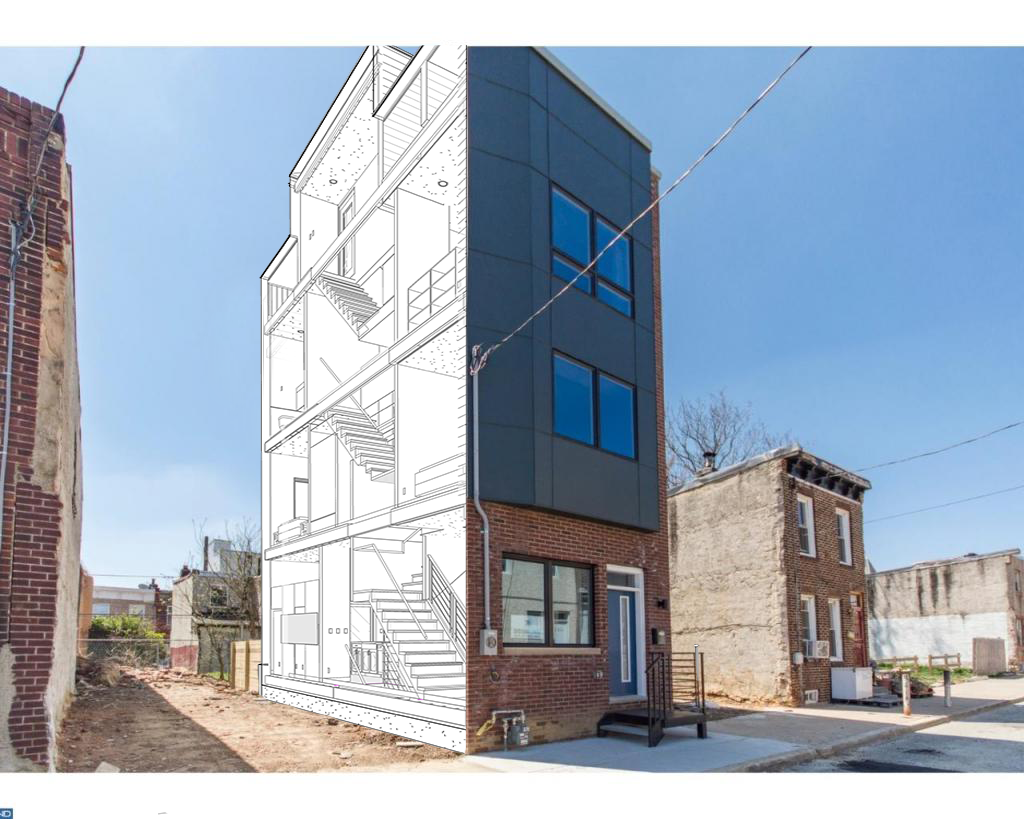 Why It Helps
Handling every facet of the process from schematic design to handing the keys off to the end home buyer, our design-build process ensures that everything gets handled under one roof, so that the level of quality remains consistent throughout the entire design and construction process. This isn't just a way to create better homes, retail and offices, it's a way to control more of the process while spending less time.
When you engage in the design-build method, you meet with the same people, dial the same number and maintain the same point of contact, whether you're figuring out where to place windows or choosing cabinet finishes. Your time is valuable, don't spend it trying to track down an electrician who can coordinate with your bricklayer.
Costs are reduced through design-build. When the architecture team hands off a design to our construction team, they significantly decrease the likelihood of change orders in the field. Our architects consult our construction managers and vice-versa so that there are zero miscommunications or ambiguous details in the plans. Keeping the dialogue open between all of our different teams allows us to create more efficient residential and commercial properties, it also allows us to understand exactly what is achievable in the design before we get out in the field.
In the typical building process, once the architectural plans are finished, they have to be sent out for pricing. Pricing can take a great deal of time because estimate times vary and may result in a project being sent back to the architect for a redesign that will meet budget. Design-build alleviates the need for you mediate between two or more separate businesses and spend additional time and money on pricing and redesigning.
Our process designs and builds around your budget, instead of leaving you guessing about how much you will need to spend.
The Designblendz Process
Our process begins with a kickoff meeting with one of our licensed architects and a construction manager. At this meeting we'll determine a budget and look to gain an understanding of what you envision for the property.
Once we have exchanged ideas and agreed upon a direction for the project, we'll design a initial layout and present that for your approval. Accompanying this rough layout will be a rough estimate for the building process which takes your budget into account and includes options for finish levels.
We'll stay in regular contact with you during the entirety of the process to ensure that everything meets your approval.
From Architecture To Construction
Once the design process is completely finished, we will present the final construction documents along with a final construction budget for your approval. From that point, our architects will obtain all necessary licenses and permits while our construction team prepares to build.
Any and all requests for information are handled swiftly thanks to the size of our team, so you're never out of the loop and always up-to-date on what is happening with your project. Real-time updates are available at all times thank to our cloud software. Our construction managers are constantly taking pictures, so you can view exactly how the process is going at any time, day or night. In addition to persistent progress updates, the entire construction calendar is viewable, you'll never wonder what the timelines are for different elements of the project.
Design-build services are available in:
Center City Philadelphia

South Philly

Lower Northeast Philadelphia

University City

Port Richmond

Fishtown

Northern Liberties

Montgomery County, Pennsylvania

Spring Garden

Bucks County, Pennsylvania

Lower North Philadelphia

Far Northeast Philadelphia

Manayunk-Roxborough

The Main Line

East Falls

Mount Airy

Chestnut Hill

The Lehigh Valley

Bethlehem, PA

Easton, PA

Allentown, PA

And many of the surrounding areas



With design-build from Designblendz, you save time and costs, all while creating a better built environment.
To see if your project can benefit from a design-build solution, contact us.