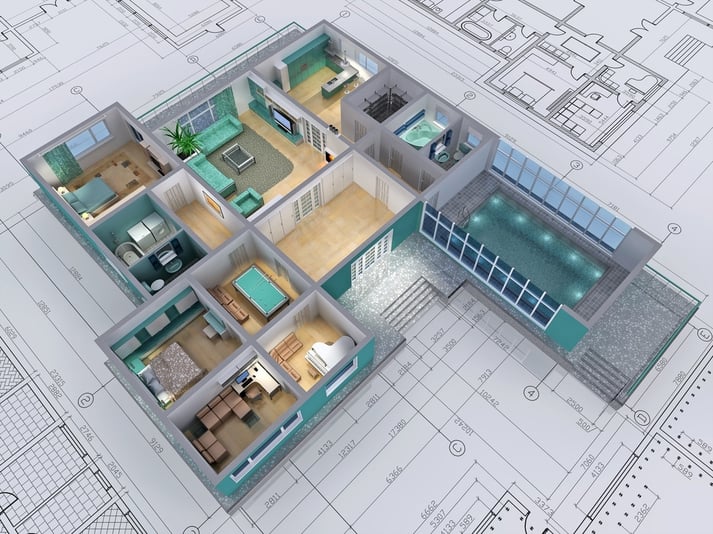 One of the most exciting things you can do for yourself is to have a home designed and built to the exact specifications that will suit your needs, desires, and style. Buying a preowned home is often a great way to start in real estate, but many people feel that you just haven't had the best housing experience until you can customize a house that is just for you. Though designing a house can be exciting, it can also be challenging because it's hard to know how a design on paper will turn out in real life.
You can look at sketches all day long, but a two dimensional representation just won't effectively tell you how a home design will turn out in our three dimensional world. That's where 3D renderingscan come to the rescue. With these renderings you can get a three dimensional view of what your real estate will look like so you can better tell how the rooms will flow and fit together, and how your life can be lived inside the home.
What is a 3D rendering?
A 3D rendering is a computer generated image that provides depth and weight to a design so that you can see how certain aspects of the home will fill different spaces. Instead of looking flat and cartoonish, a 3D rendering provides a picture that you feel like you could stand in, in real life. It can be difficult to tell where one room ends and another begins, or just how much space a room can provide when it is on flat paper, but a 3D rendering can give you a much more realistic look at a design.
A 3D rendering gives you the ability to flesh out a design
While a sketch can provide a general idea of how something will look, a 3D rendering brings it to life in a whole new way. You won't have to use your imagination to see how a home design will work because the computer program can make it look almost exactly as it will when it is finished. Depending on the program, a 3D rendering can almost look like a photograph, so you won't have to fill in any blanks. Using 3D design technology can ensure that the architect, buyer, and builder are all on the same page. Sketches leave much more room for error, and the last thing you want when you are paying to design and build a home is a mistake or misunderstanding that leads to a home you don't love.
3D renderings can be changed on the spot if necessary
When you are working with an architect to design a home, you will likely set up meetings where you get together to discuss what you are looking for and what ideas the architect has to offer. The architect will bring sketches of their ideas to the meeting so you can get a feel for what they think you are looking for. Unfortunately, sketches take time to produce correctly, and they can't be altered much once they are complete. If you have a change of heart or you want to add something in it could mean entirely new sketches that take time and effort to produce.
A 3D rendering is a digital file that you view on a computer, and it can be altered on the spot as you adjust your ideas and discuss with your architect. If you see something you want to change you can simply tell your architect and they can alter the rendering so you can immediately see what it will look like. This makes communication much easier, and makes the process of successfully designing a home you desire much faster too. You won't have to wait weeks at a time for a new set of sketches if you change your mind or come up with something new.
Most quality architects offer 3D rendering today for no extra fee
Real estate is changing rapidly to accommodate a flood of great technology that is helping to improve the way we do things, and 3D rendering is one of those improvements. Many people who design homes today are working with 3D technology because it is cutting edge and becoming somewhat of an industry standard. In fact, many people will turn away from designers who can't offer a 3D look at their designs in favor of people who are more technologically up to date. Though you should always ask if your architect uses 3D rendering to bring their designs to life, it is very likely that they do.
Even better is the fact that 3D rendering probably doesn't cost any extra. It is actually more convenient and affordable for an architect to do their designing and redesigning using this rendering technology, and it's also easier to convey their ideas in a way you will understand if they do so. Therefore, it shouldn't be a service that costs any extra when you are paying for design services. If you have run into an architect that wants to charge a 3D rendering fee then you should carefully consider whether you want to work with them, and perhaps get some quotes from other designers who won't charge more for something that should be standard.
If you want to know what the finished product is going to look like when you are having a home professionally designed and built, you definitely want to use 3D rendering. Though you will never know exactly how it will turn out until it is finished, a 3D image can give you the closest idea of what the reality will be, and it won't take much for you to see the potential and get excited for your new piece of real estate.