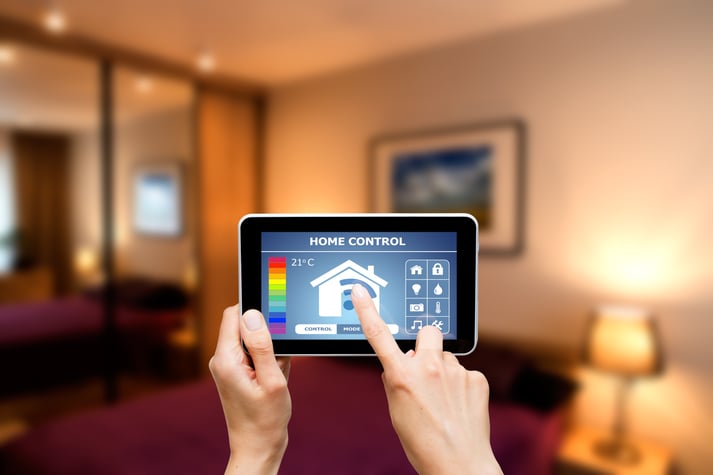 Installing Smart Technology in Your Home
While old homes certainly have their charm, there is something about a home that is equipped with all of the most modern amenities that makes you want to live there. After all, these days technology is improving and evolving by leaps and bounds, and people are finding more and more ways to use it to make their lives more convenient than ever. One of the most exciting ways that technology is being used to make our lives better today is by making homes smarter and more connected.
We have become accustomed to having control at our fingertips in the form of connected mobile devices with apps that make them capable of just about anything you can imagine. Now that control is being extended to our homes, and all we have to do is install the right smart technology. Making your home smarter can allow you to use a mobile device to take charge of your appliances, your energy consumption, your security, entertainment, and more. Here are some of the systems you can put on your home improvement list to bring your house into the modern age.
Smart technology is great for home security
How many times have you wanted to be able to keep an eye on your home from a distance, or been worried about what was happening to your property while you were away? With some of the latest smart security systems you can use a computer or mobile device to control all of the security measures in place on your property, and even view video of the property live.
A smart security system can be armed and disarmed with the use of a computer or mobile device. This means that if a homeowner forgot to arm the system before leaving their home for the day they can simply access it from wherever they are and turn it on. They can also receive text messages or alerts via phone if the sensors detect a problem. Security systems can also contain smoke and carbon monoxide detectors, so they can monitor even more danger outside of trespassers. An effective security system is a smart investment because it provides peace of mind, and it can also bring savings in homeowner's insurance too.
Smart technology can provide temperature control
Heating and cooling homes is a major factor in how much energy a home consumes, and it can cost homeowners countless extra dollars each year if it isn't being managed effectively. A smart home can be equipped with technology that allows the homeowner to be connected with their thermostat no matter where they are. That means that if they are gone for the day and the home is empty, they can decide to access the thermostat and turn the temperature up or down according to what will save energy and money.
When someone is on their way to the house, the homeowner can easily access it and set the thermostat for comfort so that the temperature is where it needs to be. Also, the homeowner can simply set a schedule of temperatures according to the time of day and when inhabitants are in the home. They can be hands free and save a lot of money. This is an excellent home improvement opportunity that takes advantage of connectivity to help save money and help the environment too.
You can access lights and appliances at a distance too
Major home appliances can now be integrated into a comprehensive home system that allows a homeowner to turn them on and off or even get information from them instantly. For example, the lights throughout the home can be connected to the system so that homeowners will always know if they accidentally left the lights on. This saves money and helps prevent that nagging feeling in the back of your mind that you forgot something important.
Homeowners also have the option to install a kitchen full of appliances that are completely connected. That means you can use your mobile device to start preheating the oven, or to check that you remember to turn it off before you left. You can check the contents of your refrigerator when you are out shopping and you forgot your list. Any appliance connected to the system can be automated or remotely controlled, and that is a major step toward making a home the epitome of convenience.
It's also possible to connect the homes entertainment systems, which allows a homeowner to use their mobile device as a single remote for everything. You can lower the lights, turn on the speakers, and cue up your favorite music or television program. This is much more convenient than juggling a variety of remotes. The possibilities of a connected home are endless.
Energy monitoring can also be accomplished with a smart home
An important concern of homeowners today is keeping their energy consumption under control, both for the sake of the environment and the sake of their own budgets. With energy monitoring tools that can be added into a smart home, homeowners have the option to carefully track their energy consumption on a daily, weekly, or monthly basis. This can show homeowners how much power they are using and where it is going.
With this knowledge, you can learn where it is possible to cut back in your household, or where a previously unknown inefficiency was costing you countless dollars each year. This energy monitoring can cooperate well with the rest of the integrated smart systems because when a problem is discovered it can be remedied by making adjustments to the connected systems. Leaving the lights on too often? You can pay closer attention to your connected lighting system when you're away. Watch that thermostat and those sprinklers to keep consumption under control.
Smart technology is an excellent way to bring your home into the modern age and give yourself all the comforts and convenience that a connected home can offer. Home improvements can be a wise investment and raise the property value of your home, but perhaps you can also have fun picking them out and seeing what you can do with them.