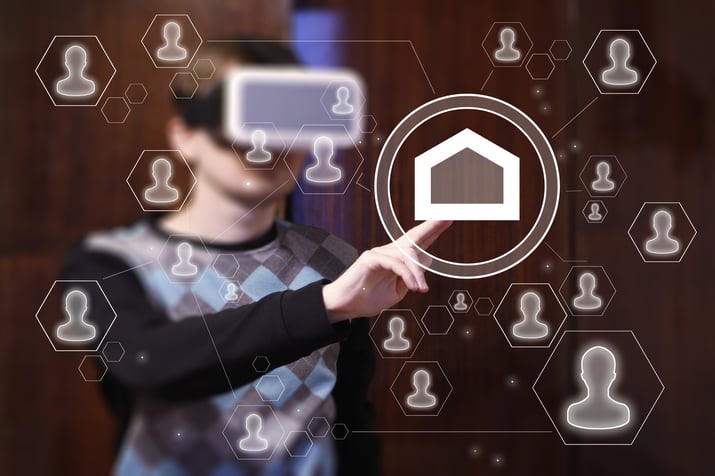 As a real estate agent, an online presence is now the bare minimum. But, how do you stand out?
The answer: new real estate technologies that will empower you and your business.
New real estate technologies are being developed every year. They can increase your productivity, help you reach more leads, and reduce the time spent on mundane tasks. Many of them will help you stand out from your competitors by letting you showcase homes in innovative and exciting new ways.
Read on to find the best real estate technologies and how to use them in your own business.
Real Estate Technologies To Improve Your Showings, Stagings, and More
First, we will look at some technologies that can help with stagings and showings. Many of these were developed specifically for real estate agents.
Gone are the days when a really professional photo shoot of a house could make your listing stand out. Instead, these real estate technologies will help you give viewers a better idea of the house before they even step in the front door.
Plus, as a bonus, many of these technologies are free, or available at a low cost.
Matterport
Matterport is a powerful online service that builds explorable 3D models of anything from homes to offices to yachts. It's a bit like Google Streetview for the inside of your home.
The model can be easily integrated with your website, where your clients can virtually walk through the listing without ever leaving their own homes.
While you may not need to contract this service for every listing, it's a great way to generate buzz for your website. You can even use a virtual reality headset (or, as a cheaper option, your smartphone, and a headset) to wow customers in your office or at trade shows.
Plus, it demonstrates that you are at the forefront of real estate technology.
We can arrange a Matterport model, along with a number of other kinds of 3D modeling, photography, and even physical scale models to really show off the best of your listings.
CurbCall
CurbCall is great for businesses employing multiple real estate agents.
This app can connect potential clients with nearby agents. It helps you respond to clients more efficiently, saving agents from having to drive back and forth across the city.
CurbCall saves time, leaving both your clients and your agents happier and able to close leads more quickly.
Placester
Need a website, or just looking to update your old one to something a bit more powerful? Placester lets you build real estate focused websites, as well as manage leads and online marketing, all through one service. It's a number of powerful real estate technologies in one!
Their services come at a cost, so pick a plan that suits your needs.
Periscope
Periscope is a free app that lets you stream live video, and viewers can tune into your channel.
You can live stream house showings for clients who couldn't make it in person. Since there are audio and video, you can explain the features of a room just like you would in person.
Periscope also increases your efficiency since multiple viewers can tune in at the same time.
A Mortgage Calculator
Services like this US Mortgage Calculator are a great way to help clients understand what the price of a house really means for them.
Of course, you should always explain that the numbers provided by these calculators are just estimates, but being able to bring out your phone and provide these numbers will help your clients approach viewings and listings with a bit more knowledge and confidence.
Real Estate Technologies To Manage Your Documents and Leads
Coordinating signatures on documents can be a hassle, especially when clients might already expect you to have an online solution. Plus, an online database to help you keep track of what stage your leads are at will help you manage your clients and ensure nothing has been lost or forgotten.
PlanetRE
PlanetRE is a CRM built specifically for real estate.
Here, you can keep track of all your clients. From the dashboard, you can keep track of your sales, commissions, and any upcoming sales. You can build a calendar of reminders for all your clients to make sure you never miss a deadline.
HelloSign and Docusign
HelloSign and Docusign are online services that let allow you to sign legally binding documents online.
Through these services, you can provide clients copies of documents for them to sign instantly; no more waiting for contracts to be sent through the mail, or for you and your clients to find a time to meet just to get a signature.
Tools to Get You Organized
There are tons of tools available online to help you get organized. Here are some of the best ones for working in real estate.
Google Services
Google's services are the ultimate free solution for managing your real estate business.
Gmail provides free email management, which you can connect with your domain name emails. Plus, you can integrate your gmail with Google's Calendar service, which will let you check your schedule from any device. You can add the calendars for your entire team, so everyone can coordinate.
Plus, storing documents in Google Drive means you can access them from anywhere, and can easily share them with team members or clients. You can also use it to backup files.
Evernote
Evernote lets you quickly save and store information from the web and organize it into notebooks.
Want to clip some listings to send to a client? You can gather them in seconds. Plus, with Evernote's additional tool Skitch you can add markups, writing, drawing, and highlighting directly onto your clippings. You can even do this for photos that you take on your phone or tablet while you're at a showing.
Wrapping Up: Embrace Technologies and Empower Your Business
Now you know how new technologies can help rather than hinder your real estate business. Whether you're spicing up online listings, simplifying your workflow, or getting organized, these real estate technologies will empower you to do more and go further for your clients, bringing in new leads.
Looking to go further and see other ways to use technology to bring your business to the cutting edge of real estate trends? Contact us and see how our visualization services can bring your listings to new heights.