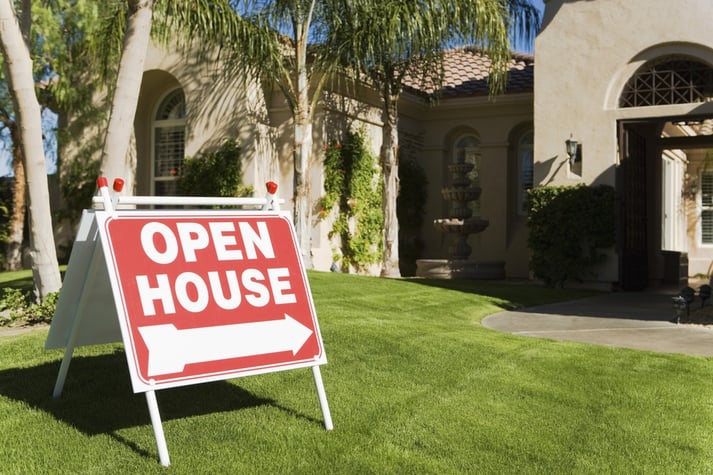 No matter how the housing market has changed and evolved, selling real estate is always a challenge that requires serious effort and determination. For some, the solution is to brainstorm and come up with some brand new approach that not many, if any have tried before. For others, sticking with the tried and true techniques is the way to go. If you are in the second group then one of the best techniques to explore to sell your property is an open house.
What's an open house?
An open house is an event put on by a home owner or realtor looking to sell a property. Essentially, the seller opens the house to any prospective buyer who may want to stop in and view the home for sale. Usually, a buyer would talk to the agent or seller to set up a viewing appointment and view the home alone. This can be tedious for the current homeowner because there may be many prospective buyers and that means keeping lots of appointments and having strangers traipsing through the home all the time.
An open house can help limit the need for sporadic appointments by bringing in a bunch of prospects at once and helping the sale happen much faster. In order to be successful the open house has to show the home to the greatest possible advantage and make it appeal to a wide audience of possible buyers. So far, the most successful way to make this happen is to stage the home.
What is staging a home?
To stage a home is simply to strategically clean, furnish, and decorate a home to make it more appealing to prospective buyers. This can be as simple as cleaning things up and rearranging the furniture, or it can involve more extensive changes like refurnishing, repainting the walls, and putting in new floors. To appeal to the widest audience a home needs to be decorated neutrally so that people can more easily imagine themselves in it.
Very few homes are decorated for the widest appeal before staging because homeowners like to imbue their homes with their own personal taste. Since not everyone likes the same things, the personal touches that make a homeowner love their place can turn others off. If you want selling real estate to be as easy as possible, you should learn how to stage your home.
What are the best tips for staging a home?
There are professionals out there who get paid to come in and set homes up to make them more marketable, but some people selling real estate would rather not spend more money to make the sale happen. If that is the case, then it's important for you to do some research and find out exactly what it takes to bring out the maximum appeal in a property. Here are some of the best tips you can use to make the most of your home for an open house.
Boost your curb appeal. When most people arrive they will start judging the appearance of your home before they even step out of the car and leave the curb. You need to give your home a neat, clean look that will draw people in right way. This might mean power washing the exterior to get rid of dirt, or repainting the outside to give it a facelift. It also means landscaping to keep everything trimmed and attractive. If the garage door is damaged or the trim is out of shape, fix it up. The investment will be totally worth it.
Change your interior color palette. You may have some bold or striking color choices for your walls and floors because you want them to make a statement. While some people may appreciate this style, many others will see it as a downside because they will have to pay to paint over it. It's better to go with neutral colors like off-whites, beiges, light grays, and similar tones. These neutral colors are easy to incorporate into most styles, or to imagine away in favor of the buyers' more personal taste.
Update the floors and appliances. When buyers look at a home and see old carpet and outdated appliances, what they are thinking is that they are going to have to spend time and money updating them. If you updated the home before anyone comes to see it they won't be imagining problems that will make the house less appealing to them. In fact, updated appliances and new carpets are a convenience that many buyers are looking for when they are buying a home.
Reduce the furniture. People looking to buy a home are often judging properties based on how much space they feel like each home has when they walk through. You may have lots of great, comfortable furniture that you love, but it is reducing the appearance of usable space, and that can turn buyers off. You should rent a storage unit and move out all of your furniture except for the basics, like couches, tables, and chairs. If your furniture is also unique and quirky you should consider moving it all out and renting some neutral pieces to put in their place for the open house.
Appeal to their senses. Not only should a staged house look nice, but it should smell and sound nice too. That means everything needs to be cleaned to get rid of strong odors, and then air fresheners should be placed inconspicuously around the property. You can also go further by baking something like cookies or bread to generate some delicious, comforting smells. Music is also a good choice, but it should be used carefully. Choose something that is appealing but unobtrusive. Perhaps something without lyrics, like classical pieces, pitched low to serve as background ambiance.
If you are working with a realtor when selling your real estate you can get even more great tips for setting up your home for the fastest and most successful sale. These tips are great places to start, and with a little effort and investment you can be an expert at staging a home for sale.