Are you wondering how to find an architect in Philly that will be right for your needs? This guide will help you find the right firm.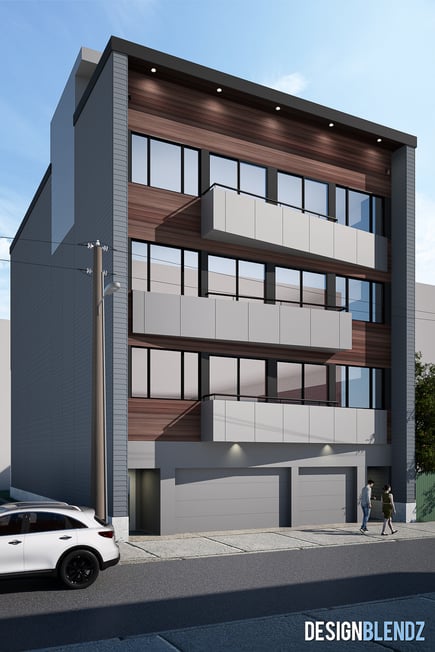 Are you in the market for an architect who can help you create the building of your dreams in Philadelphia?
Whether you're interested in constructing a residential or commercial property, it can be difficult to know where to look. For years, the Yellow Pages were the go-to resource for anyone seeking professional services.
Yet, this is the Digital Age, and now it's easier than ever to locate reputable, qualified experts in your community.
Today, we're sharing how to find an architect that meets your needs and can deliver the level of quality you require.
Ready to learn more? Let's get started.
1. Require Licensure
Sure, your cousin's best friend might be great at free-drawing room layouts, but unless he's a licensed architect, there are myriad design considerations that he will miss.
From room dimensions and finish levels to local zoning laws, your architect will know the nitty-gritty details of this process that set a professional project apart from the rest. This means you won't be halfway into a remodel before you realize that a wall is load-bearing or that neighborhood regulations dictate against that carport you're planning.
To make sure you're partnering with a reliable expert, require that any architect you meet holds all the appropriate licensure for your state. A great way to begin is by visiting the American Institute of Architects (AIA). This is the professional membership organization for all licensed architects in the country, and you can leverage it to narrow down your search.
Type in the location and your building type to find architectural firm profiles and pictures of representative work samples. Representing almost 300 state and local chapters, the AIA is a comprehensive knowledge base full of resources for industry professionals and prospective clients, alike.
Looking for the AIA Philadelphia website? You can find it here.
2. Visit Existing Work
Of course, one of the best and easiest ways to find the top architects in your area is to take a look at some of their past work!
In some cities, firms make this step simple by participating in "design weeks" or design-centric festivals. Here, you can take a tour of local residences and other prominent buildings to get a firsthand look at the style they lean toward and the special touches they add.
The AIA even hosts some open houses and walking tours in certain states, so check their calendar for more information. Before buying tickets to an event like this, give the lineup a double check. You want to make sure that it showcases a solid number of diverse architectural firms, rather than focusing only on home builders and interior designers.
Now that so much of this industry has moved online, you can even take a virtual tour of a property or get an up-close and personal look at room layouts on a firm's website. Most will feature a gallery of images showcasing their recent work. If the aesthetic matches your preference, you're on the right track!
3. Ask for Recommendations
Research shows that 84% of people trust online reviews as much as personal recommendations from friends and family members.
To that end, take your search online! In addition to browsing the AIA website, also ask around on social media, inquiring if anyone you know has a great architect they'd recommend and if so, why.
Be sure to include your real estate agent in that search, as he or she has experience with local builders in the area and may have connections you didn't even know about! Another great place to look? Local newspapers and online periodicals that spotlight businesses in your city, like this 2018 feature on our team in the Philadelphia Business Journal!
Online and In-Person Reviews
If you already have a list of firms in mind, you can also search for their name online and read what others are saying about the partnership experience. If you haven't chosen any yet, a simple query for "Residential Architects Near Me" can yield plenty of options.
In the Search Engine Results Pages (SERPs), you'll find links to each firm's various online business profiles, including those available on Houzz, Yelp, Google My Business, and other prominent industry sites.
As you take notes, remember that no one fact-checks online reviews. Moreover, someone's positive or negative experience with a particular firm doesn't serve as a major benchmark for yours, as each project is different.
In a similar vein, you can take the same approach with any signs advertising builders or architects that you see in your neighbors' yard. Ask the homeowners how the process went and whether or not they'd take the same route again.
Want to get this insider information without the awkward small talk? Find your neighborhood on the Nextdoor Philadelphia platform. This private social network makes it easy to ask locals-only questions and request recommendations from your community.
4. Understand the Services Provided
Before you sign on the dotted line and team with a licensed architect, understand what services you'll be paying for.
Some firms will provide you with line drawings and very little else. Others will communicate and collaborate with you at every step, from initial concept design and space planning to BIM consulting services, making sure to keep you in the loop and valuing your opinion and input at every turn.
In addition, other services that top-tier firms may provide include:
3D Experiences
Feasibility Studies
Interior Fit-Outs
Master Planning
Permit Process Assistance
Zoning Drawings
Construction Paperwork
While not every firm has to offer every bell and whistle, it helps to work with a team that's well-versed in every stage of this process. When possible, partner with a firm that also offers construction administration services. Look for one that will oversee the actual build, providing RFIs, sketches and building questions as required to ensure smooth execution.
Ask any candidate you interview how hands-on or hands-off the firm will be before you commence work.
5. Compute Timelines and Budgets
You may have all the time in the world to design and build your structure. Or, you could be on a tight time crunch and need an architect who can do the work as soon as possible.
Keep this timeline in mind as you peruse your firm options. Ask each firm how many projects it currently supports and how many people it keeps on staff. Still, resist the urge to make a decision based on these numbers alone.
Take a 2:1 projects-to-employees ratio, for instance. This means there are two upcoming or future projects for every employee. This is a comfortable space to be in, though the ratio is rarely this low. In most cases, you'll find firms with 4:1 ratios or higher.
This isn't a surefire sign to keep looking. Rather, ask about how the projects vary from one another. Look for key differences in scale for the following steps along the architectural timeline:
Schematic Design
Construction Drawings
Design and Development
Construction Administration
Keep in mind that these tasks all require unique skillsets. Though current projects may be many, if they're spread out among these categories, there could be staff on hand to begin your project.
While you're ironing out logistics, also request an estimate on the overall price required to complete the project. Most high-level firms will leverage data-driven estimating tools to provide you with an accurate view of your total costs.
6. Check Out the Web Presence
When you've narrowed down your list, it's time to review how each firm takes ownership of its corner of the internet, apart from virtual reviews and recommendations.
Do they have a robust social media presence where they post regular updates and respond to comments in a quick and professional manner? What about a YouTube channel where they share a firsthand look at their design and development strategies?
Also check to see if they provide industry insights and other news via a blog page or similar outlet, positioning them as a thought leader in their niche. Experienced architects will have plenty of tips and advice to share, and they'll do so free of charge.
Every architect won't have a massive following on every social media channel, but make sure their digital footprint is a solid and tech-savvy one. Image-heavy platforms such as Facebook and Instagram are a great place to start, as you can often find images of a firm's recent work on these profiles. LinkedIn is also an ideal way to check an architect's credentials and work experience.
How to Find an Architect You Can Trust
When you team with an architect, you're putting your dreams in the hands of that firm. They're the ones who will take your design from concept to reality. That's why it's so important to choose the right one.
If you've been wondering how to find an architect who's up for the task, these above steps can get you there. The key is to take your time, do your research and ask plenty of questions. Then, you'll be one major step closer to crossing the threshold of your new space!
Looking for a Philly-based architectural firm you can trust? That's where we come in. From single-family homes to apartment buildings and commercial spaces, our team of licensed experts does it all. Contact us for a quote today and let's build the future, together.