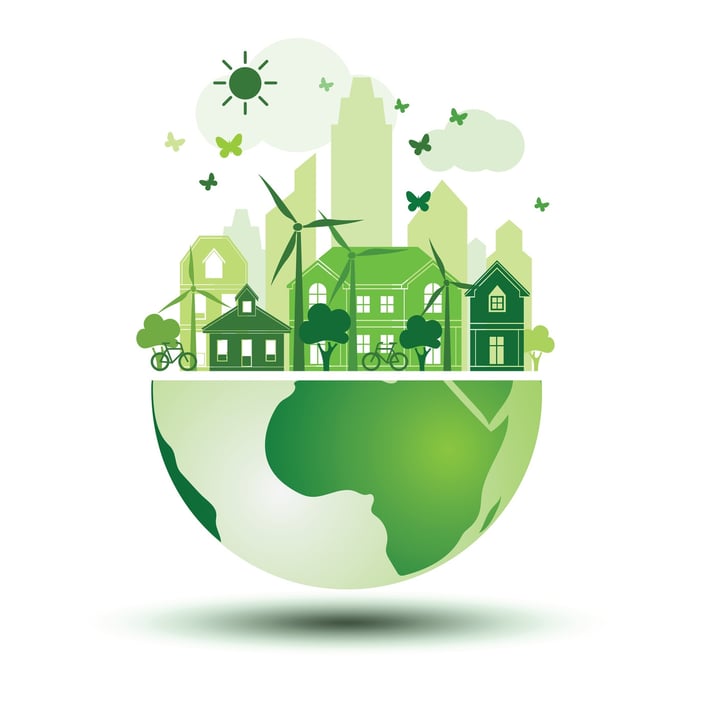 As real estate developers, we need to keep an eye on the future. And real estate development's future is all about sustainability. Are you ready?
The Future of Real Estate Development
What was once discussed as a trend or fad is now a true priority for the savvy developer.
Client and market demand are the top reasons for shifting to sustainable real estate development as an industry standard, but larger societal concerns such as resource scarcity and climate change are also driving the change.
No matter the project scope or purpose, you need to prepare for the future of real estate. That means giving proper time and resources to sustainable and eco-friendly aspects of your next project.
The good news is that the more we see sustainability gain popularity, the easier it is to incorporate efficient solutions into your real estate development.
There are many benefits to developing eco-friendly properties, such as tax incentives and popularity among investors and tenants.
Sustainability can even be a useful marketing tool!
Let's look closer at how you can be sure you're ready for the future of real estate development and the new-normal of sustainability.
Factor in the higher upfront costs.
When developing any real estate project, it can be nerve-wracking to watch your budget dwindle with every new cost. Don't let budget anxiety tempt you into cutting corners when it comes to sustainability.
Although the more eco-friendly options can be more expensive, overall savings and return on investment for sustainable projects is significant.
Opting for more sustainable and eco-friendly options from the onset of a real estate development project also adds longevity to your development, saving you from going back to the drawing board to address efficiency too soon after completion.
Price out every aspect of your project with the sustainable option so you know the true upfront cost of your project from the beginning. With sustainability quickly becoming a major priority in real estate development, many eco-friendly options are more accessible and affordable than ever before.
Prepare for LEED Certification.
LEED Certification is an important consideration for any and all real estate development projects.
LEED stands for Leadership in Energy and Environmental Design and is a certification from the US Green Building Council.
Earning this certification lets everyone know that your project meets the highest benchmark for sustainability and eco-friendliness.
LEED Certification points are awarded to projects based on numerous sustainability factors and categories, which are used to get a composite score for the project.
Projects can be rated one of four LEED rating levels: certified, silver, gold, and platinum.
LEED Certified buildings are resource efficient, reduce emissions and save money in the long run.
With this third-party certification, your efforts to create a sustainable and eco-friendly real estate project can be verified for future tenants, investors and even employees.
You can use the standards for LEED Certification in your planning and development process as a guideline for sustainable and efficient options for your project.
Market your project's sustainability and eco-friendliness.
Once you've got a sustainable real estate development in the works, it's important to factor this into your marketing strategy.
The number of people prioritizing eco-friendliness in their lives is steadily growing, so you'll want to communicate and promote your sustainability measures clearly.
You should incorporate sustainability messaging into your overall marketing strategy, but don't forget to communicate long-term value to your potential customer/tenant/investor!
While most people know that sustainability is important, the idea of using eco-friendly method and materials can sound expensive and like extra "bells and whistles" tacked on to a project.
Sustainability would be a great topic for a series of blog posts. You could also feature photos of sustainable materials or innovations utilized in your project on social media.
Repurpose and renovate.
Before breaking ground on a new project, consider whether or not you need to literally "break ground".
A fundamentally sustainable option for real estate development is to repurpose existing structures as new projects through renovation and redevelopment.
This technique, known as "brownfield" redevelopment is especially important when considering projects in densely populated, urban areas.
Even if green field development options are available, it's more sustainable to choose an existing structure instead of developing a swath of undeveloped land.
Renovating an existing building is a strategic way to take advantage of a prime location, while working towards overall sustainability and eco-friendliness of your project.
In addition, renovation allows creative repurposing to build a buzz around your project.
A historic building converted into a modern restaurant or warehouse turned into hip housing development will turn more heads than a cookie-cutter new build.
Think of the possibilities for surprising repurposed developments as added value to your project--a sustainable way to make a splash in your chosen market!
Be sure to utilize your repurposed space as creatively and efficiently as possible.
Build for the location.
While considering renovations and repurposing for your chosen market, be sure to tailor your sustainability efforts for the project's specific location as well.
For instance, developments in California should prioritize water conservation while developments in Florida should consider the use of solar panels. Consider the elements your project will have to endure--such as high temperatures or extreme weather.
Be sure to look into grants, programs and tax deductions specific to the state or local area, as well.
Funding and financial incentives for sustainable developments are a great way to offset the higher initial cost of developing eco-friendly properties.
Prepare your next project for sustainability
Do you have questions about how to prepare your next real estate development project for the future? We are happy to discuss your options. Contact our team today!