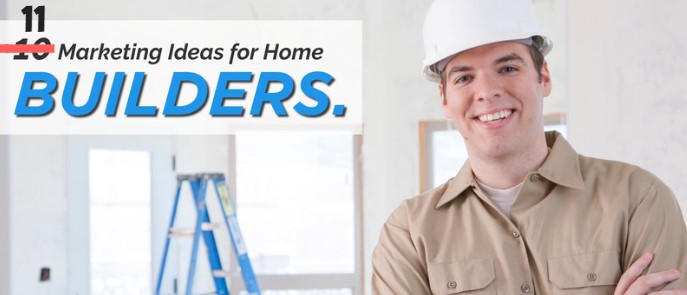 Quick links
11 Marketing Ideas For Home Builders
Pre-Construction Marketing vs. Post-Construction Marketing
Do you know the difference between a well-selling home building company and a great-selling one? It isn't the one that has better construction techniques or better floor plans. It's not necessarily location, location, location, which is the oldest real estate mantra out there. The real difference is that great-selling home builders are better marketers.
Most home builders have excellent construction skills. Many have superb people-skills, which are a tremendous asset. But many builders don't have the marketing experience and advertising savvy necessary to drive sales as high as possible. To help with that, we've assembled 10 real estate marketing ideas for new construction.
There are many marketing tips for home builders. Some of them are very effective. The best home builder advertising ideas aren't necessarily complicated or expensive. A good home builder marketing plan pays attention to the basic principles of exposure, communication and providing relevant information to their target audience — the customer who's ready to buy a home.
11 Marketing Ideas For Home Builders
1. Create an Engaging Website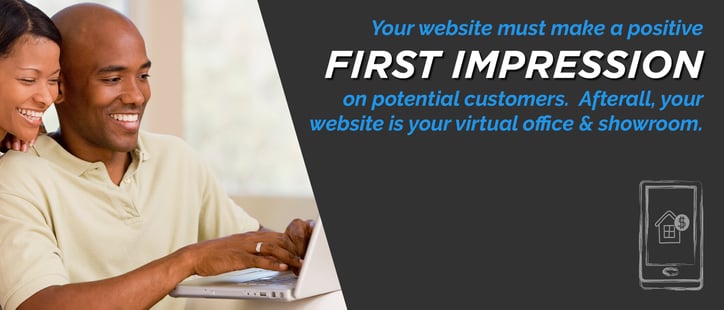 Your website is your virtual office and showroom. It's the first online stop potential customers make when shopping for new homes. Just as your physical presence must make a positive and professional first impression, so must your website. There are a few simple but mandatory rules about websites that apply to home builders.
Easy to find. Most buyers find websites through search engines by entering keywords describing exactly what they want to find. Your website must be designed for maximum SEO or Search Engine Optimization.
Convenient to return. Make sure customers can remember who you are and where they can find you in the future. You can achieve that by having a memorable image, slogan or website name.
Simple to navigate. Internet users have brief attention spans. If your site is slow to load or hard to explore, you'll quickly lose your viewer and a potential sale.
Mobile Friendly. Much of today's audience accesses the internet through their mobile device. If your website is not mobile friendly, you could be missing a huge potential audience.
Provides customer information. Make sure the content is informative and interests your viewer. It should engage them by offering information about what's in it for them. Keep the "about us" part short and sweet.
Presents visual content. Web customers are viewers, not readers. Show them what you have to pre-sell instead of telling them. Use technology like 3D renderings, virtual tours and pre-staged imagery.
Offers true value. Ensure your website has a sense of real value. You need to be clear about what a customer is getting when they make a pre-construction offer. That includes precise design, how the finished product will appear and what options buyers have available.
A word of website advice is to be careful about doing this yourself. Unless you're proficient with web design, you'll have a far better internet presence and capture rate when you have a professional web design company build your site. It's probably the best return on marketing investment you can get.
2. Use Photography and Aerial Imagery
"A picture is worth 1,000 words". It's worth even more when that picture is in 3D or video. Technology gets more sophisticated every year. So does the ability to use high-tech equipment like professional cameras and sound accessories. Your images say a lot about your product and professionalism. Make sure that what you're visually presenting has been captured professionally.
Drones are an amazing addition to marketing. Aerial photography used to be expensive and difficult to accomplish in urban locations. But today, you can hire a drone with a professional operator who'll produce images from on top and around all sides of your project. This is a remarkable way to display what's for sale. It helps customers appreciate not only the building but also the entire surrounding area.
3. Investigate Architectural 3D Renderings
Architectural 3D renderings are one of the biggest marketing breakthroughs for home builders. It's no longer sufficient to present two-dimensional floor drawings or a flat artist conception of a future building's façade. Now, three-dimensional renderings are phenomenal at taking lifeless images and turning them into something a customer can visualize.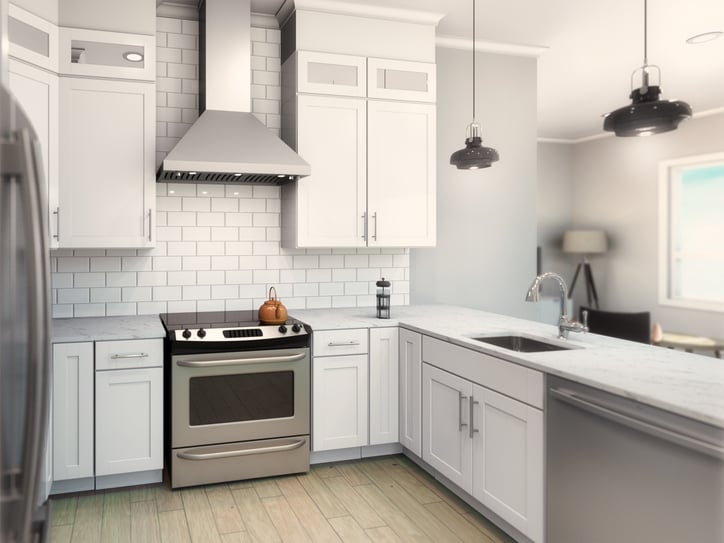 3-D renderings change a viewer's perspective. Being able to see a building from various angles is like the difference between reading a story and being told about it. The emotional impact of visualizing a concept is massive. You can't achieve this kind of return through conventional displays. You might equate 3D rendering effects to viewing expensive architectural models, only at a far lesser cost.
4. Create a Virtual Tour
Virtual tours are like online open houses. This technique has been out for some time. Originally, marketers would use a video camera and walk from room to room as well as circle a home's exterior, perhaps narrating as they went. Then they added it as a video attachment to the website.
But video cameras don't work for pre-construction marketing, as there's nothing yet to see. That's where computer-aided modeling comes in. For a small investment in your marketing budget, you get a big payback in having a virtual tour organized. It's just a step beyond going from a 3D rendering to make your project virtually come to life. A talented producer can walk potential clients from front to back and from top to bottom.
Every real estate agent knows that furnished homes sell easier and bring higher prices than cold, empty houses. That's why builders invest in properly staged or appointed show homes. Builders and realtors often spend thousands of dollars on furnishings, fabrics and artwork to make these staged presentations as attractive as possible.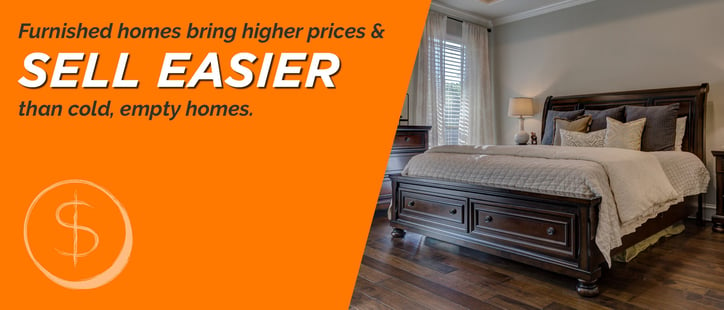 You can do the same thing in a virtual show home. It's possible to stage a virtual 3D presentation that's nearly impossible to tell from the real product. Advanced software lets you choose from a wide variety of pieces and colors so you can show your pending project in a perfectly staged setting. And the best part, other than convincing a buyer to close early, is that you won't have to dispose of expensive, actual staging once the sale is done.
6. Blend Virtual Reality Into Your Website
The beauty of computer animation is that it's entirely website compatible. You can easily make 3D renderings, virtual tours and animated staging as accessible downloads on your site. The effect of experiencing a home before it exists, in reality, is enormous. It's one of the leading sales tools in a home builder's marketing kit and it's readily available to you.
As a home builder, you appreciate the value of good tradespeople. You respect their talents and appreciate that the best sub-contractors use the finest tools. Consider your marketing team as one of your valued trades. Web designers and virtual producers are highly skilled at their craft. They'll take your building concept and build it into a virtual reality on your website. It's part of a well-rounded marketing strategy.
7. Target and Engage With Previous Clients and Create New Prospects
So far, we've talked about basic website principles and using today's technology to display your upcoming projects for potential customers. That's the reason you're in the home building business — to prosper by creating value for others.
But getting new clients is always a challenge, even for builders who have great properties and employ high technology in presenting them. The best way to create new prospects is by reaching them and offering complete information to satisfy their housing needs. Targeting and engaging with previous clients is highly effective.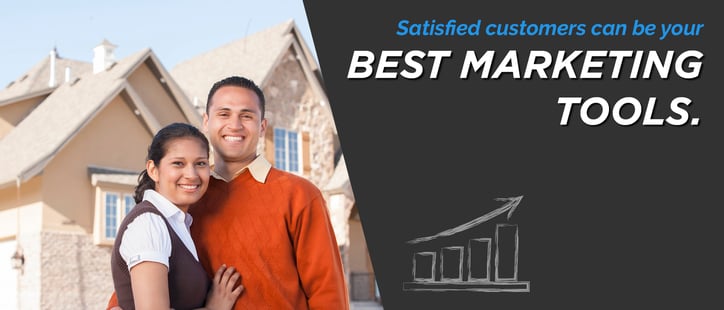 Satisfied customers who have previously bought one of your homes can be one of your best marketing tools. It's called word-of-mouth advertising. You can't buy advertising like this. You need to earn it. But once you have a customer's trust, they'll be happy to share it and reach out to tell others in many ways. Let's look at some client creation marketing ideas.
8. Take Advantage of Telemarketing
There are right ways and wrong ways to do telemarketing. Approached wrong, telemarketing can work against you and cause an annoying interruption to the wrong people. There's no high-technology to telemarketing. No cutting-edge virtual technology to show off. Instead, it's just about providing information to the right people.
Telemarketing is about targeting the right audience. It can be incredibly productive to contact interested parties and provide them with a reason to consider your product. Here is the simplest and best way to do a telemarketing campaign.
Make a plan. Know exactly who you want to call and what message you're offering. It might be an announcement of a new project with an opening date. Or it might be a final offer before a deadline closes and prices increase. Narrow your list to the right target groups.
Outsource callers. Telemarketing is time-consuming and there's a special skill involved. It's best not to take this on yourself. Consider hiring a specialty telemarketing company.
Qualify leads. Make sure your callers qualify potential leads. This step ensures you won't waste time with people who don't have buying ability.
Arrange a personal meeting. Once potential clients are qualified, it's time to schedule a personal meeting to close the deal. Face-to-face exposure puts you in front of a buyer and it's the only way to complete a sale.
9. Conduct an Email Campaign
Email marketing campaigns are highly effective sales and marketing tools. It's the easiest and least invasive method of reaching people. You can send emails at any time and offer a suggestion that potential clients can choose to either ignore or explore. Email marketing reaches a mass of people with minimal effort and cost. Here are some tips on email marketing.
Create a list. This is a key concept. The more people—and the right people—on your list, the better chance you have of activating a potential client. Use an email service provider to manage your list and provide a sign-up incentive on your website. Offering something of value in exchange for obtaining an email address is effective. It's called a lead magnet.
Make a clear offer. Your email message has to state clearly what value you're offering. It should start with a well-crafted headline that grabs the reader's attention, causes them to open the email and then click through to the message.
Follow up. Your email campaign should be designed as a series of purposely spaced messages that build out on your offer and cause a potential client to contact you or your sales force. It's all about opening and closing a deal.
10. Target the Proper Audience
It's critical to know your buying demographics. Targeting the right audience allows you to direct your time and efforts towards the highest value and reduce the drain from dealing with remote leads or uninterested parties. Determine who your ideal buyer is based on the project you're building and target them directly.
Targeting the proper audience accomplishes something else, as well. Not everyone in this target group will be in a position to buy, but they might know someone else who is. This means that even uninterested buys have the potential to become salespeople for you. Network with them and encourage them to share your information with others.
11. Use Social Media to Its Full Potential
Social media is a tremendous asset for your networking campaign. The internet is an incredible tool that can connect people and products in new and unprecedented ways. Physical networking and email campaigns are highly effective marketing strategies but online social media connections take these marketing campaigns to an entirely different level.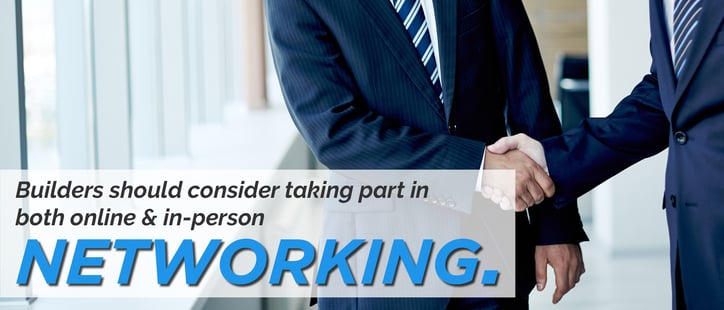 The best social media platforms for home builders are the time-tested ones. A Facebook business page and a Twitter account are mandatory. Link these accounts from your homepage. Other platforms like Instagram, Pinterest are also excellent for displaying house designs and lifestyle imagery.
Active engagement is a critical part of social media effectiveness. This provides continual contact with your clients, past and future. It also attracts search engines and raises your rankings on search engine results pages (SERPs).
In addition to general social media websites, you should also have an online presence at real estate specialty sites. Every professional home seller should have a Zillow account. Consider networking with realtors both online and in person. Good realtors are excellent sources of qualified leads so treat them as a customer and educate them on the way you build and the value your homes offer.
Pre-Construction Marketing vs. Post-Construction Marketing
The importance of a well-rounded marketing strategy for home builders can't be overstated. Traditionally, many builders waited until completing their project before listing it for sale. The rationale for post-construction marketing was their customers needed a physical structure to see and touch. Visualizing from two-dimensional floor plans was difficult for many potential buyers. This made closures prior to finished construction difficult.
We're in a different age today — a digital age where technology has made pre-construction marketing so easy and affordable that progressive home builders simply can't afford not to market before a project is completed or even started. These dramatic changes in software and social media reach have revolutionized pre-construction marketing.
Work With a Professional Design Team
This is one pre-construction marketing idea you can't go wrong with. Work with a professional design team like Designblendz. We represent a unique concept in building design and marketing support. Since 2011, we've assembled a talented team of designers, technicians and building professionals who work with advanced equipment to give simple solutions.
Designblendz offers you a blend of services to make your home building business efficient and prosperous. That includes helping with pre-construction marketing. We build websites, source quality content writing and are experts with 3D renderings and video displays. We also provide a variety of building services including feasibility studies, surveys, documentation and consulting.
For more marketing tips for home builders, reach out to Designblendz today.
Updated 9/28/2018