When buyers are shopping for newly built homes, they have high expectations. As a developer, here are the new home must-haves your customers want.
Did you know that the average size of a US family is over 3 people?
When buyers are looking to purchase a home, they have not only themselves in mind, but everyone in their family, too. The more folks that call their space home, the more features they are on the lookout for.
On top of that, there are a few design trends and other features that are hot at the moment that buyers are especially interested in when searching for a home. It's important to know what these things are so that when you're designing a home, people are going to want to purchase it.
In this article, we'll discuss a few new home must haves that you should consider including in your floor plan.
Let's get started!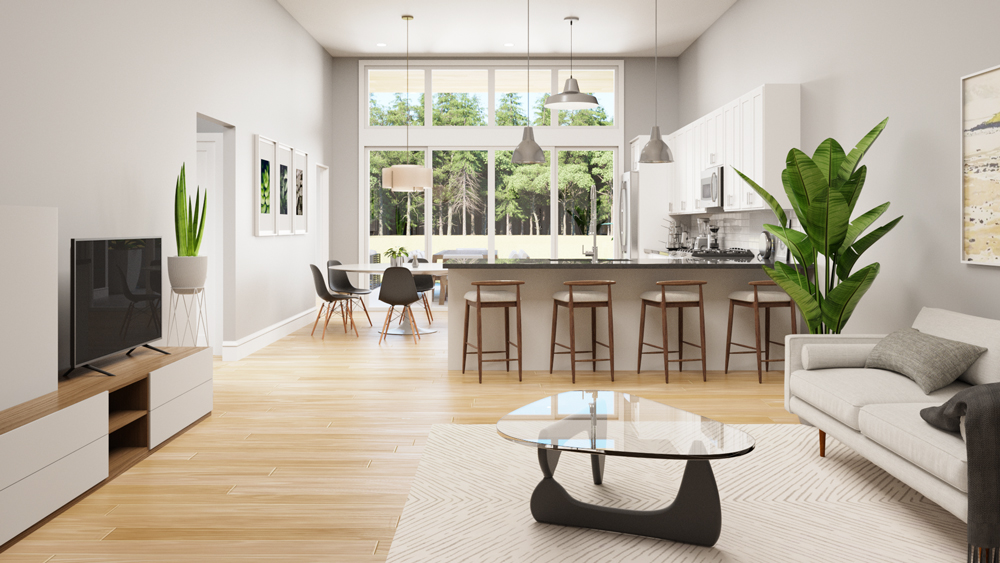 Open Concept Floor Plans
If there's one trend that has really picked up some steam over the past few years, it's the open concept floor plan. Now, more than ever, homeowners are very much interested in having an open floor plan, specifically in the shared living areas of the home.
Spacious, open kitchens and living rooms are often at the top of a home buyers' wishlist. Dining rooms that are easily accessible from the kitchen, such as breakfast nooks or even simply a designated space somewhere between the kitchen and living room, are in right now too.
Homeowners are even willing to sacrifice on things like bedroom space in order to get an open floor plan in other areas of the house.
Modern Kitchens
As we just touched on, open concept floor plans are often at the top of every homeowner's must-have list. Right next to that? Modern kitchens.
Home buyers are currently interested in sleek, modern kitchen designs that offer a ton of floor space, as well as counter space, for them to utilize. Cabinet space, and other storage space like large pantries, are also important.
Keeping things simple in regards to cabinetry design, or other elements in the kitchen, is key to achieving the modern kitchen design. Having this space easily accessible from the other living areas of the home is important, too.
Outdoor Living Spaces
When people are looking to purchase a new home, they're not only looking for a stunning indoor space but an attractive outdoor space as well.
Along with an open concept floor plan, home buyers are looking to secure a home that has adequate outdoor living space. Things like a nice, spacious backyard that features an outdoor patio area for entertaining are a must-have nowadays.
Decks, screened-in porches, and sunrooms that connect to the outdoor patio area are also high on homeowners' lists.
Going Green
For a multitude of reasons, but especially financially, home buyers are very much interested in going green with their home.
That means the HVAC system, kitchen appliances, washer and dryers that conserve energy and save the homeowner money over time are important. Also, things like proper insulation, windows, and other elements that can help green home, too.
Some homeowners are even looking to go with solar energy, which has a steep price tag up front but isn't as difficult to maintain over time as one might think and can save them tons on their power bill.
Two-Car Garage
Along with a nice entertainment space outside, home buyers are very interested in having a connected two-car garage. With the space that a two-car garage provides, homeowners have the freedom to create a wide variety of different rooms and spaces that they can use.
For instance, homeowners can convert a portion of the garage, or it's entirety, into a workshop of some kind. Whether it's dedicated to woodworking or cars, they'll enjoy having space where they can get things done.
Some homeowners will turn a part of the garage into a home gym, or use the space to store items. And of course, using the space to park two cars is always an option.
Family Room
Outside of the traditional living room setting, home buyers are looking for other spacious areas in their floor plans that they can use to entertain or spend time with their family.
Larger families with kids especially enjoy having space where the children, and their friends, can hang out, watch movies and play games.
Things like a den, basement, or a bonus room over the garage can be used as a family room or game room. This is essentially just another hangout spot for everyone to comfortably gather and enjoy each other's company, so keeping it simple design-wise is best.
This space can also be used as a home gym, home office, or a mixture of a couple of different things if you get a little creative. It's often the largest room in the home, which affords a ton of design freedom to the homeowner.
New Home Must Haves
Well, there you have it! Those are a few new home must haves that buyers are currently looking for when searching for a new home!
Remember, open concept floor plans are often at the top of the new home buyer's must-have lists. If not, it's usually a modern style kitchen or a large family space like a den or a basement.
Also, when designing a home, remember to think about energy efficiency, as homeowners are going green now more than ever.
Be sure to check out our blog, where you'll find more tips and tricks on how you can build homes that people are sure to love!