Understand the strategy to Pre Selling your next Home Listing
With the availability of 3D renderings from all over the globe, it's important to work with a firm that understands pre-construction marketing from start to finish, while understanding the goals of the development.
The internet has changed the way home buyers search for homes. It's a first come, first serve basis, and the store is always open. Whether it's the location or the design quality, people sign up to live at well presented places. When branded properly, people buy into the brand more than the product itself.
Marketing and Branding starts with identifying what you want people to think of when they hear or see your brand name.
For large companies, it's already part of their process. They have marketing teams in-house that work on this for their own projects. For the small to mid level developers, there aren't many solutions that combines marketing and pre-construction visualization.That limits their ability to pre-sell. Working with a team that understands your goals pays for itself within the project.
Our goal is to package together a strategy that gets your property sold before construction completes. Here are our pieces to a successful pre-construction strategy:
Branding
3D Assets
Content
Amplify
Branding
What is the project brand? Who are the buyer personas for the project? What do they look for / attracted to? These are fundamental questions to ask when creating the brand's identity.
Researching the comparable projects and identifying what works and what doesn't. After identifying your brand, it's best to create or identify a Mission Statement/ Message that represents what the project is all about. Think of this as your guiding compass around all decisions regarding the pre-sale campaign.
Inspiration may come from the location of the project. You want the brand design to be reflected in all aspects of the marketing campaign. Cohesive brand design shows that your project is thought through and well planned.
Brand Names can be inspired by the location or historical nature of the project.
Example Names
Blair Garden
Two Six Two
The Porter
The Laurel
3D Assets
Common Question: What kind of renderings do I need?
Answer: Each package has a unique combination of 3D assets depending on buyer persona and the project's marketing budget.
Creating a rendering is an absolute must when trying to pre-sell a piece of real estate. Each rendering type has a different use, so it's important to know what visuals will show the best and yield the best return on your investment.
Exterior Renderings
Each project should have an Exterior Rendering. This gives the buyer a visual representation of what they can expect to see from outside the home.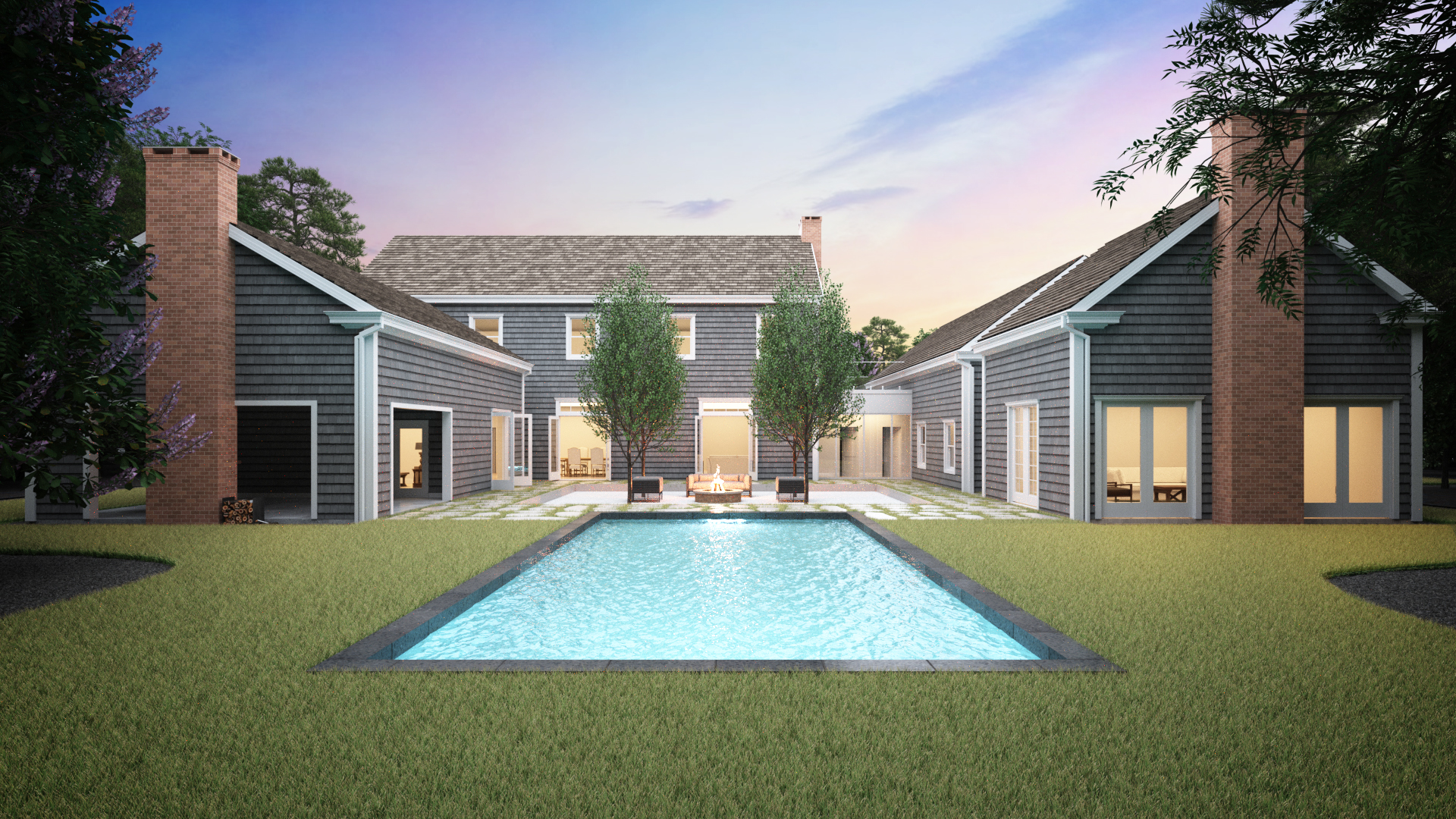 Often renderings have a "lived in" look. This adds to the realism factor behind good renderings. The most successful renderings go as far as reflecting the brand or story of the project.
Set the scene as they would see it if they were living there. If there are project features such as a driveway or private parking, then it's important to showcase those items by adding cars and other street elements to add realism to the rendering. Curb appeal and overall appearance is important to the buyer.
Rendered Floor Plans
Rendered floor plans are an effective way to showcase the entire property without breaking the budget. Highlight every room in the rendered floor plan to show the buyers how each space is designed to be used.
There are (3) different styles of rendered floor plans.
Marketing Floor Plans
2D Rendered Floor Plans
3D Rendered Floor Plans

Marketing Floor Plans are clean and simple. They are minimized to black and white architectural drawings without the construction notes and tags. They are cleaner versions that get right to the point and show users what they can expect from a layout perspective. Add basic 2D staging in each space to showcase how the spaces are intended to be used. They are the lowest priced option for rendered floor plans.
2D Rendered Floor Plans are Marketing Floor Plans with Materials. The first option for Rendering a floor plan. At this level, materials will be added to the plans to give a realistic view of what colors and design palette will be installed in the finished home. It is recommend showcasing 2D Rendered Floor Plans if you are looking for a versatile, all around solution. They are the middle priced option for rendered floor plans.
3D Rendered Floor Plans are the most efficient way to showcase an entire home for preconstruction marketing. Imagine removing the roof and cutaway certain portions of the house, so you can see inside the property to experience its design. All staging and materials can be preselected or custom specified to match your desired look and feel. They are the highest priced option for rendered floor plans.
Each rendered floor plan plays a role in different types of projects. For more information, it's best to discuss with a rendering designer to identify the best rendering solution for your project.
Interior Rendering
If your project has more than one unit, or design option for the buyer to pick from, it may be better to showcase the design with a photorealistic 3D rendering of the space. This is the best way to showcase the finished design without construction of a physical model home. In most cases, developers and realtors will showcase the most valuable spaces in the home:
Kitchen
Master Bathroom
Living Room
Master Bedroom
Family Room / Media Room
Roof Deck / Accessory Space
At a minimum, the renderings you should have completed are of the most used spaces in the home: Kitchen, Master Bathroom, and Living Room.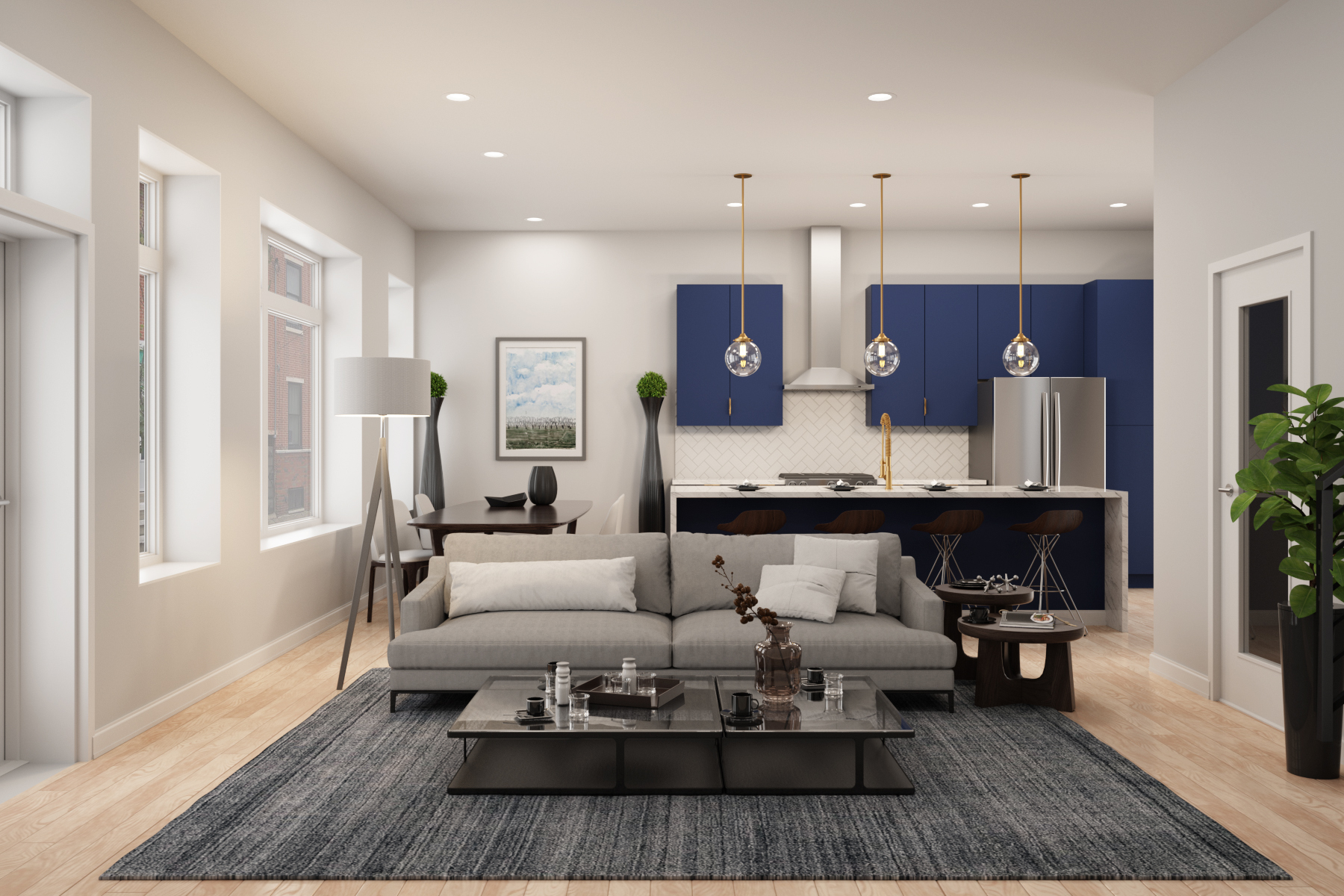 This is where people will spend most of their time when living there, so it's an effective marketing tool to give them an image that they can imagine themselves in for the bulk of their time at home.
Sometimes you will see renderings have very specific additions and details that add a level of realism. Landscaping and exterior features around the house add a level of quality to the images but also add realistic context.
Furniture and staging is an important component to the preconstruction marketing of a home. When you can stage a virtual home, you ensure that the staging style matches up to who will be seeing it. (modern furniture in modern listings, etc.). Sometimes you will see little details such as candles, electronics, and art. These pieces are referred to as a "entourage". They are commonly added in the final layer of the rendering, giving that lived-in look.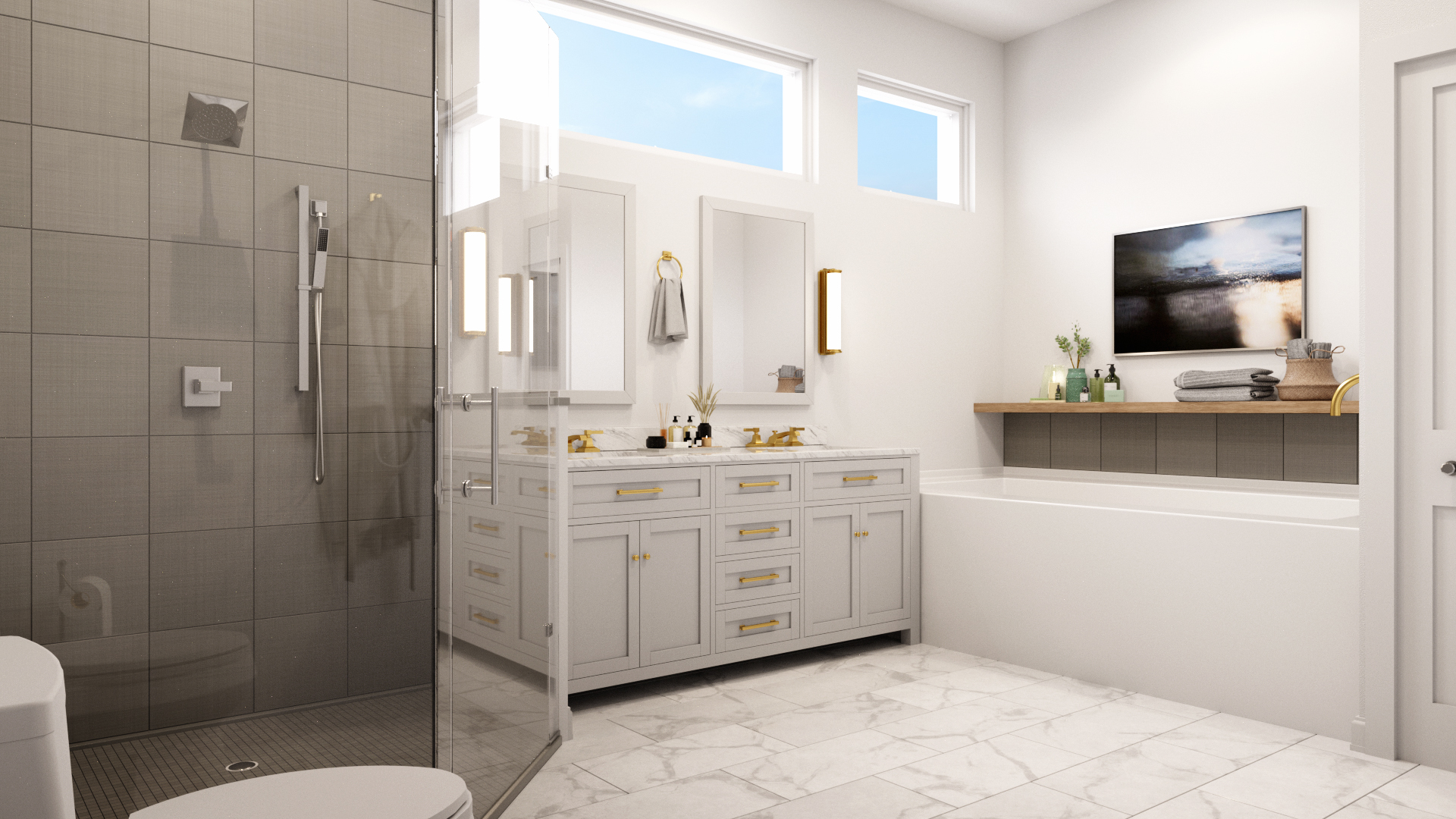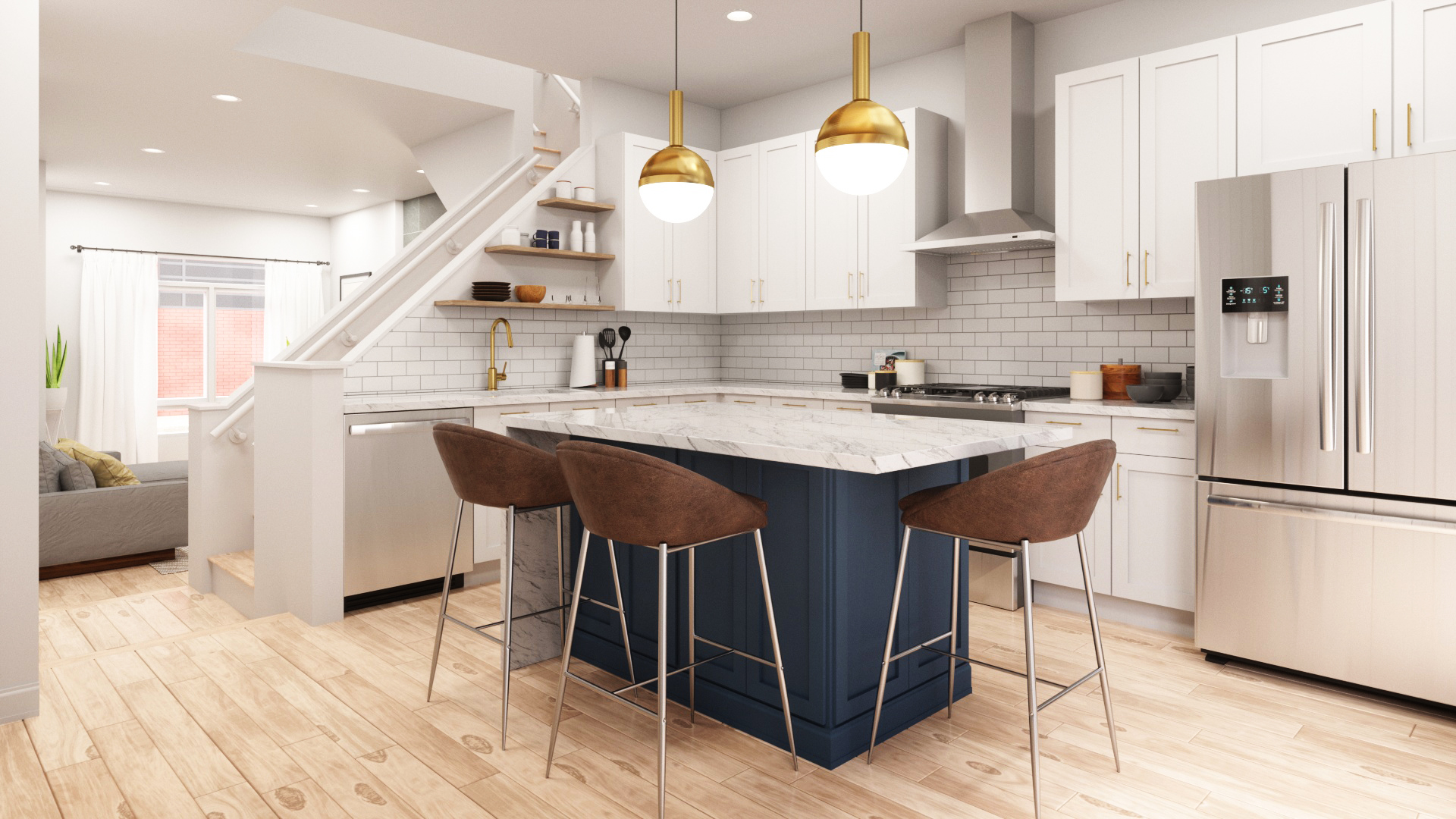 These additional features added in the rendering are there to draw attention to the buyer, instilling an emotional response or reaction that connects them to the image, and therefore, the project.
3D Animations and Marketing Videos
Consumers are drawn to videos in real estate due to their ability to tell a large story in a short timeframe. Animations take advantage of the 3D assets that have been built and bridge them together into a short film.
"Story is king" - a quote to follow from some of our favorite filmmakers and directors.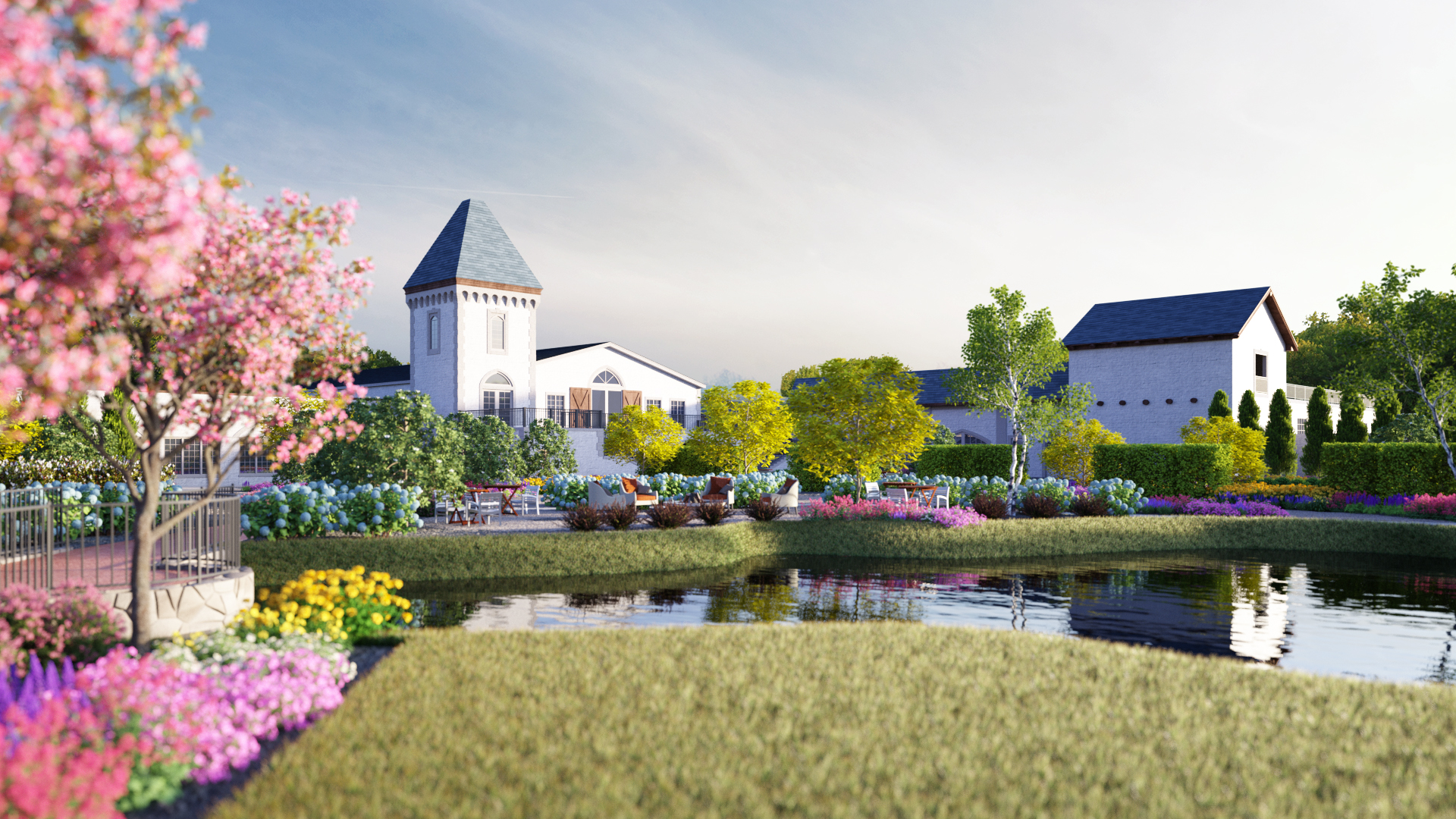 It's important to create a relevant story that shouts the branding and brings the user in through a virtual experience they want to replay. When creating any of these 3D assets, imagine the story of who will live there when it is finally constructed. Then analyze that story from a design standpoint and match the renderings to showcase the story accurately.
The story behind a rendering of a concert hall as the main event hits the stage is completely different than an innovative office space in a high rise commercial building. Each rendering created has a different story behind it, and by narrating that story through visuals gives filmmakers, designers, and 3D artists a new way of telling stories.
Content
When the renderings are done, it's time to get ready for liftoff. Every campaign starts with the audience. Identify how your audience communicates with the world, and then place your brand in their platform of choice.
Different content distribution platforms

Email Newsletters
Promotional Video
Social Media Posts (Organic Activity and Sponsored Posts)
Amplify
Web Design

Landing Pages
Multi Page website
Point people to the websites through GoogleAdword and marketing campaigns

Graphic / Print Design

Brochures
Pamphlets
Construction Site Banners

Tell others about it

Linkedin Articles - Long Form Content
Social Media Posts (Organic Activity and Sponsored Posts)
When creating a pre-construction marketing strategy, it's important to follow a system. When followed in order, these pieces will yield a positive result for any project.
At Designblendz, we follow this workflow in our daily routine. We're happy to offer our opinion on your project and what it will take to sell it before construction completes.
Get started with pre-selling your real estate today!
https://shop.designblendz.com/