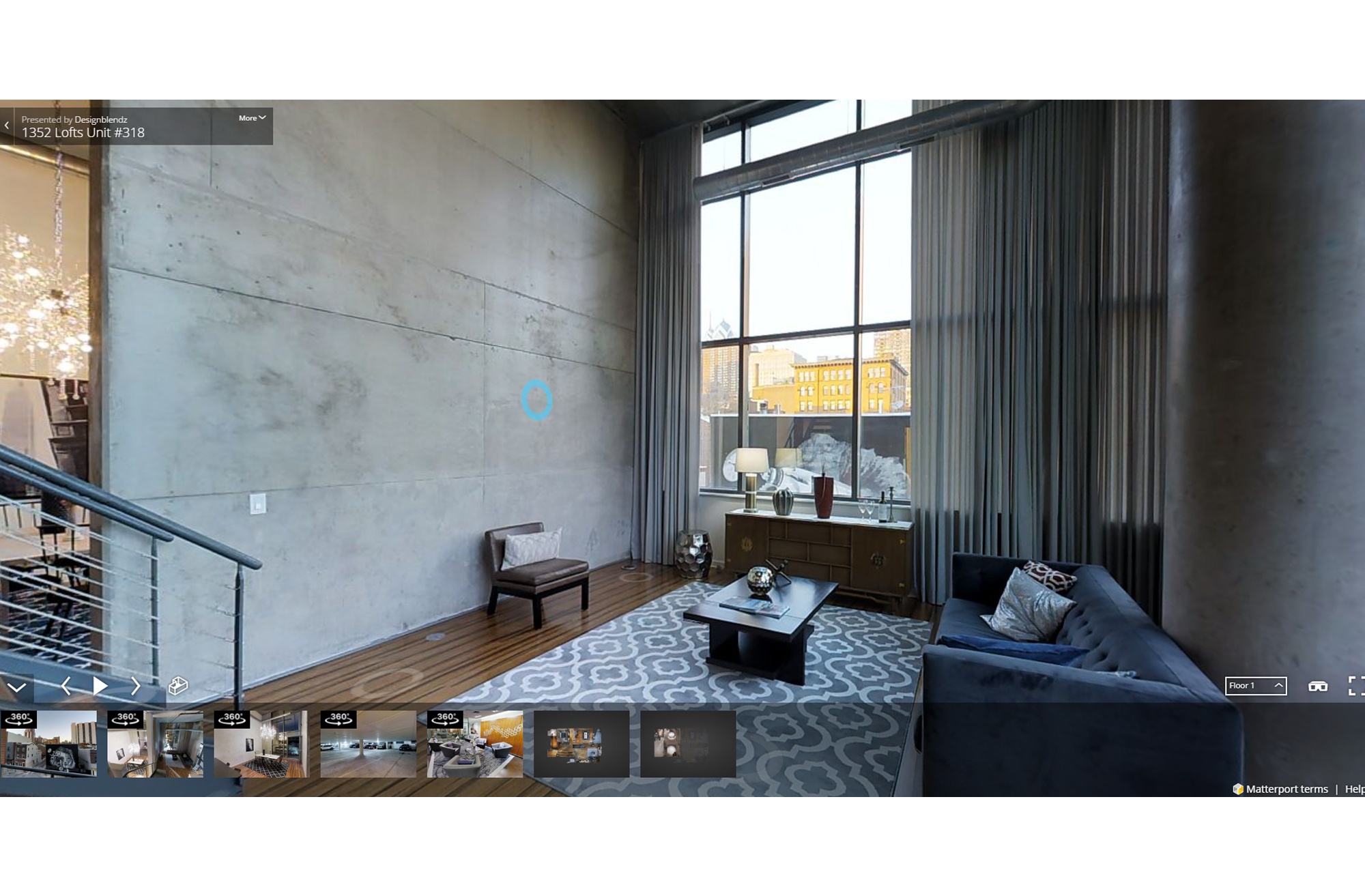 What is Matterport technology? Matterport is a three-dimensional camera system that creates realistic, fully immersive virtual experiences. Viewers can explore the location from a variety of viewpoints and get a feel for the space without having to travel.
Using Matterport to create 3D renderings of spaces can benefit a wide range of industries. Any organization that uses a physical space could potentially benefit from using this technology, such as:
Real estate: Creating a virtual tour of a property allows prospective buyers and renters to see the space in-depth without having to physically travel there. You can even use it to show prospects what a building that's still under construction will look like when it's finished, and help them imagine themselves in the to-be-completed space.
Travel and hospitality: Hotels, resorts, cruise ships, airlines, and more can show future travelers exactly what they offer, helping them get excited for their trip and know how to prepare adequately for it.
Retail stores: Store owners can show vendors the layout of their space and choose products to feature in their 3D tour.
Architecture, engineering and construction: Scan your construction site once and have all the details you could ever need, including precise measurements. 3D spaces are an easy way to document each step of your process and show your progress to stakeholders.
Event venues: Before choosing to host their event at your venue, people want to know what to expect. That way, they can decide if the space will fit their needs and plan their event according to the venue's features.
Cultural spaces: Creating a virtual space allows more people to experience your art installation, museum exhibit, or other cultural display, even if they can't be there physically.
Benefits of Matterport Technology
Once your 3D rendering is complete, you'll begin to see powerful benefits for your business.
Matterport can create highly realistic virtual environments that make the viewer feel like they're really in the location. The renderings are also very interactive without sacrificing quality. You can view the space from virtually any angle and get a 360-degree view while exploring from a first-person viewpoint.
The powerful, precise camera system allows you to scan up to 10,000 square feet per project. The results of the scan are dimensionally accurate, within 1 percent, and can produce spatially accurate schematic floor plans. This accuracy enables your customers to know exactly what they're getting before they even arrive.
Matterport is extremely versatile and allows you to scan virtually any space. You can add the information you want and easily share it. The only limitation is your imagination.
Customers will appreciate being able to see a property before they visit it in person. Knowledge of exactly what you have to offer will increase clients' confidence in their decision to come view the property and add to the professionalism of your image. It shows people you are on top of the latest industry trends and technologies, that you're upfront and honest about the way your properties look, and that you are willing to stand by your locations.
The excitement and professional image provided by a virtual tour may give you the edge you need over competitors to get that real-life walkthrough, and eventually, the sale.
When you have a 3D tour available, you can greatly increase your pool of potential buyers. Taking a virtual tour makes things easier on buyers who live far away from your site, and even those who are just too busy to do a lot of tours in person. By proactively meeting these customers' needs, you're setting yourself up for success.
Matterport vs. Other Virtual Tours
Matterport isn't the only technology you can use to create virtual 3D tours, but it is one of the most well-known in the industry. Each technology has its own unique features, so let's take a look at how they compare.
One of the leading competitors to Matterport is VPiX, which works with DSLR cameras like those from Canon and Nikon. This is one of the main differences between the two systems, and it means you can also take still 2D pictures with the same device. VPiX also offers 2D floor plan support. One of the main advantages VPiX touts is its relatively lower price.
Price is less of a factor if you're hiring an outside professional to create your virtual tour. However, if you want to do multiple 3D projects yourself, and don't want to spend too much, this system might be a good choice if you already have a high-quality camera. Otherwise, you'll have to buy a DSLR, as well as the system. Since you don't get a specially designed camera like you do with Matterport, the quality of your results will depend largely on the kind of camera you use.
iGuide, from the company Planitar, is similar to Matterport in that it comes with a camera rather than using an off-the-shelf one. The cost is also similar.
iGuide can capture tour data more quickly than Matterport can, but uses less data to upload. Unlike Matterport, you can scan as many times per project as you need to. However, a few of the features Matterport offers are missing from Planitar's product, including the ability to add information tags and create hotspots.
iGuide also does not have occlusion, which prevents viewers from walking through walls and similar obstacles, making for a more realistic experience. It's not compatible with virtual reality devices, but it does offer photo gallery capabilities and a schematic floor plan at no extra charge.
Matterport vs. immoViewer
immoViewer is another alternative to Matterport that uses an off-the-shelf camera, which reduces the cost of the system itself. You'll need to purchase a high-quality camera as well if you want your images to come out well. This system can scan a space and upload the data rather quickly, but also uploads less data than Matterport does.
With immoViewer, you miss out on the ability to add information tags, but you can modify imagery within the panorama. The vertical field of view is comparable to that of Matterport, and you can limit the horizontal field of view if you so choose. The navigation is different, though. You can only navigate via hotspots and highlights, as opposed to using the mouse or keyboard.
Matterport vs. InsideMaps
InsideMaps, which uses off-the-shelf equipment as well, can scan rather quickly. However, it captures a lot of data, which takes a long time to upload and isn't available for 12 to 24 hours after the download. You can't modify imagery within your panorama or add informational tags, but you can add personalized branding. InsideMaps also has a relatively limited vertical field of view compared to Matterport.
Matterport vs. Project Tango
Project Tango was an initiative from Google to create a sensor-based 3D mapping technology small enough to be built into smartphones. When Google succeeded in creating that technology, it dropped the "project" part of its name. It integrated Tango into two smartphones before changing its name to ARCore and switching up its strategy.
Tango is not a true competitor to Matterport. Rather, the two systems can work together. In fact, Matterport was one of the first companies to create an app for the Tango platform. The app, Matterport Scenes, allows you to use a smartphone to create a 3D environment. You can scan an object or space with Scenes, and the app will build a 3D model from it.
Matterport Scenes for Tango and Matterport's standard system are similar in many ways, but there are some key differences as well. You end up with some results with both products, but the imagery you get from the Matterport camera will be of a higher quality and is easier to use for larger spaces. You can use Scenes to quickly get a scan without much setup. You can also take photos while using Scenes.
Creating a Matterport 3D Tour
You have two options when creating a 3D tour with Matterport: You could either buy your device and create it yourself, or you could hire 3D rendering professionals to do it for you. The right strategy for you depends on how you plan to use it. Here are some of the pros and cons of each option.
Buying a Matterport system comes with a higher upfront cost, since you'll have to buy the equipment itself, as well a device that can connect to the Internet and send the scans to the cloud. You also have to choose a subscription plan for Matterport's cloud service, which processes and stores your data.
If you hire someone, you'll pay for each individual project. This option is best for you if you plan to create a smaller amount of spaces or can't afford to make a large payment up front. If the cost of hiring someone for each project adds up to less than the cost of buying your own system, working with a third party is your most cost-effective option. If it's more, you should purchase a system.
You might also choose paying someone to create your first few virtual tours if you're not sure how your customers will respond or what your return on investment will be. If it works well for you, you can choose to purchase a system. If not, you won't have lost too much money.
While creating a virtual space with Matterport isn't overly time-consuming, it does naturally require you to commit some time to scanning and creating your tours. If you're already taking pictures or videos of your properties, adding or substituting a Matterport scan might not make much of a difference to you. On the other hand, if you pay someone to create the 3D tours for you, you can use that time on other things.
You should also keep in mind that when you first start out with creating immersive 3D experiences, you'll have to put aside some time to learn how to use the technology. Although it's designed to be easy to use, there is a bit of a learning curve. As you get more experience with the technology, you'll be able to move more quickly, but your first few scans will take a bit of extra time.
Over time, you can learn to create high-quality 3D renderings. As mentioned earlier, you may run into difficulties when you start out. The learning curve can hold you back at first from getting the full picture of what an interactive 3D tour can do for you.
Matterport is the leading technology in creating immersive virtual experiences across a variety of industries. You can check out their content gallery for real-life examples and more resources.