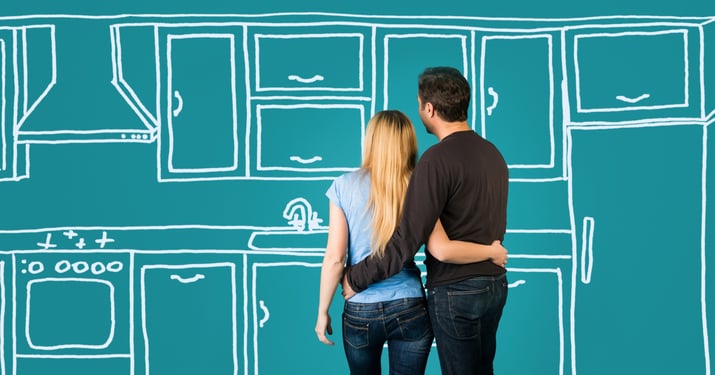 If you're taking on home renovations, you're likely wanting to factor in how much those alterations will add to the resale value of the home.
If this rings true for you, you have the right idea. Real estate agents and design experts advise keeping resale in mind from the start of a renovation.
However, while some renovations can increase the price tag, other changes actually harm your home's value and lower the property's selling price.
No matter your real estate goals, you'll want to make sure you're renovating right. Keep reading and avoid these 7 common house renovation mistakes.
7 House Renovations That Could Do More Damage Than Good
1. Too Much Personalization Of Your Pad
While we all want a home that's our own signature space, heavy personalization could make selling your home hard.
With your customization may come some unusual features, which can repel potential buyers.
Although you may want a home that is "you," this is not ideal when the time comes to sell. Buyers are looking for a space to make their own.
Be it your basement gym, chartreuse living area walls, or bright over the top paint jobs, what you love could leave potential buyers turned off.
Don't make the common mistake of sellers who tend to overestimate the value of costly custom upgrades.
2. Adding A Pool Could Be Adding Problems
If you want the sale of your home to go swimmingly, don't install a swimming pool.
Backyard pools tend to be bad for home renovations unless you live in a warm-weather state.
In cool climates, a pool may be seen as more of an expensive headache than an asset.
Since the average in-ground pool tends to cost nearly $40,000 to install (and the costs don't stop there), it might be best to ditch building the ditch.
When it comes to costs, you'll need to factor in regular pool maintenance and higher insurance premiums.
Since many buyers would rather avoid a property with a pool than deal with these costly hassles, cut your expenses and leave your backyard fully intact.
Additionally, some see pools as a safety hazard, and therefore another reason not to buy your home.
So unless you live in a state such as Florida, Hawaii, Arizona, or California, where pools are expected, this is not a value-enhancing house renovation.
3. Garage Conversions Could End Costly (For Your Home's Selling Price)
If you only want to work on a house renovation that will help rather than harm your home's selling price, do not convert your garage.
Converting a garage is a cheaper way to add more living space than building an addition, right?
While that is true, buyers might not see the benefits the same way.
Many buyers would prefer having a garage than having more living space.
This especially holds true in cold and rainy climates. Here, a garage is much more valuable than an extra room.
4. Don't Have A Permit? Don't Renovate.
Completing renovations without permits can hinder your home's price tag.
For nearly every municipality, a major (and sometimes minor) house renovation will require a permit.
These required permits are partly meant to ensure each renovation is up to code.
So be prepared, and get a permit. Some buyers will ask whether renovations were done with them or not.
Requesting hard copies of permits is also a sensible suggestion.
This is a smart move by savvy buyers. Buying a home with unpermitted work can cost more later if the city requires the work to be torn out and redone or perhaps levies a fine.
If you need another reason to avoid renovations without permits, consider your sale from the start.
You may be shot down before even putting your house on the market, as some cities require inspections before homes are sold.
5. Eliminating Bedrooms = Eliminating Buyers
Reducing the number of bedrooms or eliminating a powder room might mean a reduced potential buyer pool as well.
Today's homeowners are looking for large, open spaces. Therefore, combining smaller rooms in the public living space can add value to older homes.
However, do not eliminate a powder room.
Additional bad renovation ideas include turning a bedroom into a master closet or combining two bedrooms to create a master suite.
Since you're eliminating a whole living space, this house renovation could cost you in sales.
6. Likewise, Adding A Bathroom Could Be Adding Problems
A bathroom addition, working from the foundation up, isn't a house renovation that will be kind on your wallet.
"In my experience, the 2 most expensive rooms of the house are the bathroom and the kitchen," says Justin Fichelson, Realtor with Climb Real Estate Group, who's featured on Bravo's "Million Dollar Listing San Francisco."
"And the bathroom or the kitchen can really make the sale," he says.
In this high-end market, when it comes to bathrooms, people want to feel luxurious and comfortable.
So unless you do it right, adding a bathroom could bring additional problems to the sale of your home.
Perhaps instead, opt to redesign your bathroom to increase real estate value.
7. Going Over-The-Top
Getting to fancy with a house renovation can backfire in a big way. This especially holds true if the renovation(s) doesn't fit with the neighborhood.
For example, an over-the-top luxury kitchen in a neighborhood made up of $200,000 homes won't lead to a house sale of $400,000.
Instead, buyers are shopping for more affordable homes.
Those with a bigger budget are likely looking somewhere else, so those in a more modest neighborhood would be turned off by a high price.
Advice from the pros: "You definitely don't want to be the nicest house on the block; you won't bring up your neighbors' market value, but their more average houses may pull down the value of your house," according to the president of USRealty.com, Colby Sambrotto.
Have you dabbled in renovating your home? Which renovations have been regretful, and which have a success for you? Tell us all about your house renovation projects and outcomes in the comments!