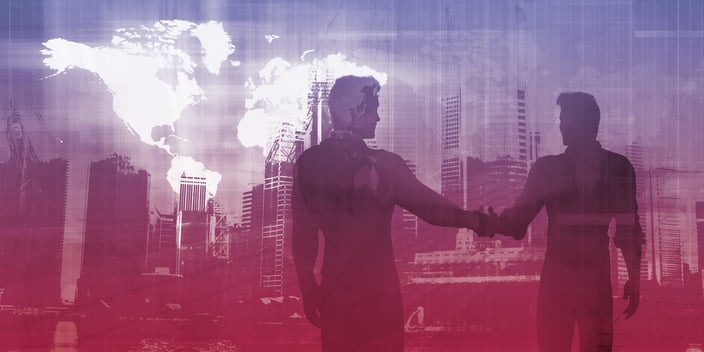 As the current economic climate continues to improve slowly, the commercial construction industry is in a state of considerable adjustment. Construction companies and developers alike are called to modernize, to diversify, to modify.
In essence, they are called to transform.
And, that is exactly what they are doing. Innovative building designs, cutting edge construction plans, and an ever increasing demand for smarter ways to do things, all ensure that commercial construction is in a state of expansion. And all the signs are that things are only going to get better.
So, as commercial construction is changing, it's important to keep up to date with the latest trends. Read on for a deeper dive into the existing and emerging trends that are shaping the current commercial construction landscape.
Commercial Construction - The Trends You Need To Know
Going Green is no longer a movement - it's becoming the standard
Sustainable construction is the hot-button issue of the day in commercial construction with people and companies from all walks of life becoming more environmentally aware and energy-saving savvy.
Schools, churches, universities and commercial buildings have all embraced the 'go-green' culture, but the residential sector is embracing it too. LEED certification is now sought after and will continue to grow as a standard. Geothermal technology is ever expanding too.
Geothermal energy is on the rise as it offers big cost savings on water, gas and electric utilities. Renewable energy will continue to become more and more attractive in the months and years ahead. At present, it is limited only by the technology - and that technology is developing all the time.
The Skilled Labor Shortage Will Continue To Pose A Problem
The talent deficit that became a common theme in commercial construction throughout 2014, 2015 and 2016, will continue into 2017.
During the recession, a huge portion of skilled workers was forced to leave the industry and many of these workers never returned. Construction companies have found it difficult to staff projects and this trend shows no signs of decline.
Construction has an image problem with tech-minded young people, and a decrease in immigration has only served to exacerbate the problem.
Demand for Quality Senior Housing and Senior Commercial Developments Will Grow Further
Average life expectancy continues to rise and the almost 77 million baby boomers are reaching retirement age all the time. This has lead to an increased demand for high-quality senior housing and this trend will continue into 2017 and beyond.
In suburban areas across the country, new senior communities are popping up all the time and the demand for those, and the demand for commercial developments to complement senior living will continue.
Existing senior housing and commercial developments will also provide a steady stream of construction work going forward. Established residential and commercial developments will need to be remodeled and updated to remain competitive. This remodeling will range from small cosmetic updates to larger, full-scale renovations.
Remodeling and Adaptation Will Lead The Way Forward
Many commercial entities are forgoing new builds and ground-up developments in favor of adapting existing buildings instead. Retrofitting is a faster way to get things done and many businesses are finding it more cost-effective too.
Remodeling existing buildings and adapting current developments is a trend in commercial construction that is not only growing, but it looks like it's here to stay.
Commercial Entertainment Zones Are Becoming Successful Construction Models
In recent times, there has been a move away from the stand - alone commercial unit and commercial developers and tenants are increasingly working together to create entertainment zones.
These fully functioning integrated entertainment districts allow businesses to complement each other without the need to compete.
This is a relatively new trend but it's one that offers huge potential to the commercial construction sector. As more and more developers embrace it, this will become a very successful construction model in the coming months.
BIM Will Become The Norm
Building Information Modeling has become the must have, go-to for design in commercial construction, allowing for the simulation of construction before building commences. It has also helped in the automation of much of the design and engineering.
BIM speeds up the design and execution of projects as it lowers costs. and, All the evidence suggests that BIM will become increasingly mainstream for commercial entities of all levels, and not just for larger firms.
Laser Scanning Technology Will Increase
In general, the commercial construction industry has been slow to adapt to new technologies but this is a trend that can no longer continue.
While BIM is fast becoming the norm, there is an emerging technology that offers further innovation and it comes in the form of 3-D Laser scanners. Currently, the most cutting-edge firms are making use of 3D Laser scanners to create digital reproductions of dimensions and positions, thereby providing better visualizations.
Naturally, 3-D printing is the next logical progression. Some firms within the commercial construction industry are already using 3D printing to produce components for modular construction and this is expected to continue.
Offsite Construction Will Accelerate
Modular and prefabricated construction has been on the rise in popularity in recent times, and for good reason. It provides big cost savings and it saves on time because commercial construction companies can prefabricate building elements off site while construction takes place onsite.
In the commercial sector where time is money, this is a trend that will gain in popularity into the future.
Smart Buildings
The commercial construction industry has been at the forefront of many smart technology systems including remote access and data monitoring among others. With new technologies emerging all the time, the smart tech, smart building trend will continue to expedite further as demand increases.
Commercial Construction - The Way Forward
So, there you have it. Knowing the commercial construction trends that will likely continue is integral if you are going to survive and thrive well into the future.
The commercial construction industry is changing and you must adapt along with it. In order to gain as much advantage as possible, current trends and existing construction tendencies must be observed and then, strategies must be put in place to utilize these trends.
Knowing the trends is only the first step. Actively responding to these trends is the next one.
Now, onward. And why not do more than just respond? Why not seek to pave the way forward?