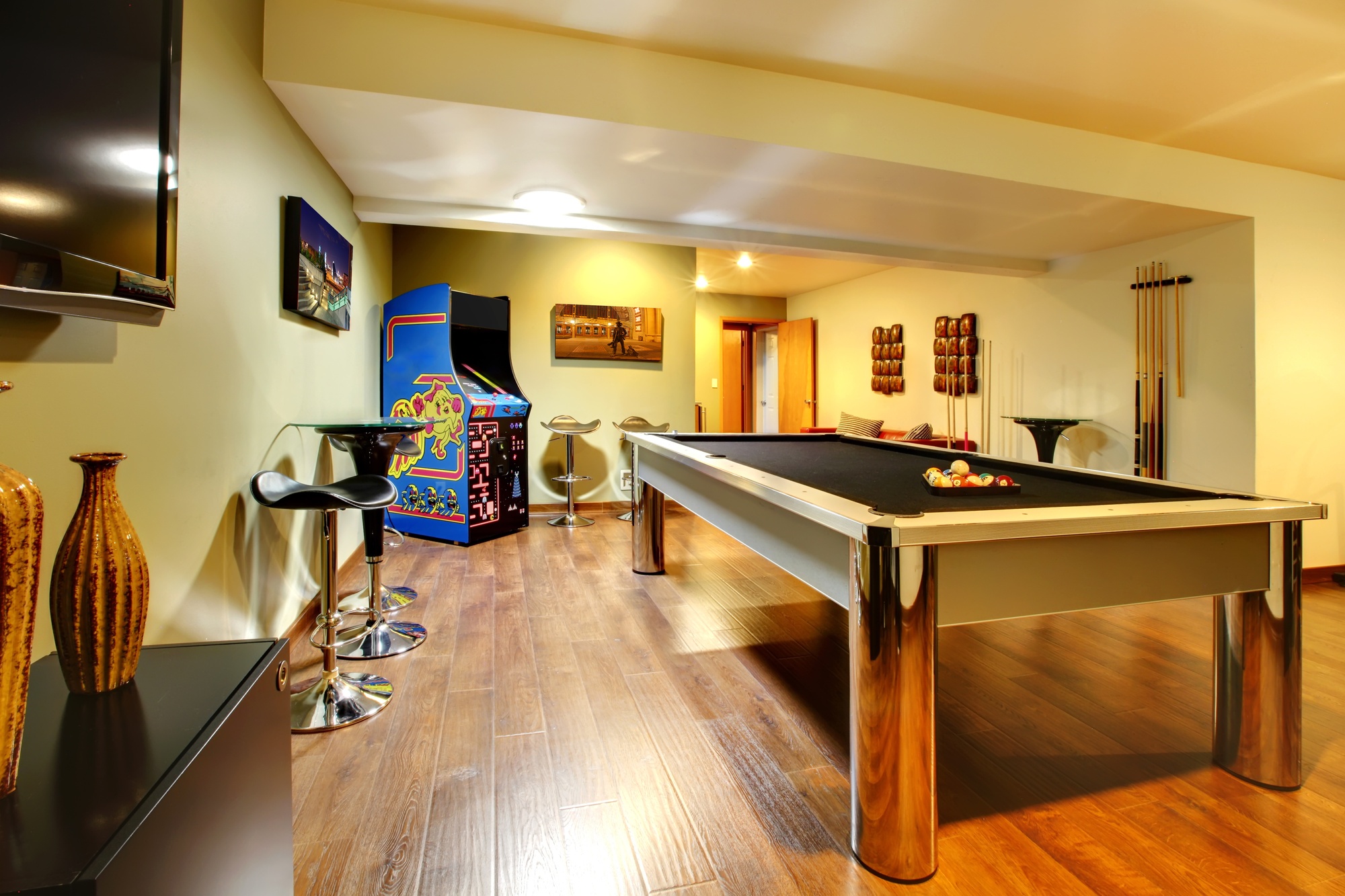 Every good man needs a place to retreat, relax, and release. The basement is the ultimate space for a comfortable room that will provide plenty of useful and entertaining value.

It's hard to trace back the origins of where man spaces first took off, but there are a number of famous examples, as author Sam Martin's book highlights:
Al Bundy's self-built garage, where he would escape his wife and kids and hold meetings with the guys.

Doug's garage on King of Queens, a staple favorite place to watch games and moan about wives/girlfriends.

Heck, even the Sopranos had a man cave in the show's strip club business--a man's space within a man space.
There are a number of other examples out there, but the basement design plans all share the same rules: privacy from their significant others, food and drinks, and entertainment.
If you need some motivation for creating your own man cave, check out these popular designs:
Reclaimed Furniture
Nothing says manly like some rugged, old, and vintage decor. This is furniture that your great-grandparents would respect. The best place to find old furniture that's looking for a new home and a polish is at thrift stores.
If you have a big budget, go for the antique shops. You're guaranteed to find something that will fit your basement design plans.
Cold, Hard Metal
Man and metal go together like bacon and eggs. Whether it is brushed aluminum, steel, or copper, incorporating metals into your man cave should really separate it from the rest of the home.
We recommend metal for shelves, tables, and fixtures. Keep the seating well-cushioned.
Leather Couches
We're not saying that the only way to relax is on leather couches and Lazyboys, but they are certainly the classic man cave feature. Leather couches are the perfect guest seating unless your friends are disrespectful slobs.
Snack and Alcohol Bars
The idea behind including a bar area in your basement design plans is to minimize the amount of travel. That is, between your house and your cave.
Less "run-ins" with the regular occupants means a lower possibility of having chores/errands/questions thrown at you. Either type of bar will work, just stock the fridge/shelves with what you and your buddies like.
Billiards, Ping Pong, Ice Hockey Tables
Even if you think you don't have enough room to play a table game, there is always some way to have your cake and eat it. We're talking custom basement designs that allow you to compartmentalize your space.
You just need to find a design company that can do some 3D rendering and figure out how to best utilize your man cave's potential.
Executing Your Basement Design Plans
Fellas, don't sit on your big design ideas and let them go to waste. Take life by the horns and make this thing a reality.
If you need some help, just contact us and we'll do some brainstorming together. Ideas become much easier to realize when you have experience on your side.
Let us man-up your man cave!