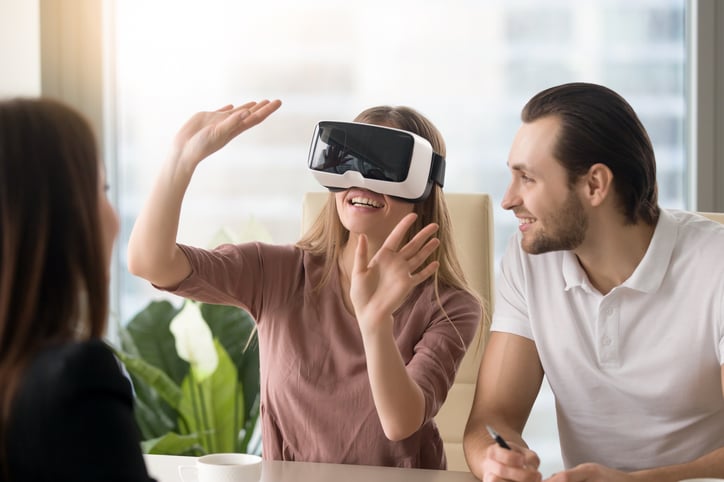 Most buyers find their homes on the internet. An awesome virtual home tour is more important than ever. This guide will teach you how to make virtual home tours that look great, give all necessary information fast, and integrate well with social media.
1. Preparation for Virtual Home Tours
That's right, preparations are a key component.
Make sure everything is clean, because the camera amplifies dirt and stains, and what you overlook in real life stands out in a quality photo or video. Make everything as clean and shiny as you can.
Put away as much stuff as you can, especially in those spaces where miscellaneous clutter accumulates. Less stuff looks better.
Ensure there's no open toilet lids, full trash cans, or other similar unappealing elements in your shot.
No jumbles of shoes or coats, no dirty laundry, no random clothes strewn around or draped over furniture awaiting a better location. It's amazing how many people forget to keep things tidy for their tour.
2. A Floor Plan
Short videos and photos of a home are hard to mentally put together into a real space without a floor plan.
People want to know what they're getting and what they can do with it. Including a floor plan lets the buyer envision what they'll do with each room, who will live where what will go where.
Knowing the dimensions of each room makes it easier to see remodeling options, calculate costs, and order the right amount of materials and workers.
If you don't have a floor plan, you can try these procedures:
Ask the builder if the construction plans are available
Contact the homeowners association for your neighborhood, they may have your floor plans in their archive
Go to your local courthouse and ask the building permit agency
Ask your real estate agent to gather measurements, draft sketches and info on room types and sizes
Don't forget to include a floor plan in your virtual home tours.
3. Video Footage
Video is the best way to show off your property, and typically considered the main part of virtual home tours.
Imagine walking prospective buyers in through the door, letting them take in room by room as if they were there, without having to be there. That's the impression you want, so that's how you should record it.
Ensure that it looks professional with a few simple steps:
Pick a time of day when the rooms are bright but without harsh light.
Get each room from two or three angles. Pan slowly from side to side, then up and down.
Use a tripod to avoid shaky footage.
Combine the best footage into a slideshow of short videos.
This will give prospective buyers a 3D feel for the property at its best.
Get more traffic by uploading the video to youtube and your social media pages with links to your ad.
4. A Photo Gallery
The perfect complement to your video is a photo gallery, because prospective buyers can look at their own pace and without loading times.
Quality is even more important for still photos, so do your best. Take lots of pictures from many different angles, pick the best and compile. Consider a light touch up using image software.
Use Facebook and Instagram to showcase your photos, with links leading to your virtual home tours.
If you're really serious you can rearrange and retouch to show people options for decoration and design, or let the customer redecorate virtually with a third party tool for virtual home tours.
5. Good Audio
Sound is becoming an integral part of virtual home tours. Narrate your video tour to sell each room. One easy option that requires no equipment is to use automated voice over software that reads your text out loud.
Background music will really set the mood for your footage. Choose carefully. Serene classical music is great, especially for bigger or fancier homes. Subtle, mellow music is a good choice.
Tacky stock music and pop tunes ruin many virtual home tours, giving them a very unprofessional vibe.
6. A Kitchen & Bathroom Tour
The kitchen is the heart of a home, it takes more than a half-hearted photo to showcase it.
Walk the camera through the space, getting each angle. Give people a feel for this space where they'll spend so much time.
Highlight the cupboard space and any equipment that comes with the home, like a fridge and stove. Put something tasty in them for the footage. Sell the kitchen.
Don't get lazy with the bathroom either. The usual approach of one picture, typically full of clutter and complete with an open dirty toilet, is not acceptable.
Find the best angles, ideally ones that give a more spacious impression and don't bring too much attention to the toilet.
Removing clutter and stains is extra important here.
7. Information About Surroundings
Don't skimp on showing off your patio, porch, balcony, or yard. These are just as important as the living room. And the same no-clutter rule applies.
Show people how they can use this space to relax, play, have dinners, etc. And show off the house exterior.
Don't forget to take advantage of marketing the location of the property as well. Get footage of the surroundings.
Start with neighborhood amenities. If there's a pool, gym, playground or such, sell it!
If your property is in the city you can leverage nearby parks, museums, cafes, and gyms. For a countryside house, sell the nature and peaceful surroundings.
Include a map with markers for any hot spots, including public transport stops.
8. Written Information
Make sure to include all relevant information that isn't clarified by the pictures using this checklist:
Square footage
Neighborhood and community details
Open house information
Your contact information and (if applicable) branding information
Cross-links between ad site and social media pages
You should also write a welcoming introduction with a greeting and a closing.
Let Experts Help You Make Amazing Virtual Home Tours
Now you know what makes an awesome virtual property tour, we can help you make your virtual home tours awesome.