Are open houses not driving the sales you're hoping for? It may be because the digital age has completely transformed marketing for real estate companies. While 95% of customers use a website as a source of real estate information, only 50% take advantage of open houses. If you're looking to explode your client base and start selling properties faster — even before they're built — take your real estate marketing virtual.
Best Real Estate Marketing Ideas and Strategies
The top real estate marketing strategies all involve making the buying process simpler for online visitors. The more details you can provide for potential customers, the more confidence they can have in their decision to buy. Here are five unbeatable marketing ideas to put this principle into practice.
1. Build a Professional Website
Of the buyers who purchase a home, 50% find the listing on the internet. Your website is your potential clients' window into your services. It's where they'll see your properties for the first time. Even if your prospects discover you elsewhere, they're sure to explore your website before they choose to work with you. For this reason, professional web design is a must. A few critical features can help your website land you new customers, including:
Search engine optimization: Have you ever searched "real estate agent near me" to see if your name pops up? Reaching the top of local search results is a key way to get your website noticed. People who are searching for real estate online are typically customers ready to make a purchase. Meeting these people at the top of their search results can help bring qualified traffic to your website.
Navigability: A real estate website has many listings posted at any given time. A potential buyer should be able to explore homes and learn everything they need to know through your website. Using smart web design can help critical information stand out, guide a visitor's eyes down the page and direct customers to act.
Stunning visuals: You want a home buyer's first glimpse of their new home to feel perfect. To deliver this magical moment, your website should be attractive and the property photos should amaze. Images need to be high-quality and well-staged to please the eye.
Mobile-friendliness: Have you considered how many of your customers visit your website from their cell phones? According to the National Association of Realtors (NAR),

72% of home buyers

used a mobile device or tablet to find real estate information. You want your website to give users a great experience no matter what size their screen is. That's why mobile-friendly web design is a must.

Visitor value: Your website is the perfect place to exchange valuable tools and content for visitor contact information. How can you get more people to give you their info? Offer real value through your website. You may set up a mortgage calculator on your site and email users the results. You can also offer a free e-book on practical home-buying tips for visitors who enter their contact information. Whatever you can offer to add value will make your customers more likely to take the plunge. You can add these customers to your email marketing list and forge a personal connection with them.

2. Offer Virtual Tours
Many real estate agents give virtual tours of their properties to let potential buyers access them before visiting in person. You have two options for bringing your properties to life:
Pre-construction animations: Before a new home is built, you can offer a virtual sneak peek with

3D architectural animations

. Animations can help potential homeowners see what their new home will look like and feel what it's like to live there through visual storytelling.

Video walk-through: For a home that's already built, you can film a video walk-through. You can even record narration to give viewers your pitch as you would with an in-person tour. You might consider investing in professional videography services to provide a close look at the small details and make a whole room jump off the screen. Or, create a

3D virtual tour

that lets customers explore a space with 360-degree views.
3. Try Virtual Staging
During in-person visits, furniture and decor bring a home to life. One-quarter of buyers' agents say that staging increases the dollar amount of the final offer. With virtual staging, you can fully "furnish" digital pictures of a home for online visitors.
Virtual staging lets home buyers imagine your properties as the homey living spaces they desire. Pictures of empty rooms become warm and inviting. Plus, virtual staging comes at a fraction of the cost of physically furnishing a home for showings. You can even use virtual staging to set up the same room in different styles to appeal to your customers' decorating preferences.
4. Use Professional and Aerial Photography
Professional photography can give prospective buyers better views, improve your online listings or social media posts and highlight those small details that excite buyers.
In addition to interior photos, you can use drone photography to give home buyers a perspective they won't even see on a site visit. Drone photos can highlight the roof of the house and give an overview of the lawn and exterior. The technology for aerial photography is more accessible than ever, and the photo quality is incredible.
5. Find New Prospects From Your Satisfied Clients
Did you know that 39% of home sellers found their real estate agent from a friend's referral? In addition, 74% of home buyers would use the same agent again or recommend their agent to others. After you've closed a deal, remember to keep in touch with your happy customers. They might just lead you to your next sale.
Having a system in place to collect referrals can help you grow your real estate business. Try reaching out to customers after they move in and get settled. An email that congratulates them on their new homes and asks if they know anyone looking to buy or sell a home can work wonders. Some agents even offer to throw a housewarming party for newly moved-in customers and use the party as a chance to network with potential customers.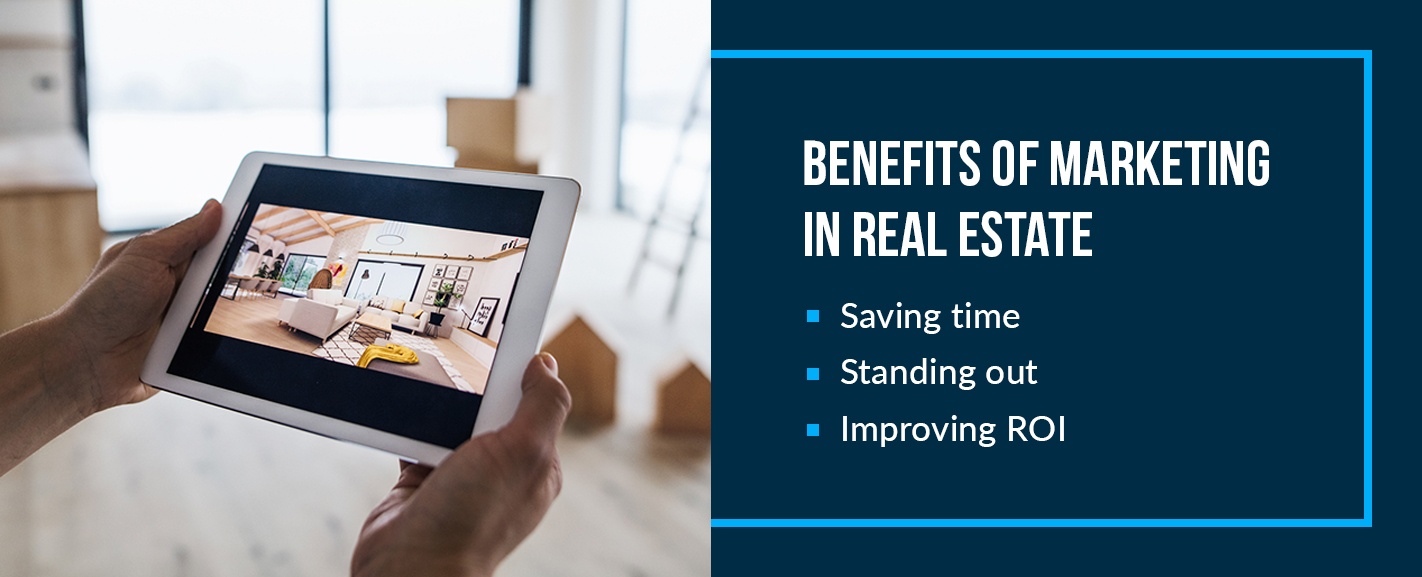 Benefits of Marketing in Real Estate
Customers no longer rely on a real estate agent to find properties for them because they can easily browse options on internet listing platforms. So, it's up to your website and digital marketing efforts to make that initial impression. The good news is that digital marketing can bring your real estate agency a host of benefits, including:
Saving time: Think about how many customers can take a self-guided virtual tour of a home in the amount of time it would take to host a private showing. Giving customers the freedom to explore a space online lets them get a complete picture before they visit it in person. When you set up a showing, you can be confident that customers are interested because they've likely already seen the home in detail.
Standing out: Great web design and digital marketing efforts help you stand out from the crowd. Besides ranking well on search engines, a visually appealing website gets clients excited to work with you. High-quality listing visuals show your properties in their best light, which may help you sell homes faster.
Improving ROI:

A great website is one of the best investments you can make in your marketing strategy.

A professional web designer can use proven digital marketing and design strategies to boost your site's search engine results

.

Photography, virtual tours and staging can offer unparalleled digital access to your homes that makes an even stronger case for your customers.
Hire Professional Real Estate Design Services
If you're looking to up your real estate marketing game, make it easy on yourself with professional real estate marketing packages. Contact us today to revolutionize your real estate digital marketing.