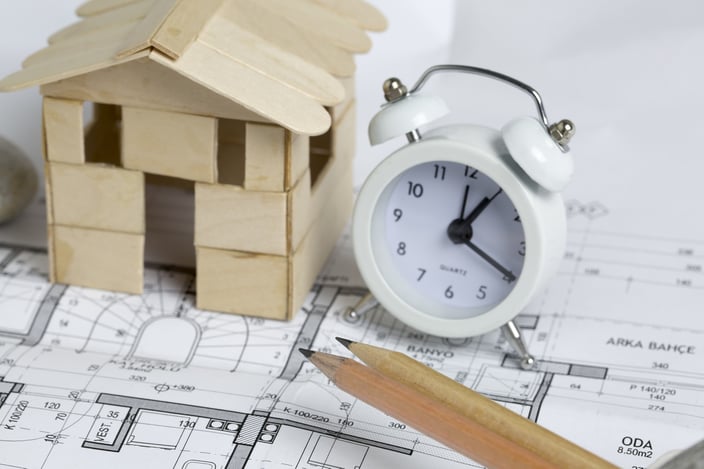 Everything we do now seems to be connected and in the cloud somehow. And the tech world always seems to be jumping far ahead of everyday life, revolutionizing many aspects. But what about your residential contractor? How can the tech knowledge of your contractor help you in the long run?
This isn't a question with a pat answer. The technology world is large and can have a major impact on almost every industry. Even the construction industry is entering the 21st century at warp speed.
Make sure your contractor is up with the times. If your contractor is utilizing technology, it means he is striving to be up to date with everything in his business and making his own life streamlined and efficient. And if your contractor is streamlined and efficient, it will most likely follow that your construction project will be so as well.
Your Residential Contractor Should Be "On the Go"
Today, everybody carries their cell phone. Even my grandma has a cell phone today. She doesn't know how to check her voicemail, but she uses the phone nonetheless.
Is your residential contractor mobile? Does he carry a smartphone and use it to stay connected to his customers?
You want a contractor who can respond to you and your needs on or off the field. If he keeps a laptop or a smartphone on him, he is most likely connected and ready to respond.
This will also save you time. Have you ever had a contractor tell you that he has to go "back to his office" to put together an estimate for you? This might have been an acceptable and competitive move ten years ago, but today there are apps for that. And your residential contractor shouldn't have to waste your time changing locations just to give you an estimate.
There's an Internet For That
Does your residential contractor know about the internet of things? Do you know about the internet of things?
Do you remember back in the 90's how the dream was to have a "smart home?" You could control every part of your home from the tv, the lighting, the environmental controls, all from your computer or through the internet.
This vision of reality is finally here with the internet of things. And it takes very little manual control.
Smart technologies are saving homeowners money and time. If you look at the Nest Thermostat, you will see how this device is perfect for your home. It's learning algorithm allows you to set it a few times before it learns your habits and changes things on its own.
But how is it important for your residential contractor to know about the internet of things? Not only will they be able to advise you on what smart technologies will benefit your home and your budget. But he will be in the know on sensor technologies that could help him know when your house is due for repairs.
Choosing a residential contractor who is knowledgeable about the internet of things may land you a lifetime professional relationship.
Is it Safe?
The safety of your information and your home should be number one priority for a residential contractor. If a contractor does not seem all that tech-savvy, you may want to reconsider the hire. A full 63% of construction companies do not have cloud security policies.
When a cyber criminal breaks into the computers of a construction contractor, they are not just going for your credit card number. They want your layout of communications systems, your security system design, and your floor plan.
If you are a government agency, they might even glean knowledge of where your servers are located.
Most contractors don't know the first thing about cyber security. But they should. Ask the right questions. Know what kinds of programs do they use for security on their computer? Are they insured against cyber theft?
You need to know these things to determine if this residential contractor will be safe for you and your house.
What a CAD
You might already have an architect who can utilize design software for their purposes. But if your residential contractor is not up to date on the current design technology and how to at least access files from it, you might be looking at a bottleneck in the construction process.
Computer Aided Design is a great way to keep a house plan malleable. It's also a great way to start the design process months before the construction actually begins. This give you as the homeowner time to make decisions and cut costs where necessary.
Not only will this system allow you ample time to work on the design with your contractor, it will narrow the margin of error. CAD can store large numbers of civil, structural, and electrical schematics. It allows for analysis of future risks before they happen.
Keeping It On Time
With today's technology a residential contractor has no excuse for projects running behind schedule. Task management software is so common, most industries use some form of this technology.
Make sure your contractor is using management software to keep things on schedule, provide progress reports, and keep everyone informed. This can happen in real time. If things need to be adjusted, you as the owner will know in advance instead of always guessing what is going on with your construction project.
Building information management is another aspect of construction technology that could benefit your project. Now, this may not be a common system in construction yet, but knowing about it will help you prepare for future projects.
This system can create a 3D building plan and combine it with a current construction schedule to give you a predictable outcome. This can build opportunity for prefabrication of building sections, in turn cutting costs.
Your Residential Contractor Needs to be Tech-Savvy
Who you hire as a residential contractor is up to you. But make sure you do your homework beforehand. You don't want to get caught with someone who will be inefficient and compromise your security.
If you know of any other construction technologies a contractor or homebuilder would want to know about, let us know in the comments below.